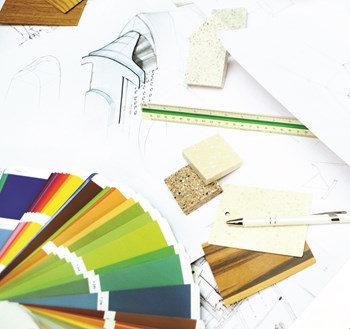 Many co-op and condo-dwellers have been looking inward of late, concentrating their energy and income on making improvements to their buildings and personal spaces, rather than spending money on travel, entertainment, and other more extroverted luxuries. Boards are, of course, interested in attracting and keeping good shareholders and owners, while those shareholders and owners are interested in making their home more comfortable, convenient, and aesthetically pleasing.
With that in mind, modern, mid-market apartments are beginning to include luxe accoutrements that heretofore could only be found in the city's most prestigious addresses. These new elements include everything from redesigned lobbies to improved in-apartment technologies–from original artwork in the foyer to heated bathroom floors and solid slate countertops in private units. And owners and boards aren't cutting corners on these new improvements either. There's been a decided shift toward long-term quality in both design and materials in the last couple of years.
"Buildings are spending much more money on quality materials," says Marilyn Sygrove, owner of Manhattan's Sygrove Associates, Inc., an interior design firm specializing in lobby design and renovation. "They're in it for the long run and want to spend money on durable materials." According to Sygrove, the time is right for renovation and upscale design. "People are saying they want to protect the value of their homes," she says. "Home comes first these days."
Architectural Facelifts and Homey Appeal
In light of the unsettling events of this past Fall, designers, contractors and boards seem to be moving toward comfort while maintaining the sleekness of modern design. "Designers are being brought in to make buildings look homier," says Tino Grana, owner of Art ASAP, an upmarket framing showroom in New York City. There appears to be a move away from hard edges, cold lines, and aesthetic sterility and a greater demand for rich textures, warmth of color, and spaces that are more welcoming to residents and their guests.
Sygrove agrees. "There's a nesting instinct going on," she says. "It's all intensified since September 11, but it started earlier this year."
From the front façades to the trim around the elevators, common areas are taking on a quieter, gentler tone. Postwar buildings, especially, are getting a makeover. "There are a lot of postwar buildings devoid of much detail, quality or image," Sygrove says. "Postwar buildings are doing their front door areas and awnings. Boards are making decisions on all of these things lately. Especially if they've already done lobbies and hallways, they want to continue."
In common areas throughout the city's co-op and condo buildings, workers are pulling up old nylon carpets and replacing them with wool counterparts. Wood chairs are moving in on old plastic or vinyl seats. Crown moldings are popping up in hallways while original artworks and classic mirror designs line walls. Residents find themselves walking across real stone flooring and setting their packages down on granite countertops. "The laminates of the 1970s are dead," Sygrove says.
This trend in "real" materials falls in line with a desire for simplicity, says Pam Liebman, chief executive officer of The Corcoran Group. "There's a tendency toward subtle elegance, not ostentatious overstatements. People are going for richer, but softer, materials."
Owners also find that smaller details are making a big impact. "Buildings are upgrading less expensive and less conspicuous details," Sygrove says. Designers are refitting doorknobs and back plates. Even door viewing devices are getting special attention with the addition of etched designs and apartment numbers. "People are spending more money on signage, too," the designer says. "Instead of laminate, there's brass."
While work on common areas and exteriors marches on at a rapid clip, interior renovations aren't far behind. Items and conveniences that potential apartment owners never considered ten years ago are becoming part of the rapidly expanding norm. "Items considered hot a couple of years ago are standards now," Liebman says. "Sub-Zero refrigerators, Viking stoves, stainless steel kitchens."
Appliances and interior styles like these can be the difference between a prospective buyer liking a place and absolutely needing it. In short, it can make the difference between sale and no sale. "Everything that was expected is still expected, like higher ceilings, but now there's more," Liebman says. "There's a certain standard expected from contractors. It's a very comfort-oriented style of living."
The concept of comfort definitely reigns with amenities like heated floors and multiple-head showers in bathrooms, or even basement wine cellars and in-apartment, under-the-counter wine coolers. Even the necessities are getting a facelift. "For those who like sleek style, there's a trend toward exposed, deconstructed heating and cooling elements," Liebman says.
The renewed investment in amenities is not exclusive to high-end markets and buildings. Buildings with less disposable income are upgrading more common elements, getting sophisticated results without breaking their budget. "There are certain things that can be done that aren't that expensive," Liebman says. "For example, in the past, it was hard to get good lighting packages, but developers have gotten more sensitive to those needs." To that end, innovative lighting set-ups are breathing new life into smaller spaces, giving them new dimensionality and depth.
One Giant Leap for Humankind
As time creeps forward, so does the evolution of everyday technology. High-tech gadgets are everywhere, and from increased power needs to the latest in computer goodies, buildings are falling in step with all that's new and necessary. Many of these changes, in fact, are borne out of necessity rather than simple choice. "Technology kind of creeps along and people have to upgrade," says Daniel Koplowitz of Preservation Design Group in Blauvelt, New York, Grana concurs, adding, "Most buildings are being fine-tuned for DirecTV and high-speed Internet for the new age of computer users."
Residents are also bidding farewell to their pre-war door buzzers and welcoming new intercom systems with call-waiting that operate via their phone line rather than through aging wires and circuits.
In lobby areas, wireless security cameras are making safety simpler and less conspicuous. In smaller residences without full-time doormen, buildings rely on electronic doormen–sophisticated devices that allow the homeowner upstairs to monitor the goings-on downstairs. Also, many pre-war buildings are swapping their old wooden, open-out doors for electronic sliding doors. "It's one less thing the door person has to deal with," Sygrove says.
Where Do We Go From Here?
Whether you're considering moving into a new steel-and-glass tower or finding a classic living space in Park Slope, chances are you may find a few pleasant surprises in your new digs. Renovations continue at a quick pace throughout the city. "It's insane," Sygrove says. "I've never been busier."
And the trend seems to be holding steady. As each building upgrades, it creates a domino effect. "Customer expectations get higher and higher each year and it gets harder and harder to top what's come before," Liebman says. "Developers will have to continue to be creative–without being trendy."
As new trends take hold, residents can be certain of one thing: A lot more of them are going to be enjoying heated bathroom floors when they step out of their multi-headed, slate-tiled shower on chilly winter mornings. Does it get any better than that?
Ms. Lent is a freelance writer living in Bloomfield Hills, Michigan.