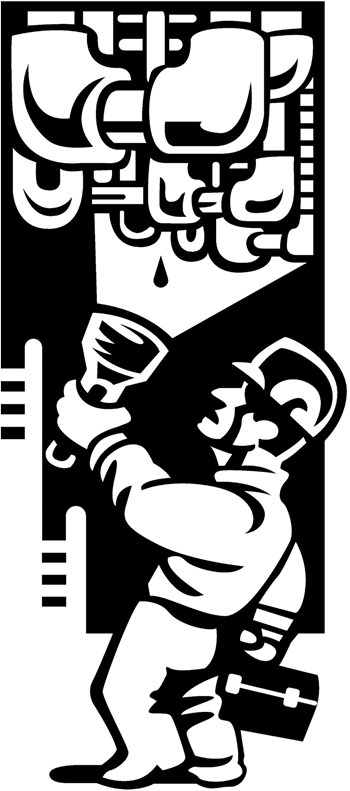 Do you know what your problem is? More importantly, do you know if it's actually your problem? In the world of condos and co-ops, understanding who is responsible for what in an apartment or in a building's common areas isn't always clear to apartment owners or shareholders. During the process of purchasing a condo unit or shares in a co-op, buyers are often so engrossed in the buying process itself that they don't invest the effort needed to understand the ins- and-outs of ownership. This can lead to confusion, even anger, when the need for repairs starts popping up.
So it's important for boards and management to help owners understand just what it is they are responsible for in terms of the maintenance and repair to their apartments. And it's equally important for the board of directors of a co-op or a condo to know exactly what their duties are to shareholders and unit owners.
Who Owns What?
Ultimately, what a unit owner is responsible for and what the building management is responsible for, will be determined by the proprietary lease or governing documents. The usual standard is that the owner owns, and is responsible for repair and maintenance of everything from the walls in.
In general, that means that when it comes to painting, repairing damage to walls, the unit's plumbing and all appliances, the owner has to foot the bill. There can, of course, be exceptions. According to Marc H. Schneider, an attorney based in Garden City, if there's a pipe or line in an apartment that services parts of the building aside from the individual unit, the condominium may be responsible for that; if so, the governing documents would point that out.
Other things can vary, depending on the particular condo or co-op community. Schneider points to limited common elements as an example. Limited common elements are common elements, but are used primarily by one shareholder: a deck or terrace, stairs leading to an apartment, and so forth.
"Many times, the repair and/or replacement responsibility for limited common elements falls on the unit owner," Schneider says. He referred to a condo development where for years, the building paid for the replacement of decks, but it turned out the governing documents said unit owners were responsible.
Apartment owners and shareholders are also responsible for any action (or lack of action) they take that damages another apartment.
"If the apartment above doesn't properly caulk their bathtub, and the water leaks to the apartment below," Schneider says, "that shareholder is responsible for the damage [he or she causes], not the co-op because the co-op didn't do anything wrong."
This is covered not by a building's bylaws, but by standard negligence law. "What is covered in the lease," Schneider says, "is that the shareholder must properly maintain that tub, so when they don't, they have essentially breached their lease."
Some buildings also require owners to carry certain insurances, an idea that Schneider recommends, "so that if there's ever a problem where they didn't make the proper repairs and it causes damage to another unit, there is recourse against the unit owner."
You Own It, You Fix It
Things can get confusing with these arrangements, but even at its most basic level, people don't always understand it. Many people think that because they live in a building with a superintendent, that the building should handle any and all repairs.
According to Schneider, it's common for people who own apartments to mistakenly think that because they live in a building with a super, that all repairs should be taken care of by the building.
"In an apartment-building setting, I think many times people still lose sight of [the fact that] the superintendent is not your landlord and doesn't have to make repairs to your apartment for things that are your responsibility," he says. He adds that people who live in townhouse-type developments often have a better understanding of the idea that they own the apartment and are responsible for the maintenance of it.
"I think most people tend to have a renter's mentality," says C. Jaye Berger, a Manhattan attorney who specializes in construction-related litigation and issues pertaining to co-ops and condos. "They think, 'OK, something is wrong, the building should come and fix it, call the super.' And then they're shocked and upset to find out it's their responsibility."
According to Peter Grech, the president of the New York Superintendents Technical Association (STA), a super's responsibility can vary from building to building.
"What's common in most buildings is that the super is responsible for the day-to-day operations of the building, specifically heating, hot water, cleanliness and maintenance and upkeep of the common areas," Grech says.
But very often, people think the super is there to handle repairs in units as well. Grech says this is because owners think that's what their maintenance fees are for, when those fees actually go towards keeping the building running and upkeep and repairs to common areas — not "maintenance" on their personal unit.
Some buildings do have arrangements where a super or handyman can be called to apartments for some repairs.
"Sometimes a condo or co-op will have the handyman or super repair a minor repair like a washer or a leak under the sink," Grech says. "The labor would be free, but the cost of the materials would come from the owner of the apartment."
Grech says this is a good practice because it makes it easier for owners to get leaks repaired that if unchecked could cause damage to other units. The problem he says, is that this policy isn't always spelled out clearly.
There are also occasions where a super will make a repair to an apartment that the building isn't responsible for as a favor to the unit owner.
"A lot of times, I think superintendents actually wind up doing more than what they're supposed to do, just because they have some sort of relationship with the people in the building, they live in the building, they know the people and they want to help them out," Schneider says.
According to Grech, while this practice is an understandable act of kindness, it's ultimately a mistake because apartment owners may start to ask for too many favors, or if the owner isn't happy with the repair it can cause problems for the super and the building. As a compromise, a building may allow a super or handyman to make repairs to apartments on his own time.
"Sometimes a building will say that it's fine if you want the super or handyman to paint your apartment, or make your repair, but he has to do it on his day off," Grech says. "But the building has to make sure he's doing it on his time and not double-dipping."
Contractor Issues
If one owner has work done by a hired contractor and the contractor causes damage to a common area or another unit, any necessary repairs should be covered by the contractor's insurance, so it's imperative that any contractor hired be properly covered.
"Sometimes, if the contractor causes a small problem, he'll just agree to fix it himself," Berger says. "But if something happens of a much bigger nature, that's what the insurance certificate is for."
Berger adds that the same responsibility applies to the condo or co-op management if a contractor working on a common area damages an apartment, then the building management is responsible for making sure the contractor is properly insured.
Before an apartment owner or shareholder hires a contractor, he or she has to check their documents. Buildings often have specific insurance requirements for contractors being used within the building. The building's approval of any work done in an apartment may also be required before bringing in a contractor.
"You can't just bring in the average Joe who's not licensed to handle a repair — and you can be in breach of the governing documents if you do so," Berger says.
Schneider adds that all of this needs to be done before the contractor is hired. If this isn't done, life could become pretty unpleasant.
"You could be stopped in the middle of the job, which could cause a major disruption in your ability to live in the unit," Schneider says. "If you're in the middle of a bathroom project, and you only have one bathroom, and the contractor isn't licensed and the superintendent hears him banging into the wall, now all of a sudden he's pulled off the job. Not only do you have the disruption of the work not being completed, but you also have a scenario where you could potentially be held in breach of your proprietary lease and the governing documents and face the implications of that breach."
Warranty of Habitability
According to Schneider, a warranty of habitability is a relationship between a landlord and tenant that says an apartment has to be habitable. Since in a condominium setting, owners actually own their apartment, there is no warranty of habitability. But in a co-op, there is a responsibility for the building to make required repairs.
"If there's a water pipe leading to a unit and the co-op is responsible for it and doesn't make the repair, and I have no water, so I can't shower, can't bathe, can't cook . . . I might have to move out," Schneider says. "In order to claim a breach of the warranty of habitability you have to essentially be constructively evicted from the unit."
In warranty of habitability suits, what usually happens is that a shareholder will ask for a repair to be done — and if the repair isn't made, the shareholder may decide not to pay his or her maintenance fees. The building may then start a summary proceeding to evict the shareholder. The shareholder then may claim that the co-op breached the warranty of habitability, thus justifying withholding the payments.
"It's not something that's common because many of the repairs that a co-op may have a responsibility to make probably don't affect the apartment in that way," Schneider says. "But there are a few — like water and electricity — that can give rise to a breach of the warranty of habitability."
It's All In the Documents
Buying a home is a big decision, and when buying into a co-op or condo, it really is imperative that the buyer review any and all documents.
"The best advice for someone buying into a cooperative or a condominium is to read the governing documents before you purchase so that you understand what you are responsible for," Schneider says.
But lots of people don't read those documents, no doubt because buying a home is busy enough and reading legal documents seems like a tiring task. It's also likely that some people read the documents but don't understand them; in those instances Berger suggests going over the documents with your lawyer to get a better understanding of your responsibilities toward your apartment. Also, people moving from one condo or co-op to another need to review their new building's documents as well, since regulations can change from building to building. And after signing off, owners shouldn't throw away those documents. If something does break and you're not sure who's responsible for it, you will have to refer to the documents in order to know what course of action to take.
Condos and co-ops can also take steps to make sure that people buying into their communities have a clear idea of what they need to take care of.
"Some buildings are more together than others," Berger says. "Some have a written alteration policy, so if you were looking into buying into the building, someone would hand you a copy of the policy that would tell you in quite a bit of detail what you're responsible for."
In the end, while there may be differences in what shareholder/owners and the building itself are responsible for, one this is certain: by knowing what part you play in the day-to-day working of your building vis-à-vis your managing agent, shareholders, and board members, the less chance for conflict.
Anthony Stoeckert is a freelance writer and a frequent contributor to The Cooperator.