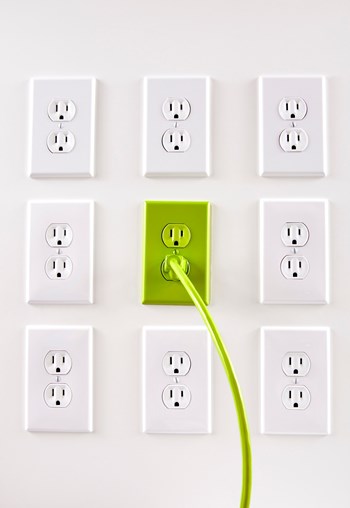 Think about this the next time you throw that banana peel, plastic packaging and junk mail away: residents of New York City and its surrounding boroughs are responsible for generating 12,000 tons (that's right…tons!) of garbage each day. Picking up this mammoth daily load are 2,230 collection trucks. The collected waste is then moved to transfer facilities and carted off to landfills—located in various surrounding states—which are now nearly all at capacity. Prior to cutting back recycling services, it has been reported that New York spent almost $1 billion per year on trash and recyclables collection.
Finally, New York City is figuring out that there must be a more convenient, economically sound, and environmentally safer way to get rid of its refuse. In a recent radio address, Mayor Michael R. Bloomberg talked about the passing of his administration's long-term plan to achieve the goal of becoming "more environmentally responsible, economically sound and equitable across all five boroughs."
How it Was…and How it Will Be
Many years ago, trash was burned in incinerators, but they didn't meet the air standards of the EPA and they didn't generate much power. "They were also an annoyance to people in the area," says John Doherty, commissioner of the New York City Department of Sanitation.
"Then there were landfills, but we had to close many of them down because they were filled."
Currently, the process is as follows: the city's Department of Sanitation trucks pick up the garbage and transport it all to transfer facilities in surrounding states.
"We have one transfer facility in New Jersey that is a waste energy facility, but most of the waste ends up in probably a dozen or more landfills in Pennsylvania, Ohio, and Virginia," Doherty explains.
Soon however, each borough will be responsible for transporting their own garbage to their own transfer facilities.
"[In this] new solid waste management plan with the city council, it will provide for transfer station facilities in all boroughs," says Doherty.
Bloomberg explains that under the new plan, there will be four new marine waste transfer stations built and up to five rail waste transfer stations activated.
"This will allow us to transport nearly all of the city's residential garbage, and more of our commercial garbage, by barge or rail. As a result, sanitation and tractor-trailer trucks will travel nearly six million fewer miles every year—and New Yorkers will have cleaner air and safer streets."
One advantage of the water-based system, says Doherty is that it will minimize the truck traffic in and out of the city.
"A more modern facility would have the trucks come into a containerized facility and then they would barge away," says Doherty. "A really well-designed system these trucks would come in indoor facilities, such as tunnels and not clog up traffic."
Health Concerns
However, according to Steven Cohen, the executive director of the Earth Institute at Columbia University in New York, it's not the transfer facilities or the garbage that causes the most environmental and human health concerns.
"It's the movement of the thousands of diesel trucks that have the most negative effects," says Cohen. "Some of the ingredients of diesel fuel are carcinogenic."
Providing an alternate fuel source for these toxin-spewing vehicles is an option to reduce pollution, but it is not one that will likely happen soon.
"The Environmental Protection Agency (EPA) is bringing in cleaner-burning trucks than we have now, but the existing trucks have to die first—and that's 10 to 20 years before they get off the road," says Cohen.
New York is catching up to the rest of the country, according to INFORM, the national environmental research organization, who released its latest report, Greening Garbage Trucks: Trends in Alternative Fuels Use, 2002–2005 in February. The study found that robust growth in the use of alternative fuel refuse trucks in the U.S. and internationally.
INFORM's new report, authored by senior fellow James S. Cannon, documents that since 2002 the use of alternative fuel refuse trucks—nearly all powered by natural gas—has doubled from 697 to as many as 1,496. The number of cities in which these trucks operate has also doubled, from 26 to 57.
Their reports find that, "Refuse trucks have become the most rapidly growing natural gas vehicle sector in the US. Their use has expanded more rapidly as a percentage than any other vehicle sector. Its 89 percent increase was four times the overall 20 percent increase (between 2002 and 2004) in natural gas vehicle use nationwide. New natural gas fleets have come into operation in Paris, Madrid and Mechlun, Belgium. Other clean fuels and advanced technologies are emerging: use of biodiesel (San Jose, CA) hydraulic hybrid technology (in Los Angeles) and use of bio-methane fuel, a win-win strategy capturing a powerful green house gas that was escaping from landfills for use as a clean renewable refuse truck fuel (with projects in Burlington, NJ; Los Angeles Cty., San Diego, and Gothenburg, Sweden.)"
Not In My Neighborhood
There are other alternatives for getting rid of garbage too, including the use of waste energy facilities. The Integrated Waste Services Association (IWSA) describes what waste-to-energy facilities produce: "Clean, renewable energy through the combustion of municipal solid waste in specially designed power plants equipped with the most modern pollution control equipment to clean emissions."
"These facilities, like the one we have in New Jersey, will receive the garbage and burn it at high temps to generate steam or electricity," says Doherty. "The waste energy generates electricity and you don't have to landfill it, but some areas don't want to accept these facilities."
These facilities produce an ash that can be used in construction, and Doherty explains that while it's a good way to process trash—because it does meet the federal and state requirements for clean air—it's very objectionable to the communities in which the facilities are located.
"Everything we do with garbage will cause pollution, but we're trying to create plans so that it doesn't impact as many people. When you have a sanitation facility—garage, transfer, landfill—there is also the objection being in a particular neighborhood," he says.
Not all the time. Sheila Callahan lives on West 60th Street, just a few blocks shy from the Hudson River Barge where garbage trucks deliver their goods. "It has zero impact on my life," she says. "I don't really see them delivering their stuff, so I don't get troubled by diesel fumes. Garbage trucks tend to move, rather than idle—like other trucks that sit and run their engines to keep food refrigerated, for example."
Even still, Doherty and Bloomberg hope that cutting the emissions and cost will save on the financial and economic health and well-being of the residents and the community.
"Finally, our long-term plan also includes a new and ambitious recycling plan," says Bloomberg. "Soon, the city will enter into a 20-year contract with a private company that will invest in a modern recycling plant in Sunset Park, which will create 100 new jobs on the Brooklyn waterfront."
Recycling in the City
New York City did attempt a recycling program, but in 2002, facing a severe budget crisis, the city stopped recycling plastic and glass, while continuing to collect paper and metal. Now the earth-friendly practice is in full force again and Bloomberg hopes that it will be far more economical than it was just a few years ago.
"Our recycling plan will create a new waterborne network of transfer facilities that will accept recyclable material for shipment by barge to and from the Brooklyn plant," he says.
Other new concepts being reviewed include composting and what Doherty calls gasification. "If you burn waste at a very high temperature," he says, "there is little exhaust."
Composting is defined as the controlled microbial decomposition of organic matter—such as food and yard wastes—in the presence of oxygen, into humus, a soil-like material. Humus (not to be confused with hummus, the tasty spread made from chickpeas) can be used in vegetable and flower gardens, hedges, and so forth.
"We're looking at that, because we have yard waste in the city," says Doherty. "Picking up leaves in the fall, grass in the spring. We do that out in the open with the leaves, turn it over and residents come and pick that up once or twice a year. The bottom-line success of this new management plan is that each borough is becoming responsible for handling its own waste and, as we get new technology, the city will have to approach it the same way. Accept the new technology and find a site to handle waste in the future."
So the next time you consider throwing away scraps and trash consider where it might end up.
Lisa Iannucci is a freelance writer based in Poughkeepsie, New York.