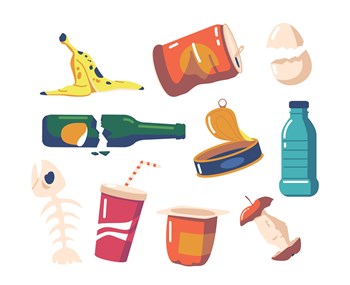 Where there are people, there is detritus. It's an age-old reality — so much so that even the remains of our ancient trash are often the basis upon which archeologists develop theories about vanished civilizations. While we can't say what future archeologists will say about our buried trash, one thing is abundantly clear right now: in a world beset with the multifront challenges of climate change, increasing population, and shrinking space and resources, how we dispose of our trash is an increasingly pressing concern.
The How & Why
One hallmark of modern societies is that we organize the collection of refuse for disposal. What city dweller isn't familiar with the sound of a garbage truck stopping under their window at 6:30 on a Saturday morning, trash collection experts shouting and throwing heavy bags of refuse into the back, while hydraulic presses crush the contents into oblivion? Early wake-up notwithstanding, the job must get done — and it's a very good thing that it does, for the sake of both public health and safety, as well as aesthetics.
As the nature of refuse has changed over the decades, its disposal has raised new and different environmental concerns. To mitigate these concerns, localities have developed rules and regulations around trash collection. Garbage is sorted into categories, with each category to be dealt with differently. This includes plastics, glass, paper, organics, and just plain old garbage, to name a few. In urban environments this approach often involves not just sorting trash into specific categories, but also holding each category separately in limited space until its appointed collection time.
"Trash collection, storage, and general management can differ greatly between urban and suburban environments," says Andrew Batshaw, business development director for FirstService Residential in Boston, "and can also vary depending on the community's unique operational needs and procedures. Further, rules and regulations can vary greatly when looking at urban vs. suburban environments—so property management teams have to keep local ordinances in mind when thinking about the best strategy to remove waste from their community."
"In urban environments, there are basically two types of buildings," says Dan Wollman, CEO of Gumley Haft, a New York City property management firm. "Those with trash compactors, and those without. In those without compactors, we pick up the recycling and trash from different bins on each floor. This provides us with maximum control over the trash and sorting requirements. When we control sanitation, it's easier for us to correct any problems at the point of contact. In buildings where we pick up garbage on each floor, say there are four apartments per floor as an example, there are recycling bins and a trash bin, to which residents take their trash and recyclables separately. We pick up the contents twice a day. When we pick it up, the porter checks the individual bins. We can see if there's a problem. If things are missorted, and are discovered by sanitation inspectors later, the building will be fined. If corrections need to be made for recyclables that ended up in the trash, it's easier to control at this point in the process."
In Chicago, garbage collection for apartment buildings with three or more units is provided by private carters," explains Richard Holtzman, president of Prairie Shores Property Management. "Recycling rules are mandated by Chicago's city government, but individual buildings may—and do—have their own rules in addition to city requirements. The city doesn't get involved in inspecting waste for misplaced recyclables—the carters do that." That doesn't get Windy City residents off the hook for fines, however; "They often use it as an excuse to raise additional funds claiming a fine for mixed recyclables," says Holtzman. "There's no way to track it."
Trash Chute Pitfalls
Though individual building incinerators disappeared from the urban environment many years ago, many residential buildings, particularly larger ones, still use basement trash compactors to collect refuse—and that refuse makes its way to those compactors via trash chutes running the height of the building.
And those chutes, says Wollman, "are impossible to control. Garbage goes down the chute and gets crushed, so we don't know until it's too late if there are recyclables in there. You can't control it in any effective way, and uncooperative residents will take advantage of that. All kinds of bad stuff goes down the chute—so our staff should not stick their hands into the chute to find things. We don't even want our maintenance people sticking their hands into individual bags. In buildings with compactors, we have a room at the end of the chute, and in that room we have bins for plastics, glass, and papers. We hope the residents are using them correctly. We pick up recyclables from these bins on a daily basis, and put them in larger bins where they are stored until they get taken out to the street for collection."
Batshaw describes a similar situation. "Overall, trash chutes are not typically an issue, as long as they are maintained and cleaned regularly to adhere to the building or community's standards; they require regular cleaning and preventive maintenance and should be serviced as needed. There can be challenges with recycling chutes—mostly with residents who try to cram large boxes into them."
He adds, though, that "in general, communities handle trash collection based on the type of community they are. Typically, high-rise buildings will have a chute with a room on each floor for residents to easily access and dispose of their trash. Some chutes are set up for household waste, either combined with an automated switch or a separate chute for recyclables. There also may be recycling containers in the trash rooms on each floor, and community staff will pick up and remove recyclables on a daily basis. Trash chutes can often terminate at a compactor that may compact trash directly into a portable container or smaller dumpster that can be wheeled to the curb or designated trash collection area."
"Chutes must be monitored regularly," says Holtzman, not only just because garbage can get messy—raising the issue of odors, pests, and other unhygienic conditions—but because "residents put things into chutes that shouldn't be there, like large boxes that aren't broken down and should be recycled, for instance. Those will block the chute or damage the electric eye that turns the compactor on and off. This can burn out the compactor motor if not addressed immediately. Large buildings have full-time maintenance staff, and it's their responsibility to keep an eye on the compactor and chute so they're not compromised."
Private Collection
In most cities, the local government manages trash collection. But as mentioned above, residential buildings in Chicago with more than three units must arrange and pay for private collection. Private collection services are available in other localities, though; Wollman describes a property he manages on Manhattan's fashionable Upper East Side that has chosen private collection. To avoid having bags of refuse marring the front of their building, the building has an area to the side, a courtyard type alley, that is fenced off and out-of-sight. Residents keep their sorted waste there, and the private company comes in a few times a week and picks up the garbage in accordance with New York City requirements. The cost is negligible in the building's overall budget.
"At one of our flagship white glove high-rises nestled on the Boston seaport," says Batshaw, "our property management team uses a large trash collection company. There can be pitfalls with going this route, such as issues with communication, coordinating waste pick up throughout the week or unexpected trash pickup cancellations. To avoid fines from the city, this can necessitate management teams dragging the trash back in, and then back out again for pickup the following day. Same thing goes for recyclables when they cannot meet the expected pickup time to remove bales of cardboard from in front of the building."
Limitless Categories of Trash
In addition to the daily scrutiny of glass, bottles, paper, organics, and whatever else is left, residential communities have to be vigilant for less common types of garbage that can nevertheless be extremely hazardous to humans, pets and the environment—things like electronics, paint, and other dangerous materials.
In Boston, says Batshaw, "Hazardous materials are generally collected, handled, and disposed of using either town resources or by a private disposal company to ensure complete compliance. In this neck of the woods, property managers should communicate any items that are deemed hazardous to ensure they are picked up on separate days from the normal trash and recyclable pickups."
"Communities have to be more concerned about medical waste," he continues. "Managers should be wary of sharp objects, such as syringes from insulin or other medications, or other sharp items that can puncture a bag and cause injury to others. Some communities provide sharps disposal, while others recommend that residents make their own arrangements for the removal of medical waste."
"Different buildings have different procedures for hazardous waste," explains Holtzman. "Once or twice a year, we arrange for special pickups for electronics, paint, and other items you wouldn't put in the trash. Residents hold onto these items until they can bring them out to a special dumpster when we have arranged it."
In New York," Wollman says, "for computers and electronics we get what is essentially a special closet on wheels, and residents can dispose of old electronics there. On occasion we do an event to collect paint and paint cans, and bring in a company to dispose of that type of waste safely. If there's a doctor's space in the building, they have to retain a disposal company to remove their medical waste. Restaurants and supermarkets also have to engage private sanitation."
In the final analysis, as difficult as trash and waste management is, it's a vital component of managing both health and safety in a residential community. While rules may be cumbersome, they are there to protect both us and the environment.
A J Sidransky is a staff writer/reporter for CooperatorNews, and a published novelist. He may be reached at alan@yrinc.com.