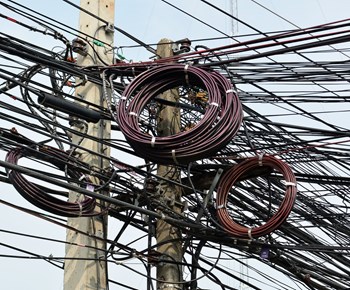 Back in 2008 New York City granted a long sought-after and potentially-lucrative cable services franchise to Verizon Wireless for FiOS (fiber optic service). Thus, availability of FiOS to all New York City households was to be completed by June 2014.
Nearly two years later Verizon claimed it has "passed" all New York City households with fiber optic cable--something the city disagreed with.
The Issue
So what's the holdup? Sometimes it's a matter of semantics and other times logistics. In a letter sent by the NYC Department of Information Technology and Telecommunications (DoITT) to Verizon on September 13, 2016, Verizon had failed to "pass all households" in the city in deploying its FTTP Network. based on the letter, to "pass" each household is defined as to "run fiber immediately in front of or behind each residential building in the City."
Additionally, the letter continues that "Verizon is obligated 'to make Cable Service available to all residential dwelling units" in the City by accepting orders for service and then... installing all necessary equipment within the time frames afforded," which was 12 months. "As of October 9, 2015, there were at least 38,551" such requests, which were unfilled for more than twelve months.
For those readers who might be unfamiliar with the term, non-standard service requests are simply those that aren't a private house. A good graphic explanation can be found at here.