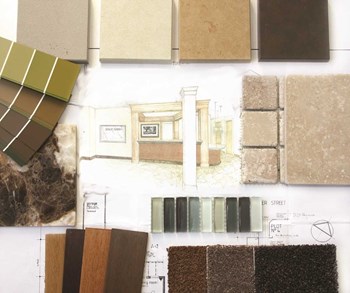 Curb appeal provides that first impression, the attention-grabbing feature that all condominium and co-op properties strive for. In New York City, curb appeal usually starts with colorful flowers or planters out front that may reflect the changing seasons. No matter how elaborate or simple the curb appeal may be, its job is done at the curb. Once your outside is looking good, it may be time to move the charm and ambiance indoors.
Maintaining a property's common areas is a major responsibility for a co-op or condo. A board will spend a large allotment of time, effort, and budget to ensure that all common areas are safe, attractive, and appealing to residents and visitors alike. Common areas vary from a simple lobby and mailroom to an elaborate clubhouse complex of swimming pools, meeting, exercise, and party rooms. Regardless of the size and scope of the common area, there will come a time when maintenance has done all that is possible, and it is time to redecorate.
Going Pro
Refreshing and redecorating usually occurs every five to ten years, when budgets will allow. A major challenge when redecorating is to strike a balance between current styles and upcoming trends. Knowing the difference between a trend and a fad is a job for a skilled and trained interior decorator. A professional interior design firm will make suggestions, prepare sample boards, and be prepared to talk price and return on investment with a design committee and/or board. A professional will be aware of the latest style changes and cutting edge products, and how those elements can be utilized and customized for a properties best advantage. The end result must be affordable and attractive to both residents and potential homeowners. A design that is easy to maintain is also extremely important. A property's architecture may also help shape or define the direction a committee will ultimately choose for a decorating design.
Color, Lighting, & Design
John Willey of Willey Design LLC in New York City says common area interior design is more important now than ever. "I would say more than anything in the past decade it's about making the lobby a huge selling point for new developments and creating an instant experience when you walk in," he says. "Everybody is trying to one up the other in New York City. Everybody wants to shine. I'm seeing a lot of things like water features, waterfalls done in a very elegant way. I'm working on a project in Battery Park City right now that the architect David Rockwell designed. In the middle of the lobby is a gorgeous wrap-around spiral staircase and in the middle of it is a beautiful aquarium."
Willey noted that New York City residents tend to be more "stressed" than apartment dwellers in other parts of the county so that could account for the spike in tranquil lobby designs.
"Book-lined libraries are also popular right now," says Willey, "It's like when you walk through the front door and into the lobby it's like you've already started your journey home."
New York City-based interior designer Bella Mancini sees a common area design trend leaning towards warm and inviting. "It seems like designers are trying to make lobbies and other common areas feel more like private spaces," she says. "So you may walk in and immediately feel a sense of warmth. It will feel like someone actually lives there rather than you are walking into this bland, corporate space."
All designers interviewed agreed that lighting plays an important part and can have a major impact in any design project.
"I would say that the number one most important, exciting trend in the design of all common areas is lighting," says Marilyn Sygrove, president of Sygrove Associates Design Group Inc. in New York City. "In the past 30 years of specializing in co-op and condo public space design, the greatest evolution has been in the current transitioning from compact fluorescent lighting to the use of LED [light emitting diode] lighting. It has been a slow transition and not fully integrated but we are seeing the use of LED lighting in common areas as either the main source of light or at a minimum. You will be seeing more and more of this due to the energy efficiency and long term cost savings. The quality of light has been perfected—color temperatures available. The industry is rapidly making the way the light is delivered, the bulbs in more user-friendly shapes and sizes. As the prices come down LED will be universally used."
Design professionals suggest using task lighting, accent lights and ambient light in an overall design to create areas of interest and also expect to see a trend toward more chandeliers in upcoming design plans.
Mancini expects wallpaper to make a comeback. "I've seen a lot of really nice wallpaper lately. Some different wallpaper companies are coming up with some really nice wallpapers that look like natural fibers but they are not," she says, "So they are more appropriate for high traffic use. I think the wallpaper companies right now are doing a great job in not using more synthetic materials, but in a way that looks really elegant."
Sygrove says that classic colors in common areas will remain in demand in many New York City co-op and condo buildings. "Black and white floors, grays, taupes, soft browns and creams are popular common area design colors," says Sygrove. "The naturals are in and I'm seeing a lot of texture on walls."
Design by Committee
Making decisions that impact the whole building is a balancing act, requiring the designated design committee to formulate and clearly state their goals, says Sygrove.
"We implement such methods as interviewing the design committee members in a roundtable forum to see where they are coming from and wish to go," she says. "We craft a survey for all residents asking questions to gain consensus of opinion, we invite the use of tear sheets from design magazines to show concepts about color, style and detailing. From all of these we get a broad idea of how this committee views itself so that we can develop designs that reflect the building and residents through our interpretation and guidance."
Interior decorators agree that it is important for a co-op or a condo association design committee to do their homework and provide insight to a designer on the likes, dislikes, wants and wishes of the residents.
Sygrove believes that the best way for the design committee to educate themselves is to look on the Internet or look at magazines for the latest trends. "There are a number of simple and easily attainable ways to educate or familiarize one self with what is new," she says. "Design magazines such as Luxe, Veranda, Dwell, Architectural Digest and Interior Design Magazineare great publications. Many people like to watch HGTV but I like to feel a space, so having a cocktail in a new boutique hotel lounge or eating at a new restaurant are fun and easy ways of seeing what is going on and get educated through how these spaces feel and function."
Interior designers are trained to help clients strike a balance between what's trendy and what will stand the test of time and various ways of incorporating of-the-moment design elements into traditional–looking lobbies and common areas.
"Great accessories are the ideal way to give a common area a current feel without spending too much money," says Mancini. "You can do a lot with mirrors, throw pillows or a fantastic, interesting vase or bowl on a table."
Willey says that many design committees of co-op and condo boards are pushing the luxury factor but are working with limited budgets. "The important thing is to shop smartly and try to get a few key pieces," he says. "A rug is critical. You'll see a lot of beat up oriental rugs because they'll hide the scuff marks from all the delivery people rushing through. You can also do very stylish but not too pricey carpeting and a few good pieces of art work for the walls will go a long way. A lot of New York City lobbies aren't huge, it's more about cleanliness, being clutter-free and the few key elements that are there are nicely luxurious."
Going Green
When it comes to eco-friendly interior design, decorators believe that the genre is here to stay but have mixed feelings on the subject.
"Speaking only from the co-op and condo design niche, the strongest impact has been in energy efficiency," observes Sygrove. "All clients want to save money so we present options such as LED lighting, light sensors that can cut energy consumption in half. That is specifically where we see the green movement influencing design."
Mancini notes that people are a lot more aware of it and that eco-friendly paint is a popular choice for the majority of her clients. "Ninety percent of my clients have small children so they feel as if it's important," she says. "It costs more but it's worth it."
"People are not requesting green, but they are inquiring about it," says one Manhattan-based designer. However he adds, "I am not comfortable yet with specifying green products. Say a client is going to order $30,000 worth of wall covering and then it costs another $30,000 for the labor. This wall covering should last at least 20 years and I don't trust the new green wall coverings yet. I can't specify something unless I know it is the highest quality and I can trust it. It hasn't been around long enough and I can't use my client as a test. Suppose it would peel off in five years? I would be liable—not financially liable, but it would hurt my reputation. So I'm believing that that much of the green design or products could be inflated and a lot of hype. I just don't trust it yet."
For those who want to remodel following "green" guidelines, the American Society of Interior Designers (ASID) provides a program called REGREEN®.
Changes
The National Association of Home Builders (NAHB) has noted a shift in the design of common areas, and a trend toward having areas bleed seamlessly into one another. In the past there were more separate, distinctive rooms, now computer centers, media centers, and lounge areas are often part of the same room. This type of design encourages interaction among residents.
Fitness centers are also enjoying a positive trend as fitness remains a priority and properties are shifting on-site gyms to prominent locations and adding more high quality equipment. These trends are a positive reflection of the desire to keep current residents satisfied, and to attract new buyers in a suppressed market.
A trend towards adding other niche amenities like storage, garden plots, and pet areas has also been noted, but properties must determine the level of interest for residents before going to the expense of developing these niche amenities.
Anne Childers is a freelance writer and a frequent contributor to The Cooperator. Staff Writer Christy Smith-Sloman contributed to this article.