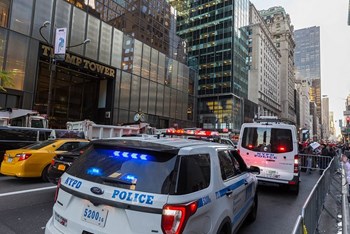 A fire in an condo unit on the 50th floor of Trump Tower that killed one resident on April 7th has drawn attention to the issue of installing sprinkler systems in older, larger residential buildings.
In 1999, the City passed a law requiring new buildings to have sprinkler systems included in their blueprints from the start. Older buildings like Trump Tower (which was completed in 1983) were exempted from having to be retrofitted with sprinklers unless they underwent renovations totaling 50 percent or more of the building's value, as The Real Deal pointed out. The sprinkler law was put into effect after two separate deadly fires at residential buildings in Brooklyn and Manhattan in the late 1990s, The Washington Post reported.
This latest blaze -- which claimed the life of condo owner Todd Brassner, 67 -- has officials rethinking the issue of sprinklers, according The New York Times.
"We have to be more conscientious on behalf of residents," said Robert Cornergy, Jr., the City Council chairman on buildings, as quoted in The Times. He urged new legislation that would require older apartment buildings to have sprinklers installed.
Around the time the sprinkler law was enacted, developers including Donald Trump argued that installing sprinkler systems for every unit in older buildings would be expensive, costing up to $4 per square foot. "People feel safer with sprinklers," Trump said in the Times in 1999. "But the problem with the bill is that it doesn't address the buildings that need sprinklers the most. If you look at the fire deaths in New York, almost all of them are in one- or two-family houses."
In response, the real estate community said the building code has been successful in reducing the amount of deaths, NY 1 reported. John Banks, the president of Real Estate Board of New York, was quoted as saying: "Whether or not additional laws or steps are warranted should be based upon analysis of data as to how often such fires occur, in what types of structures they occur, and the practical physical challenges of implementing such laws or steps."

According to the Times, an unidentified FDNY official said that sensors at Trump Tower detected smoke and prompted an alarm that was sent to the fire department during last Saturday's fatal blaze, but intense smoke and fire emanating from Brassner's unit prevented building staff from entering.
According to his friends, Brassner, an art dealer, had wanted to move out of his Trump Tower apartment, but was unable to sell it.
David Chiu is an associate editor at The Cooperator.