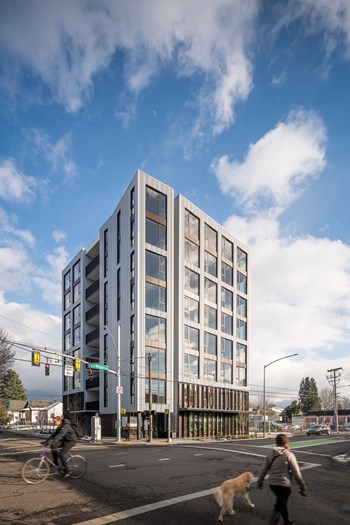 When one thinks of a wooden domicile, the log cabin might come to mind, or even the treehouse in which one may have spent hours as a youth. But rarely do "wood" and "high-rise condominium development" overlap in the popular imagination.
Developer Kaiser Group and PATH Architecture (both firms owned by Ben Kaiser) are seeking to change that with Carbon12, an eight-story, 14-unit condo project in Portland, Oregon. It is reported to be the nation's tallest wooden structure. (The Framework building project, also in Portland, had aimed to top out at 12 stories. However, that development is currently on hold for the foreseeable future).
Construction on Carbon12 finished in January 2018; by spring of that year, half of the units were sold at prices ranging from $800,000 to $13 million. Each unit has a recessed balcony and a dedicated elevator entrance. Interiors conform to the general environmentally-friendly wooden aesthetic of the entire project, leaving visible the wooden elements of the cross-laminated timber and glulam beams with which much of the structure was built. The exterior of the property features vertically-striated metal paneling and solar panels on the roof, with ground-floor retail and an underground parking system.
Aside from the obvious green incentives of building with timber, Carbon12 also claims to be particularly earthquake resistant. Speaking to green design website Inhabitat earlier this year, PATH Architecture said that "In addition to its innovative structure, Carbon12 is one of the most well-prepared residential buildings in the country in regard to earthquakes and other natural disasters," due to a thickened basement slab resting upon deeply-planted steel pilings. In fact, the building is only about 1/4 the weight of a concrete equivalent, but according to the designers, every bit as strong.
Occupants should be able to rest easy knowing that they're living a sustainable lifestyle while keeping themselves safe from the elements.
Mike Odenthal is a staff writer at The Cooperator.