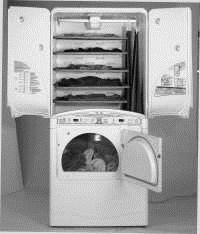 On-site health clubs as well equipped as any private gym or spa. Playrooms for children, all-weather roof decks, and private screening rooms. Remote-controlled fireplaces, climate-controlled wine storage, 360-degree enclosed glass showers and disappearing kitchens. These are just a few of the high-end residential building amenities mentioned in the real estate section of any given edition of the Sunday Times, and they illustrate the continuing trend past the merely convenient and into the realm of the luxurious and futuristic.
Of course, luxury features and technological innovations have always been selling points for apartment buildings -- if you had an apartment in an elevator building with heat, hot water and electric lights (as opposed to gaslights) in 1910 for example, you were fortunate indeed. In the decades that followed, realtors tempted discerning apartment-seekers with refrigerators and washing machines. In the 1950s and '60s, buildings with built-in air conditioning and terraces were considered the living end.
But what about today -- and what about the buildings of tomorrow? Nowadays, with apartments selling for record figures, people clearly want to get maximum return on their dollar. Even rental buildings are jumping on the luxury bandwagon. For example, the Tribeca Park rental building in Manhattan offers its residents a private park, swimming pool, health club, and children's playroom.
So what has become standard in the luxury marketplace? And what's next for the Park Avenue and Fifth Avenue crowd -- and eventually, for the co-op and condo industry in general? What will developers and brokers use to tempt buyers into their buildings…and justify the inevitably massive price tags on their properties?
Wired for the Future
Certainly, the Internet itself and wireless Internet connectivity (sometimes known as Wi-Fi) have been among the biggest things to hit the apartment amenities scene during the past 20 years, according to Clifford Finn, director of new development marketing at Citi Habitats Inc., a prominent New York City apartment sales and rental firm.
In the 1990s, says Finn, many people just had one phone line, or perhaps two if they wanted a separate dial-up connection for their computer. Now, however, "New apartments are set up for a different lifestyle," says Finn, "with several phone jacks, Ethernet lines and so forth."
Many newer buildings feature Wi-Fi in common spaces such as pool decks, lobbies, or resident lounges so residents can take a laptop and go online unencumbered by wires or cables. "More newly constructed buildings are now also being outfitted with T-1 lines," says Finn. T-1 lines are a type of high-speed fiber optic wire that can carry up to 60 times more data than a typical residential phone wire, and are more expensive than either DSL or cable lines.
The purpose of all this hard-wiring is manifold. While some residents may simply choose to use their building's DSL or T-1 capabilities for web-surfing, e-mail, and ordering FreshDirect, others may want to take full advantage of what these systems can do for them. Redundant connectivity makes it possible for apartment owners to fully integrate all the systems in their homes, says Finn. Multiple computers and cable televisions are just the beginning -- apartment owners can synch their office computers with their home systems to control lights, climate, security, and access at their homes when they're not even there.
According to Finn, features like common-area Wi-Fi will be standard and taken for granted within a few years. While total system integration may still be a few years off for most typical apartment owners, most co-op and condo-owning families are connected to the Web on a daily basis. Of those individuals and families, a large proportion use wireless communications -- usually to link two or more computers together, or to connect to the Internet in lobbies, on sun-decks, or in other common areas of their building.
Helping Out At Home
Adrienne Albert of The Marketing Directors agrees that "The Internet has influenced people's lives to a huge extent," but says that other technological advances -- especially those designed to make household tasks easier and less time-consuming -- are leading the way into the future of how people live day-to-day.
"Twenty years ago," she says, "Kitchen garbage-disposal units were available, but you couldn't have them in New York City. Now you can." Needless to say, many new apartment-seekers are thrilled to dispense with the age-old New York tradition of taking the trash out every night (and sometimes more often) to avoid unpleasant smells and vermin.
Also becoming more and more common are high-end, space saving (and even space-age) appliances such as the Fisher & Paykel Dish Drawer, which is essentially a full-functional dishwasher reduced to the size of a silverware drawer. The "Single" model Dish Drawer cleans six place settings at a time -- an innovation perfect for apartment living -- and the "Double" handles twice as many, plus pots and pans.
In some new buildings -- such as the new 409-unit condos at 20 Pine Street being developed by industry heavy-hitters Shaya Boymelgreen and Lev Leviev in cooperation with legendary fashion designer Giorgio Armani -- futuristic appliances like the Dish Drawer are just the tip of the iceberg. According to a recent article in the New York Times, "20 Pine Street -- The Collection" will feature Pullman kitchens built so seamlessly into the dining and living room walls that with the flick of a sliding panel, the entire kitchen can be hidden from view, a la The Jetsons.
And in this new generation of apartment buildings, even laundry day has been transformed with a new generation of washers and dryers so sophisticated that they can sense the average fabric mix of a given load of wash and customize the most efficient wash cycle based on what it senses. There are vertically-stacked drying shelves and hanging racks for delicates, and gone are the days of huge, boxy, white or off-white washer/dryer units -- today, these appliances can be color-coordinated to suit any taste, and are as sleek and streamlined as sports cars.
To Your Health
Once the laundry is folded and the clean dishes put away with time to spare, building residents can spend that extra time on other pursuits -- like fitness, for instance. Many New Yorkers belong to gyms or health clubs, but a trend that has been gaining momentum for some time -- particularly among high-income luxury buildings -- is the ultra-modern, ultra-convenient in-building fitness center. According to Richard Dattner of Richard Dattner & Partners Architects PC in Manhattan, gyms and fitness facilities are becoming almost standard in some development circles. "There's a big interest in every building having a fitness facility," he says, "especially in high-end apartments."
Terri Wiezycki, vice president of business development for American Leisure Corporation -- a Manhattan-based company specializing in developing residential fitness facilities -- agrees. She adds that many new and in-the-works residential buildings are moving beyond having a few pieces of basic fitness equipment and into the realm of luxurious, spa-like "lifestyle centers" for their residents to use and enjoy.
"Whereas a gym or fitness center offers people a facility in which to work out with cardio equipment, Nautilus-type circuit training equipment, and old-fashioned free weights," says Wiezycki, "a lifestyle center includes all sorts of additional amenities that go well beyond just fitness. Some centers are more like spas, offering massage therapy, yoga classes, and nutritional consulting, while others feature darkrooms, children's playrooms, and even business centers."
Energy Efficiency
A heightened awareness of energy-efficiency has also become more and more common in new construction and high-end buildings -- and not just thanks to conscientious consumers. For example, the city recently made "Energy Star"-qualified appliances -- including air conditioners and refrigerators -- standard in new buildings.
After the energy crisis of the 1970s abated, says Dattner, "Oil got cheap, and electricity stayed cheap. Now, we're starting to realize that the days of cheap energy might be over. We're more concerned about the insulating qualities of the walls and windows and maximizing sunlight."
Developers today are also more environmentally aware as seen in the proliferation of new construction or so-called "green buildings."
Closing the Sale
One thing is certain -- convenient and helpful as cutting-edge technology is for residents, high-end amenities and features usually help sell apartments as well. They also make a cutting-edge building a good risk for mortgage lenders, since top-of-the-line buildings quickly get a reputation because of these amenities.
"The people who are purchasing or renting these units are typically working in very fast-paced environments, and still bring their work home. They prefer to live where everything is set up for them when they get home," says Finn.
"If you plan these amenities carefully," adds Albert, "It will provide more to the bottom-line product. The better you plan, the more [your apartment] will appreciate in good times and hold its value in bad times."
On the Horizon
What trends do experts see as being on the horizon for condos and co-ops?
Elizabeth Stribling, the founder and president of Stribling & Associates Ltd. says the latest thing is an in-house, high-tech, wireless concierge service, also known as virtual concierge.
"This means that where ever you are, you can program different lighting and thermostatic control in your apartment," she says. "You can have your apartment stocked by a Food Emporium-type place from anywhere, have a car pick you up at the airport, order theater tickets – all without talking to another person."
With a virtual concierge service, of course, you can also take care of apartment business -- for example, you can put in repair-work orders for your apartment.
"I think larger kitchens as places to entertain and gather will be required," says Albert, "whether they will include a bar that you can pull a stool up to while people are preparing dinner, or the formal dining room, which is disappearing fast."
Power brokers Dolly Lenz, the vice chairman of New Development/Marketing for Prudential Douglas Elliman, and Sharon Baum, a senior vice president with The Corcoran Group, both say amenities are a value-added product that can't be ignored in today's fast-paced world.
"Every client I've ever had says, 'I wish to simplify my life,'" says Baum. "People are really looking for more time." Luxury buyers are also looking for technological advancements, as well as full service kitchens, and bathrooms that are more like resort spas you'd find in a first class hotel. And, adds Lenz, retail delivery services from a Zabar's or Whole Foods, or catering service from a world-class restaurant on the premises are becoming more commonplace in the marketplace.
Like Stribling, Albert also foresees a boom in electronic remote control of your home's functions. "It has been in very high-end private homes, and will come to high-rises in the city," she says. "You can turn on your oven or put your lights on before you even get home."
Stephen Ross, the founder and CEO of The Related Companies, agrees that only the newest amenities seems to attract buyers these days. Residential units in the lavishly-appointed Time Warner Center, for example, sold for an amazing $3,000 per square foot. One Central Park Condominiums features around-the-clock doormen, valet and maintenance staff, access to the nearby Mandarin Oriental hotel's European spa treaments, fine dining from five-star restaurants located on the premises, a residents-only private health club and business center, a private screening and media room, a children's party and playroom, and more.
According to Dattner, "We've just finished a striking 27-story condominium building at 205 East 59th Street for the Zucker organization, and half of the units have double-height living rooms. The apartments are not duplex, but the living rooms are."
It's done by means of an "intricate puzzle," with the living rooms positioned in the corners of the building. This arrangement, he believes, may one day become more prevalent. (Longtime New Yorkers, incidentally, may be interested to know that the building is on the site of the old Baronet and Coronet movie theaters.)
In the future, says Finn, "I think that the apartment house living trend is not far behind what we saw in hotels, where the boutique hotel became the trend, and hanging out in hotel lobbies and going for drinks in the hotel bar became the thing." Some apartment buildings, he says, are trying to duplicate this by including spaces where residents can socialize.
In general, Stribling summarizes, condo and co-op buyers will demand the latest amenities more and more, whether it's a concierge service, the latest kitchen or bathroom equipment, state-of-the-art wiring, or a garage with valet parking. "You didn't see individual wine cellars in kitchens until recently; now, everybody has an individual wine cellar. "[Buyers] want anything that makes their life easier. People want things quicker, quicker, quicker," she says.
Raanan Geberer is a freelance writer living in Manhattan and a frequent contributor to The Cooperator.