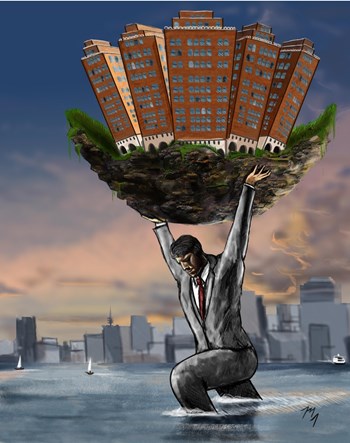 If your planner or BlackBerry is full of to-do lists and scheduling conflicts, if you're often running up against deadlines and your cell phone rings constantly, you've got a lot in common with a New York property manager.
Property managers have a lot to keep track of; board and shareholder meetings, maintenance issues, communication with residents, building staff and a host of other concerns that go along with being the place where the buck stops for the day-to-day life of co-op and condo property in Manhattan. Depending on the size of the management company, a single agent usually cares for multiple properties. Without the support of a manager's parent company and peripheral support from the board, a manager's work is truly never done.
The Portfolio Balance
Michael Berenson, president of AKAM Associates, Inc., a New York-based management company, says that while having a robust portfolio is a smart management move, it's possible that managers can take on too much. "A balance must be struck with regard to portfolio size and time-on-task. When a manager's portfolio becomes onerous, it encumbers any potential the manager may have for growth because that manager will not have the time, energy, patience or support to delve into any one area and master it."
So how much is too much? Jonathan West, president of the Charles H. Greenthal Management Corp., of New York, says, "The average, if everything is equal, would be six to seven buildings. In decades past, it could have been upwards of 10 to 12 buildings."
A property manager's caseload varies depending on the size of their portfolio, and how many units there are in each building, of course, but the decline in total number of buildings per portfolio might surprise some. Isn't this the communication age? Shouldn't property managers be able to handle more than ever? In fact, most managers feel the idea that computers, faxes and PDAs cut back on work is a misconception—if anything, the list of managerial tasks have increased with the addition of new gadgets that only serve to speed up the turn-around time they have to deal with problems.
Berenson notes that the size of a parent company shouldn't have much bearing on the number of buildings a company's managers take on. "For any residential property management firm, the number of properties a manager handles should have nothing to do with the size of the company. From a business perspective, the number of properties an agent handles is dictated by the fee the property is willing to pay. This is especially true with better managers who deserve and expect higher salaries," he says. "In these cases, the company needs to serve clients that are willing to pay higher fees. In the absence of such clients, it becomes necessary for a manager to carry additional properties in order to justify a certain salary level. Regardless of the size of the management company, assigning too many properties or units to an individual manager will ultimately result in diminishing returns as productivity will inevitably suffer."
Help! I Need Somebody
As a father is with his son, so is the parent company with the agent. Well, in a perfect world, anyway. In reality, there can be strained relationships sometimes between a management company and its agents. This is usually due to a lack of communication and/or support. The majority of management companies however, do give a helping hand to their agents for the day-to-day trials of property management—including investing in their futures.
"Continued education courses are offered and paid for by my firm," says West. "Seminars are done regularly, and as far as resources are concerned, we provide [managers] with BlackBerries, mobile phones, a state-of-the-art computer system, their own personal assistant, a large back office support staff and a technologically-advanced Compliance Department."
West says that his managers are also asked for their input on operations. "[We hold a] monthly meeting where all managers and account executives sit around the table brainstorming ideas and problems. Everyone gets to ask and get their questions answered to resolve issues. In addition, this meeting is attended by all department heads. This way, we can learn, grow and improve ourselves."
West says that by facilitating a time and place where managers can report back to their firm and get help, voice issues, and generally stay in touch, the shareholders and boards of co-op and condo associations are happier—and that makes for good business. "The bottom line," says West, "is that it is all about positive communication from one department to the next; [we] continue to hone our skills, which in turn goes to our boards."
Property managers in the state of New York are required to have at least a New York State sales license, which requires them to take continuing education courses every two years. This is the bare minimum education requirement for a manager; top firms encourage their agents to pursue management scholarship well past that. Seminars and accredited courses in alternative power, arbitration processes and management techniques are just some of the educational enrichment opportunities that a smart management company will seek out for their agents.
Boards: Expect the Expected
Officially, it is the management company's job to keep the agents productive (and relatively happy), but the support system that helps a good manager be great isn't limited to their parent firm. The behavior of the association's board has a lot to do with the effectiveness and general ease of a manager's job.
The first way a board can help get the most from their building manager is to know what is actually expected of that manager, both personally and professionally. Surprisingly, this is often a grey area for a lot of people.
Professionally speaking, Berenson notes that "Boards should expect that their individual property manager will be supported by the management company in the execution of the board's directives. They should also be supported in the delivery of services like maintenance and financial oversight, staff supervision, records management, enforcement of rules and regulations, preparation for and attendance at meetings, interacting knowledgeably with professionals, and knowledgeable and courteous response to property owners and residents. A property manager's responsibility ends where the board's fiduciary responsibility to set policy begins."
There are personal expectations, too. While it's certainly more pleasant to deal with a manager with a dazzling personality, you'd be hard-pressed to find any contracts that demand that a manager be "nice." What is expected is that a manager be professional in his or her dealings with the board, contractors, shareholders and anyone else they encounter on the job. When a manager has seven buildings to maintain and a laundry list of tasks for each one, a person calling about a broken light in the hallway is likely to get a polite "Thank you for letting us know," and not much more. A smart shareholder will recognize such conversations as efficient, and not take it personally that their building manager doesn't have time to chat with her about the cats, the kids or the sciatica that's been flaring up lately.
Sharing the Caseload
"Board members and managers should look upon themselves as a team working for the betterment of the building," Mindy Eisenberg Stark, founder of the Council of Westchester Co-ops and Condominiums previously commented to The Cooperator. "The relationship between the board and managing agent really hinges on the active participation of both parties. The board needs to take responsibility for their part in the team and not put the entire burden on management."
Berenson agrees that whether a manager has two or ten buildings in his or her portfolio, everyone wins when boards and managers work together with communication and understanding.
"Boards must realize that, like anything else in life, if quality is desired, a certain level of fee must be met," he says. "In every case, paying for higher quality management will inevitably save a property money. Boards must be respectful of the job that management provides. Board members also must recognize the board's own fiduciary obligation to set policy in the best interest of the property as a whole, and then allow management to execute that policy based on management's experience and expertise. For the part of management, it is the responsibility of the managing agent to take ownership of a management assignment and deliver the highest quality service at all times."
Mary K. Fons is a freelance writer and performance artist living in Chicago, Illinois.