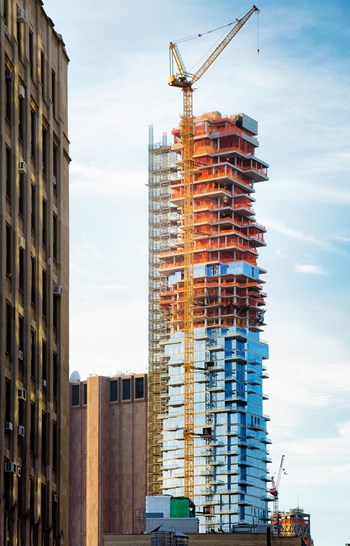 Not only does New York never sleep, it doesn't even pause for long, especially when it comes to the construction of residential real estate. While the rate at which new buildings are developed ebbs and flows depending on the strength of the market, there is always something happening in town, whether that means a rash of major projects or more subtle trends in what home buyers are looking for.
As of this writing, things seem to be bubbling throughout the boroughs, with several condominium developments underway at various stages. To highlight just a few:
• A $100-million, 13-story building consisting of 65 units to be erected at East 21st Street and 2nd Avenue, and completed in 2020. The condominium project marks a partnership between Silverback Development and a private family;
• Developer Savanna will repurpose part of the Jewish Theological Seminary at 543 West 122nd Street in Morningside Heights into a 32-story condo tower;
• Near the Main Street subway station in Flushing, the F&T Group aims to sell out a proposed Tangram South condominium development, which will offer 192 residential units and 111 storage spaces;
• At 429 Kent Avenue on the Williamsburg waterfront, XIN Development is finishing construction on a luxury condo project dubbed Oosten; and
• Sales are underway at 121 East 22nd Street, in the first ground-up residential project in the city by the Office of Metropolitan Architecture. The building contains 133 units, consisting of everything from studios to five-bedrooms.
In the interest of exploring the latest goings-on in the local condominium sphere, The Cooperator reached out to an array of real estate professionals to get their take on what's new and notable in the realm of residential development.
Trending Now
At any given time in the Big Apple, certain boroughs are hot, residentially speaking, while others bide for their time to shine. While Brooklyn has been in the zeitgeist for a while, it may soon have to share some of its buzz with other burgeoning neighborhoods.
"Trend-wise, we're currently seeing the $1 million - $4 million market being very active in Brooklyn, but also in Harlem," says Stephen G. Kliegerman, president of Halstead Property Development Marketing. "In Harlem above 125th Street, studio, one- and two-bedroom apartments are leading sellers, while in Brooklyn, we're seeing more interest in two- and three-bedrooms."
Halstead is also developing a project at 50 Greenpoint Avenue in Brooklyn with a roof deck open to all owners that looks out on the Manhattan skyline, in close proximity to both the East River Ferry and the Greenpoint Avenue G train. Access to transportation is, as always, a premium for buyers in this sprawling town.
And while the company is not currently working on any projects in the Bronx, there are whispers of potential development action up yonder. "We have been asked to look at some sites in the Bronx, and it's something that I think is up and coming," says Kliegerman. "It's an emerging marketplace that will take some time to see the condo market really take hold, but I believe that the long-term future of the Bronx will be exciting."
As far as where people are currently looking for condominium real estate, the Upper West Side seems to be busy. "I like the UWS, going into Morningside Heights, and all around Columbia University," Kliegerman observes. "I think that, with the Columbia expansion, you're going to see a lot of opportunity in that area, like the Broadway corridor in the 120s, where you have great access to transportation and a flourishing educational institution; I think the whole area is ripe for continued development."
In regard to what types of units buyers are currently after, Kliegerman notes that flexibility is paramount. "People are interested in things like a two-bedroom that's a little larger, such that it can be converted into a three-bedroom without paying that full three-bedroom price, or a one-bedroom that can be converted into a two-bedroom for the same reasons. When we can, we try to install smart home wiring, so it's easy for people to plug and play with their devices. Also, quality of finish is important. People want sustainable finishes that are a little more contemporary, but a little less modern such that they stand the test of time, and you don't have to renovate in five or ten years. And in larger buildings, maybe instead of a huge lounge, we will try to offer a co-working space, so if people who work from home often want to get out of their apartments for awhile, they have their own little type of WeWork within their buildings."
Forms and Functions
As neighborhoods and amenities shift in favor, so to do design preferences. Even within individual boroughs, there are variances in fashion and aesthetic styles. From an architectural standpoint, it appears to be an interesting—if uneasy— time in the market.
"We're seeing some uncertainty right now, in regard to condos," says Harry Kendall, a partner with BKSK Architects in Manhattan. "It's clear to us that our clients are not moving aggressively, and are not pushing us to get proposals done immediately or get drawings done right away. In general, there's a sense that people don't know what the market's doing. They're hoping that it will rebound. I was at a fundraiser recently, and two different developers said 'Don't worry; in a year and a half [the market] will bounce back,' so that seems to be the memo that is currently circulating, but I don't take that as an oracle."
When it comes to actual aesthetics, New York has such a rich history that a neighborhood and its general ambiance play a large part in residential building design. "Whether it's new or a conversion, sites always have their own peculiar geometry, in regard to how naturally everything lays out, and you tend to get a sense of what a building wants to be," says Kendall. "Two of our current projects exist in family-friendly areas where it would be a natural fit for that type of family-oriented owner, but our clients sent us back to the drawing board to sketch out how the properties would look with smaller units, basically saying 'We need the flexibility of knowing as we move ahead that, while this lays out nicely as luxury units, how well would it lay out if those units were smaller?' Smaller in both the sense of having the same amount of bedrooms with less square footage, and also with a higher percentage of single bedrooms and studios."
In regard to materials trending in popularity, Kendall's recent experience indicates that terracotta may be capturing hearts and minds. "We have seven different projects where we're using terracotta on the facade," he says. "I think that it's a reaction against, say, less 'soulful' glass boxes. And terracotta is a wonderful material; there are quite a number of ways of using it on a facade that are not necessarily too expensive. It's just a material that fits in very well in a masonry and urban context, with a lot of flexibility of finish and color."
"Our firm does a lot of work in landmarked districts," Kendall continues. "But only about half of the aforementioned projects are in historic areas; some are just on good old NYC streets that have a lot of masonry buildings. I think that it's a better city when people don't assume that any new building that pops up is going to be glass. It's nostalgia in one way, but it's also forward-thinking, because none of the projects about which I'm talking would be mistaken for having traditional facades."
BKSK is also working on a building on the Upper West Side on Columbus Avenue between 82nd and 83rd Streets that is seeking a Passive House certification. Passive House is a voluntary performance standard that, according to the New York Passive House website, "Results in a roughly 90% reduction in heating and cooling energy usage, and up to a 75% reduction in primary usage from existing building stock, meant to aggressively meet the climate crisis carbon reduction imperative while making a comfortable, healthy and affordable built environment."
"As far as I know, this will be the first Passive House multifamily building on the UWS," notes Kendall. "Although there are a few projects in Brooklyn, and I have seen a few on the boards in Manhattan that are seeking the certification."
Taking it Inside
The iconic Woolworth Building at 233 Broadway has been undergoing a years-long residential conversion, and will eventually offer 33 luxury condos, two model units of which were recently unveiled. One of these models – Apartment 38B – was designed by Eve Robinson of Eve Robinson Associates Inc.
"It's a spectacular building, with so much history," Robinson raves about the Woolworth. "And we've really updated it to be part of the 21st century in terms of design. We've incorporated elements from the old building. For example, on the floor where our model is, there are these beautiful terracotta panels that frame the exterior of the windows, and we've used the colors of those panels to inform the palette of the interior. It's fun and sophisticated and interesting; it's also an open floor plan in terms of dining and kitchen, so it's a bit more relaxed. And the ceilings are really high; it has a grandness that is more suitable for modern living. The windows are tall and the views are spectacular."
The Woolworth's open floor plans are not unique to the building; Robinson indicates that people are increasingly abandoning more traditional kitchen and dining areas. "People like light, openness and airiness in spaces," she says. "They want to come home and feel relaxed."
"I think that people don't want especially formal homes anymore," she continues. "They want rooms in which they can really live. Especially in NYC, people want each room to function really well for them. Things aren't just for show; living rooms are no longer off limits to kids. Parents want children to be parts of their entertaining spaces. The whole concept of family time is different than it used to be. When parents socialize, they do so with other families, and everything is just less formal. Many apartments, especially new condos, don't have formal dining rooms anymore; they're either open to the kitchen, or open to the living room. Floor plans have relaxed as people want less clutter. They want furnishings to be comfortable, but while not necessarily minimal, not overtly done or crowded."
While the city may never sleep, it certainly does change – and it would appear that the fashion for minimal, almost antiseptic glass-and-metal construction is perhaps giving way to a warmer, more 'human' kind of architectural and interior design vibe. Time will tell how long the trend lasts or how far it goes – will we ever see a return to Art Deco and acres of dark polished hardwood paneling? Possibly. But for now at least, it seems like a slightly more relaxed market is allowing for some wiggle room.
Mike Odenthal is a staff writer and reporter for The Cooperator.