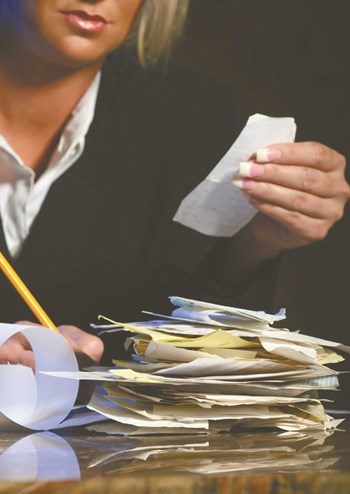 From attorneys to contractors, every building has a list of various professionals to work with to keep things running smoothly. One of the most important of these professionals is the building's accountant. One wrong calculation or missing component in a co-op or condo community's finances can lead to angry residents, cash flow problems, or even lawsuits. As a manager, it's important to know how to find a competent person to crunch those numbers, what expectations you can hold for him or her, and how to get the most of your relationship.
Why Have An Accountant?
The short answer? Because it's legally required.
"Ninety-five percent [of cooperatives and condominiums] are required by law to have an audit statement," says Mindy Eisenberg Stark, CPA, CFE.
Rick Montanye, CPA, who is with the accounting firm of Marin & Montanye LLP in Uniondale, says that the audits are used to compose tax statements that are sent to shareholders so that they know where their money is going. Additionally, accountants file corporate tax returns on behalf of cooperative corporations.
According to Stark, smaller buildings sometimes don't have a legal obligation to get audited, so they do their own numbers.
"Ten-unit condos, for example, can usually do finances themselves," adds Carl M. Cesarano of the Floral Park, New York-based firm of Cesarano & Khan, PC. Everyone on the board is a volunteer and as it turns out some people may have more expertise, which is easier to utilize in a smaller group, he says. "With a bigger condo, it's impractical."
However, Montanye says that even when buildings aren't required by their bylaws to distribute audit statements to their shareholders, some banks are now requiring such documentation for their records.
"It would not be wise to have a managing agent handle these issues," he says, "because it's a fairly specialized area, and experience is required to handle required filings and financial statements properly. Remember, the cooperative or condominium is collecting maintenance or common charges from the unit owners. It's important that the funds be spent properly and records be kept of all income and expenses…it's necessary that the records of the managing agent be checked for accuracy and to make sure the finances of the building are being handled properly."
Stephen Beer of the Manhattan-based accounting firm of Czarnowski & Beer, LLP says that without accountants, condos and co-ops run the risk of missing tax benefits for buildings and units. If paperwork is filled out incorrectly, there's also a chance for a fine.
What's Your Role?
While accountants are the experts in the field, everybody has a part to play for things to run smoothly. "Professionals charge fees, however virtually all board members are volunteers with fiduciary responsibilities," says Montanye.
"Managing agents are where it all starts. It's their job to provide accurate and timely financial planning," says Cesarano. They produce budget assumptions and are able to explain the differences between the actual money spent and the budget, he says.
Treasurers then act as a watchdog of the managing agent and are the liaisons between the CPA and the managing agent. They have a basic knowledge of financial statements and review all the documents. They keep records of all the bills and are responsible for also keeping the board up to speed on where the money goes.
"Managing agents and treasurers do the day-to-day financials and the CPA audits them," adds Cesarano. But, he says, "We can't make their decisions. We can give opinions but the board makes the decisions."
According to Montanye, "A typical menu [of an accountant's duties] would include the annual audited financial statements, assistance with the annual budget, preparation of entity tax filings, and perhaps attendance at the annual or other meetings."
When buildings have an accountant, they're making somewhat of an investment. "You have an independent licensed professional handling important tasks such as preparing tax returns and financial statements that are used by potential buyers of apartments and financial institutions providing financing," says Montanye.
Many boards though, Cesarano continues, push the boundaries of what an accountant's duties are, citing that board members are volunteers. Again, some of them may have more knowledge in certain areas, but most of the time they are not trained professionals.
"It's been the custom in this industry that accountants do so much more [than what is expected]," he says. "Can you think of any other industry where management doesn't know a lot about the industry?…People aren't compensated for their volunteering. They rely heavily on the CPA."
Cesarano cites instances where managing agents have called him for advice regarding refinancing and information on disability tax credits for individual shareholders.
"There's certain stuff I do out of courtesy " he says. "It's always been my policy to help them out throughout the year. I want to make sure everything is on the up and up."
"There is constant communication between the accountant and the managing agent," Montanye adds. "The accountant would normally be contacted if there was an unusual activity, or if planning was necessary for a special project. There would also be significant communication around budget time and when the annual audit is being reviewed or when tax returns are being filed. In addition there are normally significant discussions when planning for the annual meeting or when communications are being distributed to unit owners."
There are some functions that accountants cannot help their buildings with, however.
"We don't do books and records. That's up to the management company," says Stark. "An accountant can't keep books and audit because it's a conflict of interest." She adds that while accountants are only required to go to annual budget meetings, they will go to board meetings if there's a special circumstance.
"It's important that you document with your accountant the expectations of the work they'll do so there won't be any miscommunication," says Beer.
How to Find An Accountant
Because the co-op and condo industry is so specific, it's imperative to find an accounting professional who knows all the ins-and-outs of the game.
"Industry expertise is the most important," Stark says. "Condos and co-ops are very unique."
"Taxation is also very specific and unique," adds Beer. "You need an expert to properly fill out the forms and follow regulations."
Timeliness is also very important, he says. A missed filing deadline could cost a building hundreds—even thousands—in fines. On the same note, responsiveness is also a must and accountants should respond in a fast manner to any queries that come from their building.
Cesarano suggests finding an accountant with a peer review. "Peer reviews are done every three years. The auditors get audited and are issued a letter," he says. "The accountant shouldn't just be found from the yellow pages."
Additionally, he says, a good CPA will have professional liability insurance just in case something goes wrong.
After a managing agent finds someone they're interested in, Cesarano says that they should ask for a written proposal followed by a professional interview. That way, everybody's expectations are laid out on the table.
Other things to consider are what special qualifications a CPA has in addition to simple accounting. Stark, for example, cites her position as a Certified Fraud Examiner (CFE). That accreditation can help a lot if there are questions about board members or management committing fraud or other financial malfeasance.
Show Me The Money
"Most accountants work on a flat fee basis that includes most items a cooperative or condominium would need on a regular basis," says Montanye. "Special projects or tax audits would be special items normally billed on an hourly basis." Fees also depend on the management and financial structure of the building.
Beer adds that firms can do billing on a monthly or quarterly basis, depending on their system and depending on the comfort of the condo or co-op. There is usually a fixed fee cap unless extraordinary issues occur.
The range for fees varies broadly, depending on the size of the complex, whether there are any parking garages and gardens, or if there is any commercial retail space attached to the buildings.
Take for instance a 32-building complex, Cesarano cites. "It has a lot of stuff going on." Smaller buildings are easier to keep track of.
"An average building may pay $8,000 to $15,000 per year," says Montanye. "However simple small buildings may be substantially less where larger buildings would pay more."
Fees can be based on the firm's structure. Sole practitioners are on the lower end of the spectrum where bigger firms that specialize in condo and co-op finances charge more, he says. However, with sole practitioners you lose out on quality as there could be only one person looking over everything and they may not have as much industry experience by comparison.
Keeping The Ball Rolling
The most important thing to remember is to keep an open line of communication between all involved parties. Everybody needs to be in the know.
"In my opinion communication is key to the proper relationship with an accountant," says Montanye. "The building should feel free to communicate with the accountant for any item in conjunction with the managing agent and other professionals. Board members are volunteers and should be able to rely on all of their professionals for advice."
Bernadette Marcianak is a freelance writer and a frequent contributor to The Cooperator.