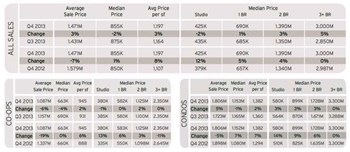 The worst of the recession is over, and many observers believe the recovery is well under way. With the exception of some coastal areas, the city has climbed out of the worst of the effects of Superstorm Sandy. What's next?
Will the city's co-op and condo real estate market go back to the heady days of the mid-2000s, when the sky seemed to be the limit, or will moderation be the key? Will foreign investors continue to plunk down huge sums of money for New York City condos? And what effect will the administration of new Mayor Bill de Blasio have? These are just some of the questions we will examine in this look back at the co-op and condo real estate market for 2013 and a look ahead to the first quarter of 2014.
Looking Up
What's the general mood of the industry? According to the pros we spoke with, it's basically positive. "The market has been the most active since the recovery, which started in 2010," says Wei Min Tan, a broker with Manhattan-based Rutenberg Realty. "Last year witnessed records in prices, low inventory and sales."
"Our sales are a good 7 to 10 percent over last year, depending upon what neighborhood, and prices went up 3 to 5 percent," says Rich Schulhoff, CEO of the Brooklyn Board of Realtors. "We have seen nothing but growth in the last year and a half across the board—single-family, multi-family, condos and co-ops."
The upturn is happening despite a low number of units available. "The year ended with the fewest available fourth-quarter listings in 14 years and investor levels roughly 20 percent below 2012," says Lisa Vaamonde, an associate real estate broker for Brown Harris Stevens Residential Sales. BHS has several locations in Manhattan, Brooklyn and Palm Beach, Florida. "Despite the lack of available product, the number of sales was actually higher in 2013 than in 2012."
In another persistent problem, tightened mortgage restrictions and access to credit are still an issue for some entry-level buyers, says Gary Malin, president of New York City-based Citi Habitats. "Rising interest rates are making the costs of loans more expensive, which can hinder buying power," he says. Still, however, the overall picture is positive.
Indeed, if the recession isn't totally over, it's fading fast, and this is carrying over into the real estate market. "Gradually, investors acknowledged the U.S.'s recovery, and that explains the surge in demand last year," says Wei Min Tan. "Also, expectations of rising interest rates, driven by an improving economy, nudged buyers to act."
The recession's effect, says James Gricar, president of Halstead Property, was considerably worse in other markets across the country, such as Las Vegas and Miami. The New York economy's relative health in terms of jobs and hiring has helped the real estate market "tremendously."
Suddenly, Sandy
Now that Superstorm Sandy is more than a year in the past, how are its effects still making themselves felt? Neighborhoods where the storm hit the hardest—Gerritsen Beach, Breezy Point, parts of Staten Island, Red Hook—are still feeling after-effects. But even there, homes have been rebuilt and businesses reopened.
Manhattan, with the exception of parts of Downtown, was much less affected by the storm. "People got displace d from buildings that were affected had had to move to temporary quarters," says Jacky Teplitzky, a top broker at Manhattan-based Douglas Elliman Real Estate. "But those were very few buildings, and they were mainly in the financial district." The Seaport area was also heavily impacted.
One thing that Sandy did was to make people think twice about living right next to the shore. Those who do are now taking extra precautions that they wouldn't even have thought of three or four years ago.
"It's difficult for people to get mortgages that close to the waterline," says Schulhoff. "Many [single-family homeowners] are seeking to raise their houses. They're paying $50,000 to $100,000 to raise their homes." Kirk Henckels, vice chairman of Stribling, added that "People might have a few more questions about the [emergency] generator in the building."
While Superstorm Sandy was the biggest New York City event of late 2011, the election of Bill de Blasio as mayor stands out as perhaps the biggest New York City event of late 2012. Mayor de Blasio, who had about 10 percent support among Democrats at the beginning of his campaign, went on to upset heavily-favored Christine Quinn in the primary, and he's still upsetting some people now.
Because of de Blasio's campaign talk of taxing the wealthy, "There's been a tremendous amount of fear in the luxury market," says Henckels. "There's been talk of empty nesters leaving the city."
Of course, not everyone in the real estate community or the business community in general, feels that way. When de Blasio in October addressed the Association for a Better New York, an organization that includes many members of the city's business, real estate and political elite, he received a standing ovation. Mayor de Blasio described himself as a "progressive activist" who is also a "fiscal conservative."
We've talked about the continuing recovery from the 2008 recession. How does the market compare to what it was five years ago, or what it was 10 years ago?
"It's better than it was five years ago, worse than it was 10 years ago," says Schulhoff. "It's better than 2009, but not better than, 2004, 2005, 2006." Those, of course, were boom years in real estate.
Part of the overall upswing in the market, says Teplitzky, comes from foreign buyers. "The foreign buyers now represent between 30 and 40 percent of the buyers' pool, and it is not coming from one country but from many countries. Therefore, it diminishes the risk of being based on one source of buyers."
Indeed, foreign buyers/investors continue to be a big part of the market, especially in Manhattan. The website for the luxury building under development at 432 Park Avenue, for example, has language options in English, Portuguese, Russian, Spanish, Chinese, French and Italian.
In some ways, the market may be healthier than it was in the past. "Certainly, the luxury client is not spending in the same way they did before—there isn't that sense that money is nothing," comments Henckels. "This buyer is much more value-oriented. Pre-Lehman [the Lehman Brothers bankruptcy of 2008], even flawed property was selling."
Comparing the market to five or 10 years ago, Gricar makes a comparison to Lower Manhattan after 9/11. "The Downtown market after 9/11 was frozen for a couple of months, but then the overall economy kicked in, and Downtown came back fairly quickly. The recession was similar—a terrible thing happened, but the market rebounded quickly."
The ongoing development of Internet technology has also made a difference, says Vaamonde. "Residential real estate company websites provide much more information. Sites like Streeteasy help to keep buyers and sellers better informed so that once they select a broker to work with, they have a basic understanding of the market."
Co-op vs. Condo
What about condos vs. co-ops? Although estimates vary, experts agree that there are still many more co-ops than condos in the city. But in the past few decades, condos have been catching up with co-ops: Condo construction continues apace, and few, if any, co-ops are being constructed.
Condos "have always enjoyed a stronger demand because of no [necessity for] board approval and flexibility in renting out," says Wei Min Tan. Foreign buyers, in particular, who may want their units mainly for investments, don't want to deal with the often-rigorous co-op approval process. Teplitzky adds that "The price gap between condos and co-ops is growing; condos are much more expensive."
Of course, not everyone is an upper-income buyer who wants a Park Avenue or a Fifth Avenue apartment. Co-ops, says Malin, "tend to trade to lower price-points than equivalently-sized condominium apartments, which adds to their appeal for many people who plan to use the home as a primary residence, and who don't mind the rules and regulations associated with their purchase." That probably describes most middle-income New Yorkers.
Bells and Whistles
One thing hasn't changed—buyers' desires for amenities. Middle-income buyers want the basics—indoor parking (especially in the outer boroughs), a doorman for security, a laundry room. Upper-income buyers often want "the whole nine yards," such as valet parking, wine cellars, media rooms, private outdoor space and full-service concierge service.
Wei Min Tan says that "The most basic amenity is a doorman. Beyond that, it's a resident's lounge, roof deck, fitness center. The high-end ones even have a swimming pool."
Teplitzky names the most in-demand amenities as "doorman, nice gym, renovated hallways and lobby storage bins or rooms, bike rooms, and a washer and dryer in the apartment."
One amenity, which Gricar mentions, is a novelty. Many new buildings, he says, have built-in refrigeration units in their lobbies so delivery services like FreshDirect can deliver perishables more easily.
What's Hot?
What neighborhoods should prospective buyers be looking at if they want to get the most for their money and retain value down the road? Answers vary. In Manhattan, says Teplitzky, the Upper East Side and Midtown East are at the top of the list. Gricar says that Murray Hill in the East '30s "continues to be a value-driven neighborhood," but his company, Halstead, also believes heavily in Upper Manhattan. "We recently opened an office in Washington Heights and have doubled our Harlem office," he says.
Looking across the river, one of the Brooklyn neighborhoods where "you can get the best value for your dollars," according to Schulhoff, is Bushwick. Even in portions of East New York, artists have started moving in, he says, in a pattern of gentrification that is familiar to any New Yorker.
While some outer-borough places, neighborhoods, like Williamsburg and Brooklyn Heights, trade at levels similar to many Manhattan nabes, "other areas like Greenpoint, Brooklyn, and Long Island City and Astoria in Queens, still offer great value for homebuyers," adds Malin.
All in all, those we interviewed are optimistic about the market going forward in New York. Wei Min Tan feels that "New York City's population continues to grow, and we expect demand to keep increasing, since there are major limitations in expanding supply."
And, "Lack of inventory," notes Teplitzky, "will keep prices stable for the upcoming quarter. The tendency will be of a gradual price increase and not a sudden spike."
Vaamonde, though, says that "inventory is still tight. However, we are already starting to see signs of a little more supply. Buyers are price-sensitive even in a low-inventory market such as this one. As long as buyers see value and mortgage rates remain low, people will feel more confident about trading up or expanding into bigger homes."
And unlike the situation during the depth of the recession, there are quite a few high-profile developments in the works or just completed.
Some of the developments named by those interviewed for this article include Hudson Yards ( a mixed-use development that will feature over 17 million square feet of commercial and residential development—the country's current largest project at $420 billion); 432 Park Avenue (which, according to its website, will be the "tallest residential tower in the Western Hemisphere" when completed); the Helmsley Park Lane (a famed hotel on Central Park South that is being converted to condos); the futuristic 56 Leonard St. in Tribeca, which is 90 percent sold; the Nordstrom Tower at 225 West 57th Street; 53 West 53rd Street (the MOMA Tower); 1280 Fifth Avenue by Robert A.M. Stern; Extell Development's 90-story One57 on West 57th Street; Greenwich Lane, 551 West 21st Street; 10 United Nations Plaza and 10 Madison Square West.
One thing is not expected to change – New York City will continue to be regarded as an attractive place to live. With its financial industry, high-profile career opportunities, green spaces, cultural institutions, nightlife and entertainment, sports teams, low crime rate and 24-hour subway system, the city will continue to attract buyers from everywhere, as well as those from right here. The quality of life in the city has steadily improved, and co-ops and condos here will continue to be seen as a good investment.
Raanan Geberer is a freelance writer and a frequent contributor to The Cooperator.