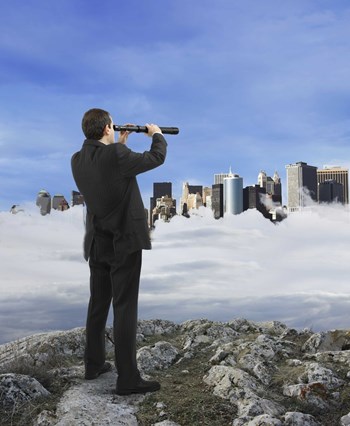 The real estate market in New York City isn't what it was in the recent past—a fact that troubled many brokers, but which for buyers was a good thing. Across the market, prices are still well below their height of a few years ago, and should stay lower for the near future.
When considering the market for co-ops and condominiums over the past year, New York City real estate professionals in the city say it's good to maintain some perspective. They talk about the dark days of 2008, when Lehman Brothers collapsed and no one was really sure what would happen next in the financial and real estate markets. Some property values were halved overnight. These days, slow as the recovery has been, most properties are still regaining value, working their way back up to peak highs.
Rebounding Fast
The past year saw a steadying in prices and a lot more transactions than the prior year, says Elizabeth F. Stribling, president of Manhattan's Stribling & Associates, Ltd. brokerage, and she feels that equilibrium should continue. "I don't think prices will go up too rapidly. We've got a balanced market," Stribling says. "I'm hoping this year will be as strong and steady as last year, with modest price increases."
Slow or not, 2010 sales were a marked difference from the year before. For the first six months of 2009, the city's major brokerages did almost no business at all, but by the last quarter of that year, sales had picked up. From 2010 through the present, the New York City real estate market has continued its steady climb back up in pricing and activity. It is still largely a buyer's market, however, and deals can be found, if prospective buyers are shrewd enough to find them.
Finding those deals depends upon what a buyer knows, and the amount of legwork he or she wants to do. It also depends upon the professional help the buyer gets. In the ultra-competitive world of New York City real estate, the sound judgment of a seasoned professional could make the difference between finding the right place and looking for another year or two.
Prices for Manhattan apartments continued to increase in the fourth quarter of 2010, with average sale prices up 8 percent from the same period the year before, according to the fourth quarter 2010 report on the residential real estate market done by Brown Harris Stevens. Co-op prices also continued to climb, with more buyers opting for larger apartments, compared to 2009. Sales of larger units of two bedrooms or more were up 40 percent from the same period a year prior. The overall average co-op price in Manhattan rose 17 percent over the year, to $1.158 million.
On the positive side, the residential real estate market in the city has rebounded much faster than most people anticipated. But a lack of new inventory coming to market already has had the effect of creating some bidding wars between buyers. Such competitions aren't occurring for every property, which may be some evidence of a balance in inventory, Stribling says.
"According to Jonathan Miller [CEO of real estate appraisal and consulting firm Miller Samuel Inc.], during the last quarter of 2010, we were at a 10-year average of inventory," Stribling says.
It seems the good news was somewhat unexpected. Gregory J. Heym, chief economist for the Halstead Property brokerage, says nobody expected the city's real estate market to rebound so fast. It has followed the local economy, which also bounced back quickly.
"Unemployment in New York City was at 10.5 percent in early 2010, and ended 2010 at 8.9 percent," Heym says. "People are coming here and staying here. The city created 51,000 private sector jobs last year—the most since 2007."
Heym expects job growth in the city to continue this year, with the finance sector adding more jobs. Health care, education and tourism also are growing in New York. Even with this economic boost, average real estate prices in the city are higher than a decade ago, but still 10 to 15 percent lower than their peak in 2007-2008.
"Certainly we've had to live in the past years with a great deal of uncertainty," Heym says. "But the local economy and real estate is poised for another good year."
Stephen Kliegerman, executive director of development marketing for Halstead Property, says the recovery in the city's real estate market is outpacing the national recovery. Part of that local recovery is due to the unfulfilled desires of buyers, who were holding back from buying due to the economy or who couldn't get the financing to buy. "There was a lot of pent-up demand that's fueled the marketplace recently," he says.
That steady demand should continue for the near future, experts agree.
"Why is New York City the only market in America with a stable residential real estate market? Because everyone always wants to make it in New York," Stribling says.
Bargain Hunting
Generally speaking, buying a home in New York City is more affordable these days than in that past few years. Prices are down 10 percent or more, but these properties never will be cheap, Kliegerman says. Even so, buyers are finding deals on homes in neighborhoods like Harlem, where residences are selling for less than $700 per square foot—half the price of the average Manhattan property.
Other areas also are beckoning to savvy buyers. The neighborhood of Bushwick in Brooklyn is an up-and-coming area where buyers will find good prices on homes. Hell's Kitchen also is a spot for bargains, Kliegerman says. Stribling says Riverdale is a fantastic value, since buyers can get a one-bedroom apartment there for $179,000.
The softer market is firming up, but some spots continue to provide outstanding values. Kliegerman recommends that buyers consider homes in developments that have long-term tax abatements. Such properties have tax abatement status for 10 to 25 years, representing a huge savings for the homeowner.
Due to the recovering market, the established neighborhoods have become even more prominent, since inventory in these areas is often limited. Homes in Brooklyn Heights, the Upper West Side, and Williamsburg will be increasingly sought after, Stribling says.
One effect of the finally-waning recession on the New York City real estate market has been the influx of more international buyers of homes. The city is now competing more with other international cities such as London, Hong Kong and Moscow for wealthy international homeowners seeking a second home in one of the bustling metropolises.
Global buyers perceive New York real estate as a good value, Stribling says, adding that super-luxury homes priced at $10 million or more have rebounded dramatically in value in the past six months. Still, some of these properties can be bought for 25 percent or more under what they were asking in early 2008.
The recent bounce back of the city's high-end market could be a sign that the recession is past. Social disapproval towards conspicuous luxury spending have eased somewhat, resulting in more sales in that category. "It became very uncool to display luxury—it was considered bad form," says Kirk Henckels, executive vice-president and director of Stribling Private Brokerage. "But that has gone away."
The number of sales of $5 million+ homes fell almost 50 percent in 2009, but bounced back 50 percent in 2010, according to Stribling's numbers. Super luxury homes valued in the $15-$25 million range initially lost as much as 50 percent of their value, but now are moving upward steadily.
Especially in new neighborhoods, developers are offering extras to entice buyers. Some developers are offering to pay closing costs, while others are agreeing to pay a certain amount of maintenance fees on the property for a specified time. Such incentives won't last, and will begin to go away, Henckels says.
"The market is tightening up," Henckels says.
Looking Forward
Because it is still a buyer's market for New York City housing, buyers must be careful in their actions to find a place that is a good value. It's good to have the help of a broker, real estate pros say, but a potential buyer can start the process by searching online. Would-be buyers can go to any number of brokerage or real estate sites, and search for a property by price and by neighborhood. After getting a better idea of what's available, the buyer should call a broker for help in their home search.
Buildings with a lot of listings likely will have some deals. "It boils down to the supply of the type of apartment you're looking for," Heym says.
Overall, New York City real estate industry insiders say 2010 was a very positive year, and marked a turning point for the recession. It was a year with much more consumer confidence in the marketplace. That buyer optimism is carrying into this year.
The next year to two years will see reasonable appreciation in home prices and continued strong demand, Kliegerman says.
But looming financial clouds on the horizon worry many brokers. Unresolved deficits in municipal governments nationwide have made many people wondering if a financial crisis related to municipalities could be the recession's second shoe to drop.
"Everybody's kind of worried about it. But maybe we'll dodge that bullet, too," Henckels says.
Jonathan Barnes is a freelance writer and a frequent contributor to The Cooperator and other publications.