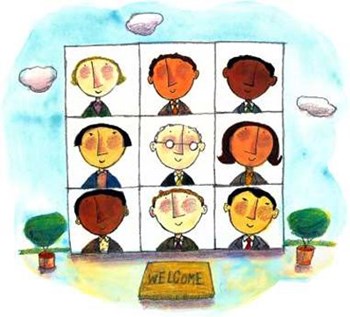 Mayor Michael R. Bloomberg once said, "No city on earth can match New York's rich ethnic diversity; we're truly the world's second home." Bloomberg's comment was right on the money, but not only is New York City a melting pot of ethnicities, its millions of residents are just as culturally and economically diverse.
In any sizeable city, people from a vast array of ethnic and sociological backgrounds live together in co-ops and condominiums. Managing these co-op or condos that are homes to residents from varied backgrounds, language groups and cultural perspectives can sometimes pose distinct challenges.
Say What?
Peter Grech, president of the New York Superintendents Technical Association (STA), admits that language and cultural barriers with residents are some of the biggest obstacles in his profession.
"When I take over a building and certain residents or staff members speak other languages, and their English isn't good or is non-existent, it's usually because the former super spoke that language," says Grech. "The staff didn't need to learn that language, and now another super comes in who may speak yet another language and now it takes time to get over this barrier."
Grech says the learning curve for basic conversation in some languages, such as Spanish, is not as steep as it is with other, more difficult languages. "How do you learn Japanese?" says Grech. "I started to learn a little – five words basically – but often you can communicate with hand signals that show people what to do, or if you are lucky other staff members will know that language. You just muddle your way through."
Politically-Correct Holidays
This past holiday season, while the nation debated whether we should say Merry Christmas or Happy Holidays and a mini-culture war ensued, superintendents and managers in the city were already dealing firsthand with the perennial issue of holiday decorations. While most New Yorkers are well accustomed to living alongside the religious observations and cultural traditions of a wide array of people, deciding which holidays to acknowledge building-wide can sometimes be tricky.
"When you have a large number of non-Christian residents, how do you deal with the Christmas holiday?" says Grech. "It seems to be something so simple, but sometimes it becomes an issue. It's the same thing with other celebrations, such as Hannukah. Do we light a menorah, or put up Christmas trees, or both?" Grech says that regardless of the final decision—which can often be arrived at by simply asking residents what they'd like to see in their building—it's important to think about issues like language and holiday observance and act with sensitivity to the differences between people.
A Step in the Right Direction
The fact that Grech and his colleagues are thinking about and evaluating the situation in their building communities and looking for solutions that sit well with most residents is a step in the right direction, says Myrna Marofsky, president of ProGroup, a Minneapolis-based consulting firm specializing in diversity awareness and training.
Marofsky explains that when dealing with such diverse populations it is most important to get to know the residents as individuals, not as a group or an ethnicity. "You want to get to know people as people," she says. "Don't make assumptions that are based on personal stereotypes. Instead, get to know people, appreciate their differences and don't merely tolerate them."
That's exactly what Grech does. "Now, I just simply ask the residents what they'd prefer to do," says Grech. "We usually celebrate just the bigger holidays, but I still find out."
Beating Barriers
Grech's longtime hands-on experience relating to his residents—whether there are language or socioeconomic diversities—have helped him to overcome many potential barriers, but for others who aren't certain how to handle such complexities, diversity training experts can offer some advice.
To help deal with possible conflicts between different residents or between residents and staff, or even board members, Marofsky suggests the "check, check and double-check" system.
"First," says Marofsky, "You check yourself—could there be some lack of understanding on your part? Second, you check the other person—what is their perspective on the situation? And finally, double-check—what's the best management policy in this situation? What does the company expect me to do as a business manager?"
"The biggest challenge is to honor the differences in a way that also makes good sense for the job," Marofsky continues. "You won't make accommodations that wouldn't make sense for the maintenance of the apartment building."
But even the most equitable, socially aware and on-point manager will occasionally have to cope with differences of opinion or cultural habit that lead to clashes between residents.
"An apartment manager may have to deal with judgments or offensive comments from one tenant to another," says Marofsky. "For example, one neighbor's culture may include cooking particularly savory or pungent foods, but another neighbor just says, 'it stinks.' That can create a lot of tension."
Marofsky recommends evaluating each conflict and brainstorming possible solutions. "This problem may be an opportunity for management to create a newsletter that highlights the ethnic differences of the residents," says Marofsky. "Yet if people are constantly acting inappropriately, management also may not want them in the building."
Fortunately, Grech's building hasn't had to deal with such residential quarrels. "I've never had that problem," he says. "If there is a problem, we would deal with it by talking with each person and getting everyone to understand each viewpoint. If necessary, they can go through mediation. There may be slight misunderstandings, but I haven't experienced anything big—most residents are reasonable."
Too Late?
Many management companies do provide diversity training, but according to Lindy Korn of Diversity Training Workplace Solutions in Buffalo, New York, most diversity training is implemented too late to defuse built-up animosity and resentments between residents, staff, and/or board members and management.
"Most training is done because there has already been an incident," says Korn. "When you work together to solve a problem, the size of the problem is irrelevant—the problem is the fact that a small problem can become so big."
To help prevent incidents in the first place, Korn urges management to provide a safe, comfortable environment where residents can complain about any issues.
"It's really important to have a workplace that entrusts residents and staff with the ability to make a complaint," says Korn. "If you're getting complaints early, before they ignite into bigger problems, then you're doing something right."
The New York Association of Realty Managers (NYARM) is another group that recognizes the need to address these issues, but rather than a specific course labeled "diversity training," NYARM instead offers what it calls "people skills training."
"Everyone understands the same body language universally," says Margie Russell, NYARM's executive director. "The communication isn't such that the person is standing in front of you is speaking a foreign language, but you can communicate to someone just by your tone of voice and mannerisms and gestures and facial expressions."
According to Russell, NYARM's "people skills" class covers topics like "managing and supervising employees" and "building occupant relations."
"Incorporated into each are those areas that are basic to all human interactions: eye contact, empathetic listening, etiquette and so on," says Russell. "Specific to managing and supervising, we cover recognizing people with potential, capitalizing on people's strengths, keeping exceptional people enthused, winning people's cooperation, order-giving techniques, and so on."
"Once we tackle the human skills side, we look at indirectly utilizing 'strategic thinking'," explains Russell. "The manager must determine the root cause of the problem. Is lack of follow-up an issue, or is it perhaps a lack of creative problem solving? Too often a request is made by a tenant that appears to be against policy, and we on the management side may say no much too fast without really thinking it through. This becomes problematic because the resident feels that their request was dismissed too fast, without a sense of thoughtfulness. The feeling of not having been taken seriously can linger for a long time, and may come to a head at some point in the future with an unrelated situation."
When trying to break through barriers and build a closer-knit, more understanding community, Korn reminds managers that control is not necessarily the issue.
"It's not a matter of who is in control—it's a matter of communication," says Korn. "If you can't communicate in a way that the other party will understand, you won't be understood, and they may take it as criticism or failure."
Managers and superintendents should work together to develop effective training strategies, promote consistent messages, build communication skills between residents and management and resident to resident, and respect the vast, vibrant diversity that is New York.
Lisa Iannucci is a freelance writer and a frequent contributor to The Cooperator.