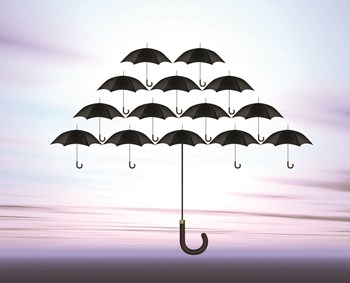 Most co-op and condo board members are not fully aware of all of the financial risks and liabilities associated with their service. Some may not realize that the management company, the co-op corporation board or homeowner's association is subject to all the rules faced by those of a non-profit organization. The board's decision-making capabilities and responsibilities affect the economic and physical well-being of shareholders (tenants and others) and people that they do business with. A board member is legally required to act sensibly and perform their duties in a manner they believe to be in the best interest of the organization, and they are required to perform their duties in accordance with applicable laws. Since board members can be held responsible for acts of the association, most directors and officers are increasingly requiring that they are protected against risking their personal assets.
Directors' and officers' (D&O) insurance is covers the board members against legal action brought against them directly, including claims for "wrongful acts" and the costs associated with rectifying. With proper D&O coverage in place, board members can concentrate on their duties to the best of their ability.
The legal landscape is quickly changing, and your insurance coverage must be able to keep up and adapt to new laws. In wake of high profile cases, co-op and condo board members grow fearful of getting personally targeted in lawsuits. For example, an inter-racial couple, which was denied a sublet in a co-op, sued the board. Under federal case law in New York, if a plaintiff can show that he or she is financially qualified to purchase, a defendant board has the burden of demonstrating a nondiscriminatory motive for rejection. The court must decide whether the inference of discrimination arising from the sequence of events is overcome by the board's asserted concerns. In this case, a federal court in New York City concluded that the couple had been discriminated against and by the board members. They were awarded over half a million dollars in damages, including punitive damages against the co-op and its board members.
Recent cases where individual board members were singled out as defendants have made their potential risk more visible. In 2012, a New York Appellate Court ruling made it easier for individual board members to be personally sued for damages when co-op or condo boards are taken to court by rejected applicants or unsatisfied residents. The decision was made in light of a discrimination case brought by a tenant and former president of a board against the building's board members directly. The case was brought to court, and the court allowed claims against the board members to head to trial. This overruled a 2006 decision in a discrimination case at a Park Avenue building that limited the circumstances under which board members could be named as defendants.
Understanding Potential Exposures
D&O related claims can come from disgruntled residents/tenants, creditors, and competitors. Typical lawsuits against board members include allegations of:
• Mismanagement of operations or company assets
• Self-dealing and conflicts of interest
• Misrepresentation during the sale of company assets
• Misrepresentation in a private placement prospectus
• Acts beyond authority granted in bylaws
• Violation of certain state and federal laws
• Breach of fiduciary duties
Civil litigation revolving around the following allegations is rapidly expanding:
• Lack of judgment & good faith
• Inaccuracy of statements
• Benefiting from inside information
• Unwarranted dividend payment
Each of these types of litigation can last several years, becoming an enormous financial burden. Other situations can lead to a legal action against the board, including pet policies, subleasing policies, and potential buyer rejection. These and other similar allegations generally do not allege bodily injury and therefore, personal or business liability insurance coverages would not typically respond. Rather, these types of cases are the subject of what is generally termed "Executive Risk" insurance coverage.
Today, diligence in risk management efforts is also vital. In addition to a D&O liability policy, risk minimizing internal controls, procedures and disclosure policies; are an essential component of providing complete coverage for the exposures, needs, and concerns of your organization and board members.
This coverage is specialized and complex, with various coverage options, terms and conditions that can vary widely from one policy and insurer to another. Some important questions to review with your insurance advisor include:
• Does the policy have severability of the application and exclusion?
• Does it provide coverage for the entity?
• Are employment practices violations covered?
• Does the company have a pension plan for its employees?
In today's uncertain business environment, board members face an increasing risk of personal liability for any actual or alleged breach of duty, neglect, error, misstatement, misleading statement, act or omission in the performance of their duties. Chances are your co-op board or association's general liability policy doesn't include personal liability coverage for board members. Now more than ever, it is imperative for boards to enlist the assistance of knowledgeable claims advocates acting on their behalf. D&O insurance is a complicated but necessary part of a comprehensive risk management plan.
Caesar Mistretta is a new business producer with HUB International Northeast with offices in New York City and Long Island. He can be reached at caesar.mistretta@hubinternational.com.