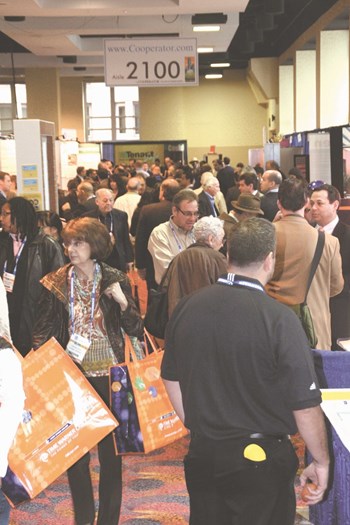 Since its launch in 1987, The Cooperator's annual Co-op & Condo Expo has become a fixture on the business calendar of vendors, service providers, board members, building staff members and residents all over the tri-state area. Each year, they all converge under one roof to learn about new products and technologies, exchange information, network and improve how their buildings and businesses are run.
The 2010 Expo was no exception—nearly 3,000 attendees packed the Hilton New York on Tuesday, April 27th to visit some 300 exhibit booths spread over three floors and take in a new roster educational seminars.
While the Great Recession has hit many businesses and buildings hard, Henry Robbins, executive vice president and director of sales for Yale Robbins, Inc., said that Expo attendance was actually up from 2009 by several hundred managers, board members, and board presidents. "We're always blown away by the enthusiasm of both our exhibitors and our attendees," said Henry Robbins, "and 2010 was no exception. People realize what a fantastic opportunity the Expo represents for people working in the industry. It's a chance to meet face-to-face with colleagues and expand both their knowledge and resources—which is always important, but now more so than ever."
According to Yale Robbins, president of Yale Robbins, Inc., producer of the Expo and publisher of The Cooperator, "The Expo evolves every year—we're constantly looking for ways to improve the show, and present attendees with new tools, the latest information, and cutting-edge products to help make their jobs easier. We make it a point to constantly broaden and diversify our offerings, and the fact that the event grows and draws more people each year indicates that we're succeeding."
Prizes and Promotions
While the 2010 Expo brought several upgrades and improvements, many annual favorites made appearances as well. On the top floor of the show in Americas Hall II, the always-popular cyber café did brisk business all day, and guests could also take advantage of an array of distinguished professionals from across the residential industry who generously donated their time in the free advice booth area.
Of course, no Expo would be complete without drawings and giveaways, and this year was no exception. Exhibitor-sponsored prizes at the 2010 show included gift cards, iPods, power tools, Yankees and Mets tickets, and the grand prize, a $3,500 contribution to one building's reserve fund, courtesy of Yale Robbins, Inc. and The Cooperator.
Education, Networking and Advice
Along with the exhibitor booths, one of The Cooperator's annual Expo mainstays is the day's lineup of educational seminars.
For this year's Expo, five different topics were presented by an array of experts from every corner of the industry.
The day's programming kicked off with Brooklyn Carpet Exchange, presenting "Renewing Lobbies & Corridors to Maximize Sales." Speakers Mark and Roberta Simon, owners of BC Exchange, and TV design personality Cathy Hobbs, who hosts WPIX-TV's design program "Metro Residential" discussed how having a well-appointed lobby and corridors creates "curb appeal" for residential buildings, particularly in today's competitive buyer's market. The BC Exchange team discussed ways to revive tired, worn-out public areas in these buildings, and gave listeners insight and tips on how dramatic changes don't necessarily require dramatic budgets.They also announced the launch of an interesting contest to spruce up one co-op or condo building's outdated lobby or hallway area. The winning building in the "Ugly Lobby Contest" will get a lobby/hallway makeover worth up to $25,000. Go to www.uglylobby.com for more information.
Attendees next heard from Christopher Levendos, Andrew Perdek, and Elizabeth Southard, all of Verizon Enhanced Communities, who presented, "The Future is Now: Technology Solutions and Emerging Apps for Co-ops & Condos." Expo-goers learned about new and forthcoming enabling technologies to help run their buildings more efficiently, managing residents' digital lifestyles more easily with applications seamlessly integrated through mobile devices, to name just one example. This panel also discussed the process of how Verizon's all-fiber-optic FiOS services are deployed in New York City buildings, and the latest technology advancements available to facilitate and streamline FiOS installations in co-ops and condos.
After lunch, the law firm of Stark & Stark drew a packed house with "Improving and Safeguarding Buildings & Communities: Drafting Policies, Enforcing Rules & Resolving Conflicts."Attorneys David Byrne and Stephen Lasser discussed successful strategies for rule creation and enforcement, ranging from innovative to tried-and-true methods. They discussed litigation alternatives, and gave listeners ideas on creative ways to resolve disputes while securing rule compliance. At the end of the seminar, many attendees presented the legal pros with their own questions and queries.
Later in the afternoon, Orest Tomaselli, president of National Condo Advisors LLC offered "New Rules, New Headaches: Cutting Through Bureaucratic Red Tape," which delved into the new rules and processes for condominium project approval required for financing through both the Federal Housing Administration and Fannie Mae. Tomaselli explained how companies like National Condo Advisors can streamline this process to ensure both financing for condominium purchasers and the success of these developments.
And the day's final educational flourish was provided by Meridian Capital Group LLC, which presented "Underlying Co-op Financing in 2010." Meridian Capital Group Senior Associate Steven Geller discussed the various multifamily loan products available for the cooperative and condo marketplace, and assured attendees that despite the turmoil in the banking industry, underlying co-op and condominium financing remains strong. Listeners got advice on how to choose between all the options available today, and how best to find the perfect product for their co-op or condominium mortgage needs.
Expo seminars have always been very well attended, but this year's seminars all drew standing-room only crowds, with some overflowing the seminar area entirely. For those who were unable to attend the Expo, seminar CDs are available for purchase by calling The Cooperator at 212-683-5700 or by emailing joanna@cooperator.com.
Next Year's Expo…
Even before the 2010 Expo wrapped up and exhibitors began taking down their booths, planning and preparation began for the 2011 show. Next year's show promises to be even bigger and broader, with more exhibitors, more seminars, and more of what makes The Cooperator's annual Co-op & Condo Expo so great. The 2011 Expo will return to the Hilton New York on Tuesday, April 12, with an even more diverse array of exhibitors, another roster of enlightening educational seminars, and more business networking opportunities per square-foot than any other such trade show in the region. Stay tuned to www.coopexpo.com for more information, important deadlines, and online registration. We look forward to seeing you there!
Hannah Fons is the associate editor of The Cooperator.