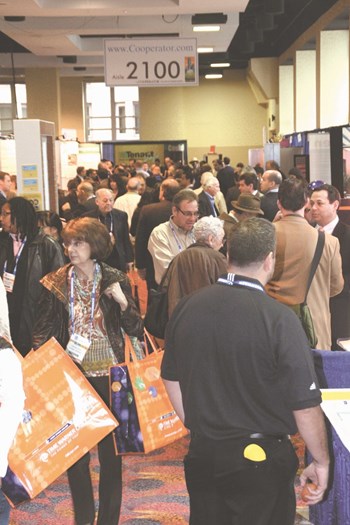 Since its launch in 1987, The Cooperator's annual Co-op & Condo Expo has become a fixture on the business calendar of vendors, service providers, board members, building staff members and residents all over the tri-state area. Each year, they all converge under one roof to learn about new products and technologies, exchange information, network and improve how their buildings and businesses are run.
The 2010 Expo was no exception—nearly 3,000 attendees packed the Hilton New York on Tuesday, April 27th to visit some 300 exhibit booths spread over three floors and take in a new roster educational seminars.
While the Great Recession has hit many businesses and buildings hard, Henry Robbins, executive vice president and director of sales for Yale Robbins, Inc., said that Expo attendance was actually up from 2009 by several hundred managers, board members, and board presidents. "We're always blown away by the enthusiasm of both our exhibitors and our attendees," said Henry Robbins, "and 2010 was no exception. People realize what a fantastic opportunity the Expo represents for people working in the industry. It's a chance to meet face-to-face with colleagues and expand both their knowledge and resources—which is always important, but now more so than ever."
According to Yale Robbins, president of Yale Robbins, Inc., producer of the Expo and publisher of The Cooperator, "The Expo evolves every year—we're constantly looking for ways to improve the show, and present attendees with new tools, the latest information, and cutting-edge products to help make their jobs easier. We make it a point to constantly broaden and diversify our offerings, and the fact that the event grows and draws more people each year indicates that we're succeeding."
Prizes and Promotions
While the 2010 Expo brought several upgrades and improvements, many annual favorites made appearances as well. On the top floor of the show in Americas Hall II, the always-popular cyber café did brisk business all day, and guests could also take advantage of an array of distinguished professionals from across the residential industry who generously donated their time in the free advice booth area.