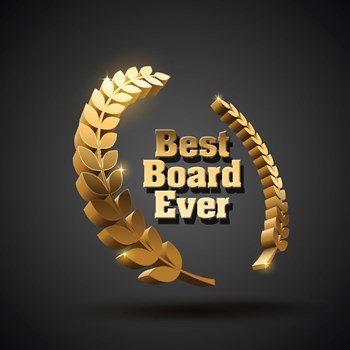 Until you factor in the people who make up the community and culture within it, a building is only a structural space. Residents, owners, maintenance workers, vendors, superintendents and porters all contribute to this culture, but few elements have as much effect on the overall success and vitality of a co-op or condo building as the actions and dedication of the members of its board. While it is true that the majority of boards do their best to fulfill the duties of governance and effective administration, a board that goes above and beyond the requirements of fulfilling simple fiduciary duty and does its part to make a building or association the best it can possibly be deserves special notice.
What kinds of initiatives and focus can distinguish functional boards from truly exemplary board leadership? What traits do these most successful boards have in common? What can a board or individual on a board do to turn around a building in distress, or straighten out a dysfunctional board? Effective communication and awareness of the inner workings of the property are some of the first things mentioned when property management pros are asked what sets some boards apart.
Hands-On Dedication
It may seem like it goes without saying, but one of the common traits of highly functional boards is a proactive, hands-on approach. Daniel Sabillon of Daniel Sabillon, LLC, a property management company in Brooklyn, says, "I have a tremendous amount of respect for all board members. It can be a thankless job, with so much stress and responsibility. One board in particular, led by board chairman Gregory Vaksman, is Seabreeze Plaza Condominiums, located on 3111 Ocean Parkway in Brooklyn. They meet monthly like your typical board, but aside from that, they put in extra time and are in constant communication with management, the super and his staff, and the residents. They like to be as transparent as possible and welcome input from all unit owners." That, says Sabillon, goes a very long way toward smooth day-to-day operations, positive board-resident relations, and a better sense of community overall.
Disaster Response: Short-and Long-Term Solutions
Another way that boards reveal themselves to be exceptional is in the management of unanticipated setbacks and disaster management. In recent years, this has become an increasing reality for properties with close proximity to a coastline. Sabillon says this is another area where the Seabreeze Plaza board proved their mettle and stepped up when their building needed the initiative most.
"They have had to endure some rough years since Hurricane Sandy in 2012," says Sabillon. "The building is a beachfront property. Needless to say, there was a great amount of damage. The [board] pulled together and had to make some tough and unpopular decisions, but in the end it was in the best interest of the building. They were able to restore the building quickly, and the residents were able to get on with their lives. They have spent the last four years in court trying to recover financially from this incident, and have just recently brought some financial stability to the building once again."
It is in these moments, with an ability to execute a quick recovery and return to normalcy for residents paired with a dedication to long-term recovery and stability, when an exceptional board can make a huge difference in the life of a building. "The challenges continue, as there are still issues to deal with, such as Local Law 11 and other repair maintenance issues that are common in all buildings in the area," says Sabillon, "but they continue to put in the time and effort in order for their community to prosper."
Exceptional Individuals Changing a Culture
Sometimes it's the character and dedication of one particularly strong individual that can solidify a community and contribute to a successful community culture that extends beyond that individual leader's time of official board service.
Tony Nardone, founder of Corner Property Management, a management firm with properties across New Jersey and offices in Springfield and Mt. Laurel, recalls one such board president, who he referred to simply as Sadie. "All board members are not created equal," says Nardone. "We manage one community where our board president is retired and is extremely active in the community. As part of her daily routine, she walks along the walking paths behind her home and often speaks with neighbors regardless of whether they're owners or renters. She's quick to lend a helping hand at whatever the task is, regardless of whom it benefits. I've seen her help neighbors plant flowers, water their gardens, bring in groceries, and shop for elders. She is truly a giving person who works for the benefit of everyone else around her within her community."
For this particular community, the generosity of spirit and dedication to community building that Sadie shares with her community led to some old-fashioned neighborly care in a time of need for Sadie herself.
"A few years ago, a close relative of hers became ill and Sadie had to suddenly leave town for a short while. It was nice to see her neighbors return her favors by watering her plants, so upon her return everything was in full bloom for her to enjoy."
It's a good reminder of the effect that an individual can have on the world around them, and in this case that dedication has had a lasting effect on the community. According to Nardone, this exceptional board president's care, creativity, and exemplary leadership initiatives have continued to shape the functionality of the board even after she retired from official board service.
"Her attitude has rubbed off on others in the community and we see more group participation at this community than any other place [we manage]," says Nardone. "Board meetings are never more than 30 minutes; the community adores the current president and board, who are constantly in sync. They're financially secure, everything is well planned, projects are completed on time and within budget, and the board works in harmony when it comes to decision-making. This community is a true testament that those who work together to find solution, take reasonable approaches and manage their expectations are the most well-run communities."
Exceptional Basics: Respect and Fun
Asa Sherwood, president of FirstService Residential Management in Illinois, says that the boards that go above and beyond tend to have "mutual respect: between board member and board member, board and resident, resident and resident, and board and management. This respect has been paramount to creating an open, inviting culture."
A board that knows its own community certainly has a better chance of serving that community's needs than a board that isolates itself from residents or building staff. Sometimes what will set a board apart is a dedication to cultural and social engagement within the community. According to Victoria Beavers, who serves as business development manager for FirstService Residential in Illinois, "Associations that engage in social and entertainment activities tend to foster positive relations in their building or community. A sense of togetherness happens through engagement. The boards who understand and create a fun, interactive environment generally have happy and appreciative residents."
Bold Initiatives: Seeking Assistance in Times of Distress
An exceptional board can also reveal itself in taking the initiative to reach out for help if the building or association is in distress. Knowledge of what is happening day-to-day on the property, open communication with owners, staying up to date on the community's financials, and making informed decisions about bids, execution of capital repair projects, and maintenance initiatives are important steps a board can take in turning around the fate of a building in distress.
Randy Grimes works as regional director with FirstService Residential and manages a diverse portfolio of luxury high-rise condominiums and co-ops in the Gold Coast, Lakeview, Loop, South Loop and Evanston neighborhoods in Chicago. With 20 years of management experience to back up his assessment, Grimes says that working with a board dedicated to making improvements on a building that is not currently the best it can be requires two key ingredients for success: education and communication.
"One of the tactics we implemented to improve board relations with residents was to hold a 30- to 60-minute town hall meeting where two board members would represent the board and open the floor to Q&A from homeowners. This was effective in allowing better work-life balance for the board members, who could alternate hosting the various town halls. Owners appreciated the longer time to ask questions, as opposed to just 10 or 15 minutes before a meeting. These increased relations created a more positive community experience for everyone."
Abdullah Fersen, CEO of Newgent Property Management in Yonkers, has a similar approach when he's hired by a board wanting to get a building in financial distress back on track. He always advises paying attention to the balance of power, beginning with a financial balance sheet, and says it can make a big difference in board and building success. "One of the best things an effective board can do is bring on a management company that specializes in operations and financial education for a board," says Fersen. "An effective board knows when it is time to seek outside help."
One of the first things Fersen looks for when a motivated and engaged board seeks out his company's help is whether or not they need to diversify vendors. With his 15 years of experience, Fersen has seen dramatic turnarounds for many of his clients after they move away from an open-door policy with single vendors providing products and services to the building or community. Replacing such a policy (usually with the help of an effective management company), with an educated board making informed decisions from multiple vendor bids on a project-by-project basis more than often yields better service and money saved. "With an open-door policy contract with single vendors, boards tend to become even less involved and are sometimes unaware that the vendors have gone over what the building budget can support," says Fersen.
Exemplary leadership, knowledge of day-to-day expenses and needs, dedication to creative problem solving in times of distress, and personal investment in maintaining respectful relationships in all areas of a building's functionality contribute to a building community that is both effective and thriving. These qualities, displayed by exceptional boards going above and beyond the call of duty, make a building or association the best it can be and have a lasting effect on the staff, residents, and owners that these boards serve. n
Kristina Valada-Viars is a freelance writer and regular contributor to The Cooperator.