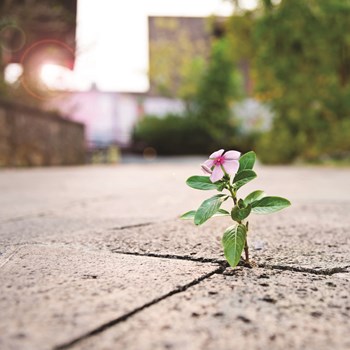 Beyond the obvious concerns of injury and liability from accidents caused by disrepair, sidewalk maintenance is also important when it comes to establishing a good first impression of your building overall. With some basic knowledge of what to look for in terms of damage to an otherwise well-crafted sidewalk from weather, tree roots, or other factors, an informed management/maintenance team can protect a long-lasting investment with expert pavement replacement. As for what to address along these lines, we asked some industry experts to weigh in on what to look for in all aspects of repair, replacement, and maintenance.
Composition and Key Threats
Given the variety of pavement colors, textures, and finishes one sees throughout a city, one might assume there are endless choices at play when it comes to pouring a sidewalk. More often however, paved pedestrian stretches are composed of the same basic elements—the variation occurs with additives that are mostly just for aesthetics. Matt Serna, Director of Concrete Operations at DuBois Paving Co., in East Dundee, Illinois, says, "There are different mixes and different designs that an architect can call for, but any standard public sidewalk would be the standard ready mix. These sidewalks are mostly the same material, but can vary in thickness. Both factors are dictated by standard city ordinances."
"Most walks are four inches of clean stone on top of four inches of 4,000 psi concrete," says Jack Onorati, President of Onorati Construction, a paving business based in Boonton Township, New Jersey—adding that the main factors contributing to sidewalk deterioration are "poor subbase, poor concrete, and frost."
According to Serna, the factors that contribute to the deterioration of paved surfaces include a wide variety of elements, such as "tree roots, heavy equipment traffic, and salt or any type of de-icing agent contribute to deterioration." Beyond that, Serna says that where the sun hits the pavement can affect longevity and care as well, especially in areas where the elements can be punishing on all exteriors. "Whether the sidewalk is on the north side or south side can affect the amount of sun it gets and when the ice melts," he says. "The moisture then penetrates the surface, and when it freezes overnight it pops or loosens the concrete."
Replacement Versus Repair
One of the big decisions to make about sidewalk maintenance is whether or not to do a patch job on a potentially hazardous stretch, or to completely replace the entire walk. Our experts gave us some insight as to why the most cost-effective choice isn't always what you might initially think. "Not many people choose to go ahead and patch sidewalks, because of aesthetics," says Serna. "It can look pretty ugly when you put in a patch. We recommend full replacements, as they are ultimately more cost efficient in the long run."
Mike Bavaro, President of City & County Paving Corp., in the Bronx, is often asked this question by buildings seeking to make the choice that is best for the building budget and future. "In that situation we get asked to price both ways," says Bavaro. "Patchwork is more labor intensive than replacing the whole." When a building is finding that a sidewalk needs repair in one area, it can often be the beginning of a series of patch jobs over the next couple years. New ordinances and contracts have been created in recent years that may make another good argument for full replacement instead of patch repair. "New parks requirements have really helped mitigate root damage from trees on city sidewalks by increasing the required protective tree pit regulations," says Bavaro. "Parks departments have really been on contractors to get contract permits that meet the new requirements for oversized tree pits. They are protecting the trees, but ultimately the sidewalks as well—and that can increase overall longevity."
In terms of cost effectiveness and aesthetics, it seems as though even though repairing is always an option, the majority of trusted experts say replacement is the way to go. "There is not really a limit to how often a sidewalk can be patched before it is replaced," says Onorati. "However, repairs will have limited success, as they are cosmetic and not monolithic."
When a building or development chooses to undertake such a sizable improvement project, it can be helpful to ease the mind of the board and residents in a language that incorporates anticipated longevity. A properly-laid sidewalk should last over a decade, and when weighing the cost-per-square-foot difference, full replacement is often the most logical choice in the long run. "On the average," says Serna, "I would say I hope they last at least 10-20 years—even 25 years—unless you have some active tree roots. Or if there are special circumstances like it being a senior area, where you definitely would want to oversalt for issues of safety in winter. You don't want to let any trip hazards go unattended. In residential areas where you are negotiating special circumstances such as those, different additives can go into the mix. Sealant and stealth fiber in our mix provide a stronger surface as a preventative measure against premature damage—but that can also make it more slippery at times."
In making choices to bring additives into the standard required mix, regional considerations like weather should be considered. "In the long run," Serna says, "it's worth it to explore preventative additive measures to a standard mix."
Another place where regional variances can impact a pavement project is when it comes to cost per square foot. "Cost varies widely depending on logistics and how much traffic the area gets," says Bavaro. "On average I would say it's between $25 to $30 per square foot, sometimes higher," while in neighboring New Jersey, Onorati says one can expect "depending on volume, approximately $12 per foot." But what does seem consistent regardless of region is the refrain that it is generally more cost effective per square foot to put out the funds for large scale replacements instead of patchwork repairs. "Roughly, it really depends on the volume of the job; you're paying for standard set-ups by the ready-mix plant, which is why the larger the job, the less you are actually paying per square foot," says Serna, "Depending on volume of concrete needed and accessibility factors to the site itself, all of these are contributing factors to the overall cost of the job."
The Job
Once a building management team commits to the job of sidewalk or pathway replacement, what can a building expect from start to finish? Serna gives a step-by-step from his company's perspective. "First off, we go out and talk to the manager and put up some notices indicating we are going to do some work, as well as [marking] exactly where that work will be done with orange paint on the current walkway," he says. "Next, we come in and set up our barricading. Third, our folks begin sawing then breaking and removing the walk that's being replaced. Once it's all removed, we check the subgrade, which is stone, replace it if needed, frame up and place wire mesh. Then it's time to call the concrete to mix and pour. Once it's poured, between 24 and 48 hours later based on weather, we come back and remove the barrier, and you're ready to go. That's for a foot traffic area—if there's car traffic, [concrete] needs a minimum of seven days in good weather after pouring before it is ready to be used."
The prep time for a building leading up to a pour can vary a great deal based on whether inspectors are needed in-between steps or not, but in general, depending on the size of a project, Serna says that if it's a 100 square foot project with no additional unanticipated factors, "It's possible to get framed and poured in one day."
Having a communicative management team also clearly helps a job like this run smoothly. "Managers usually let people know a month in advance through a monthly newsletter or posting notice that repairs will be done," says Serna. "Then we normally follow up by posting our notice two days before the job will get started. But if it's not a high foot traffic area, sometimes we only give one day notice."
How much can a building anticipate shelling out for a job like the one described above that is about 100 square feet of pavement replacement? "Based on a lot of factors that you can't know until you actually get started, a job like that will run between $1,500 and $2,500 approximately," says Serna.
Making Sure the Work Is Good
While full replacement is usually a good investment, how does a building protect itself from poor workmanship that may not reveal itself until long after the paving contractor has left?
"It's difficult to tell at first if there are subgrade preparations," says Bavaro, "but those will show up pretty quickly. You can tell a lot by how it looks. When we pass the broom over the finished product, if it looks very sloppy, that's often an indicator of poor workmanship in general." An untrained eye might not be able to catch the subtleties that indicate future problems. "It's difficult to tell just by looking," says Onorati, "however a rough finish may indicate that it was installed in cold weather."
Knowing what specifically to look for as an indicator of potentially sloppy workmanship can help lead the conversation that needs to be had with the contractor. "Sometimes control joints are crooked, or a surface might show exposed stones," says Serna, but "50 percent of noticing is cracking. If you've got a crack every five to ten feet, it's likely you've got an issue with the quality of the workmanship going into the job."
When it comes to protecting a building from liabilities related to trip hazards created by cracked or damaged sidewalks, the responsibility usually falls to the building owner, says Onorati. But even in cases where care for the parkway or curb outside of a property may be the jurisdiction of the city itself, the liability can still find its way back to the property owners. "In the city, I would imagine it's the building's [liability] itself," says Serna. "It may fall back on the city, but waiting for them to come out could take quite a while—wait lists for a couple of years even. And if somebody does get hurt, liability can go everywhere. A building would most likely want to protect itself and the owners from such problems."
Beyond liability, well-maintained sidewalks and parkways are an important aspect of building care, aesthetics, and functionality. Keeping your community's paved surfaces smooth, safe and aesthetically pleasing is just another component of regular maintenance that your board must keep on top of.
K. Valada is a freelance writer/reporter for The Cooperator.