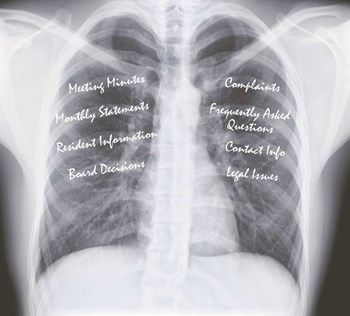 Any relationship depends upon effective communication to function properly. In a co-op or condo, the relationship between the board and managing agent, or between the board and the shareholders, all have boundaries regarding what is acceptable for discussion, and what information is available to inquisitive eyes. Documents that a board member could be privy to might be sealed to nearly all others, while legally speaking, some community records should be available for the asking to every resident of a building.
An effective communications policy for any board should include the reasonable exchange of certain records detailing the community's financial status, legal proceedings, and correspondence between unit owners, the board, and the management company. Failure to divulge this information to residents who request it could invite a lawsuit. And no one really wants to be at odds with their neighbor, so knowing what information to divulge—and when it's legally allowed—is essential for any board member.
How Open?
New York State law requires that shareholders be given a copy of their building's annual financial statement. Shareholders must be notified in advance of an annual meeting to elect board members. Shareholders also are allowed to request, and must be given access to, minutes of shareholders meetings, and books and records for the building, says attorney Marc J. Luxemburg, a managing member of the law firm of Snow Becker Krauss, PC, in Manhattan.
"Beyond that, it's a matter of policies and board discretion," says Luxemburg, who also is president of the Council of New York Cooperatives and Condominiums (CNYC).
Board members are entitled to see any document pertaining to the management of the building, according to the business corporation law (BCL) of the state of New York. Practically speaking, the treasurer will have closest access to financial records, and the secretary will have the closest access to the other building records as well.
In small co-op buildings, records sometimes are kept in a board member's file cabinet. Usually, the board secretary will handle the building documents for such small residences. For larger buildings, managing agents usually store and maintain the building's records in the management office. But managers are subject to the dictates of the board, which can allow others to see building records.
Accountants for a building will have access to its records, since they need the records to correctly do their jobs. Similarly, but for limited purposes such as for construction projects in the building, architects and engineers also will be given access to records such as blueprints, says Richard Siegler, a partner with Stroock & Stroock & Lavan, LLP, a national law firm with offices in Manhattan.
While shareholders should have access to the minutes of shareholders meetings, they usually won't be allowed to see the minutes of board meetings, says Dennis H. Greenstein, a partner with Seyfarth Shaw, LLP, a law firm in Manhattan.
Attorneys for a prospective buyer of a unit also might be given access to shareholder meeting minutes before closing on the sale of the unit. A potential buyer or his representative also would generally be allowed to inspect the condition of the building before buying in it.
"Most co-ops allow counsel [of a potential buyer] to inspect meeting minutes before buying," Siegler says.
Many boards are loath to release information that they feel is confidential. Such an approach can lead to problems, and even legal issues. For example, some boards aren't aware that shareholders in co-ops have a right to see the shareholder's list, as long as they agree not to use the information for commercial purposes. Some boards routinely deny these requests.
Residents have few legal protections ensuring their access to building records. Unlike some other states, New York does not have any open records laws that require records to be available to members of a co-op or condo community.
Who Says What
Board members generally want to serve their communities as faithfully as they can. But board members are usually "civilians," rather than trained building managers, so they aren't always aware of rules regarding disclosure of building documents. Some err on the side of what they think is caution, and don't allow access to documents such as minutes from a meeting, when they should allow access to the documents.
One way to avoid such difficulties is for board members to stay in close touch with their managing agent. The board and the manager have to speak with each other and be consistent in applying the board's policies, Greenstein says. "Whatever's public, is public," he says.
Since New York state law does not cover the area of openness in co-ops and condos in great detail, boards have a lot of leeway in what they can tell their community members. While most boards painstakingly protect the privacy of their members, people in a community also want to know what's happening in their community. They want to be informed of major upheavals, such as a construction project, well in advance. If residents don't know of such a project ahead of time, board members and property managers will hear about it.
"'Why did we find out at the last minute?' they'll ask," Greenstein says.
In such a scenario, some of the fault could be put on the manager, and some could be the fault of the board. Both parties have to ensure that communication with residents is clear. The manager has the responsibility to publicize business items such as a contract for a new roof, says Albert F. Pennisi, Esq., a partner with Pennisi, Daniels & Novelli, a Queens-based law firm specializing in co-ops and condos, and representing over 100 of them. "Some put out a newsletter annually," he says.
Other boards have a semi-annual newsletter mailed to residents. Some boards will mail meeting minutes to residents each month.
"The manager's obligation is to make the records available. It's the board's job to determine what it is people should be able to see," says Luxemburg. "Running a board is not a science, but an art. How the board communicates with the residents is one of the continuing challenges it has to face."
Openness Growing
Many buildings distribute minutes every month, Greenstein says, but many don't. There is a growing openness among boards, he adds, saying it is a sign of the times. Boards are reacting to greater openness in society, as well as more demands from residents for more information. Some shareholders request bi-annual newsletters to keep them informed of things in their building. Other shareholders want advance notice for renovation and construction projects.
"People want to be informed," Greenstein says, adding that part of the board's job is to communicate the right messages to residents at the proper times. "It's really important [for a board] to evaluate what should be said between annual meetings. It engenders more harmony in the building."
Still, board members must balance a need for openness with the ever-present need of tenants to maintain their privacy. One of the things that most concerns boards is wrongful disclosure of private information, Greenstein says. "Board members are in an elevated relationship, and they have a great sensitivity to the privacy of shareholders," he says.
Privacy concerns aside, the trend seems to be more toward disclosure of information to residents, industry experts say. With the high prices for real estate in New York City, it's easy to understand why things are trending this way. For many people, their home is their main investment. Because of this, protecting that investment is of the utmost importance. Part of protecting that investment means keeping an eye on those charged with overseeing management of the building; that is, the board and property manager.
"Transparency has become more of a policy in co-ops than ever before, because boards feel people have a right to know," Pennisi says. "Some co-ops allow inspection of minutes from board meetings. More and more are doing so these days."
Jonathan Barnes is a freelance writer and frequent contributor to The Cooperator and other publications.