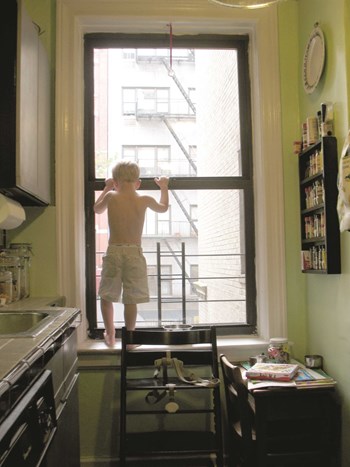 Cristina Torre kept her eyes on the kid, as he dropped right into the old mitts. On June 19, 2013, the daughter of Yankees legend Joe Torre caught a 1-year-old baby boy when he fell from the awning of a Brooklyn storefront. Dillin Miller had climbed onto the fire escape and slipped through a hole down onto the awning; luckily, the child wasn't injured.
One year earlier, on August 9, 2012, a 3-month-old girl fell out of a window of a Bronx housing project. The baby hit a first-floor air conditioner and landed on the ground. Her 9-year-old brother had been holding her by the window, trying to get his mother's attention (she was out on the street), when he dropped the baby. Though according to news reports, all of the apartments in the three-story building appeared to have window guards, somehow the child squeezed through the bars and fell, and was badly injured.
These recent incidents illustrate the absolute necessity of installing window guards in multi-family buildings. A small child left unattended, or even one who is being watched by caregivers, can quickly slip from their grasp through an unsecured window. It has happened many times, but it needn't occur in your building, with a bit of planning, smarts and elbow grease.
Whether your co-op or condo is a towering high-rise or a more spread-out development, ensuring that its windows are safe is a concern for any board member, manager, or resident. Selecting, installing and maintaining code-compliant window guards can prevent potentially deadly accidents, as well as thwart break-ins. Having these devices in place is also the law in New York City, and not fixing window guards that are faulty or failing to install them can result in fines and potential legal action.
Nobody wants such an extra, costly hassle. Nor does any resident, manager, superintendent or board member want to see a child hurt on the premises. Unit owners and administrators can know what their responsibilities are for keeping the windows safe and secure, in both private units and common areas. Each party must be observant, and ensure that they have the devices installed where needed. But depending upon what kind of building you live in, those metal contraptions could be either the resident's responsibility or the association's duty.
Tragedy to Vigilance
New York City was the first major city to require mandatory installation of window guards, according to specific requirements. If you live in a building that has three or more apartments and a child age 10 and younger lives there window guards are required even on the first floor. The state of New York doesn't have any regulations on window guards.
Window guards must be made of strong metal and must be screwed in tight, according to the New York Department of Health and Mental Hygiene (DOHMH). The guards have to be able to bear a 150-pound load at center span when extended to maximum width. A test is performed after installation and is certified by an engineer or independent testing laboratory in order for the window guard to be approved for use.
One of the more tragic incidents occurred in New York City, when on March 20, 1991, Conor Clapton, the 4½ year old son of Italian television actress Lori Del Santo and rock guitarist Eric Clapton, was killed after he fell out an open window from the 53rd floor of a Manhattan apartment building.
A window in the condominium had been left open after cleaning, and when the child entered the room and darted past the housekeeper he somehow fell out the window, which had no window guard. Since that tragedy, which was instantly worldwide news, city officials have cracked down on residents, associations and property owners, to ensure that window guards are properly installed in every building, even if a child only visits there.
Although window guard laws had existed prior to the high-profile death of Clapton's son, they were not scrutinized as they are now, says Vito Mustaciuolo, Deputy Commissioner for Enforcement and Neighborhood Services in the Department of Housing Preservation and Development (HPD). Another recent change in the enforcement of window guard laws is that the requirements now are in the city's Housing Maintenance Code, rather than in the Health Code, as they were until 2½ years ago.
These days, every time a housing inspector enters an apartment in the city for whatever reason, they look for several conditions, including the existence of and proper installation of window guards. If there is a violation for a window guard in a condo, HPD inspectors will send a violation notice to the president of the condo board and either the board or the owner will do the work. If the device isn't installed, HPD workers ultimately will come back and install it and bill the condo association for the work. Window guards typically cost around $20, and require a special screwdriver for the tamper-proof screws, which costs about $8. Compare that with the $120 the HPD folks will charge when they do the work for you.
"Window guards save lives," Mustaciuolo says. "Owners are responsible for providing window guards. But tenants are responsible for not tampering with them or removing them. It's up to owners to ensure that window guards are installed to code and maintained to code."
Other than windows leading to fire escapes, every window in the apartment must have a window guard. In buildings with fire escapes, window guards must be left off one window so it can be used as an emergency exit; in first floor apartments, one window can be left without a window guard to be used as a means of egress during an emergency. This could be how Cristina Torre's winning catch made it out onto the awning, but even so, the child's fall still illustrates the necessity of these devices.
There are no requirements on how high a window may be or how tall a window may be, with respect to a window guard. Depending upon where you live, the responsibility of installing the window guard could be the responsibility of the resident or the building. If you live in a co-op, the management must install and maintain window guards, according to the city health department. In a condo, though, the unit owner is responsible for installing and maintaining window guards. Owners of one- and two-family houses aren't required by law to have window guards.
While some condo managers will install window guards, the task is most often the owner's responsibility. An exception to the law can also be made if a window guard can't be installed for structural reasons; in such a case an alternative device must meet the same criteria and standards for safety as window guards and be approved by the Window Guard Policy and Acceptance Board. Such a scenario could happen with a building that has casement windows, which would need a chain that would restrict the window from opening far enough to be a danger to a child.
DOHMH does allow for window guards to be replaced by permanently installed air conditioning units, providing the units are installed according to certain specifications. Permanently installed air conditioning units must have solid side partitions if the space on either side of the air conditioning unit is greater than 4½ inches, and must be installed with tamper-proof screws.
Legally Speaking
Not only is having a window guard in an apartment with a child 10 or younger the law, it ties in with other existing laws that are meant to keep kids safe. City health and housing officials take the job of protecting children from unnecessary harm in the home very seriously, which is why every January, every resident is required by the Health Code to inform HPD if they have any child under age 6 living with them (for lead paint hazards), and to say if they have a child 10 or under living with them (for the window guards).
For many multi-family buildings, management keeps a stockpile of window guards on the premises, so that they can be installed as needed for residents. Again, residents needn't have children living with them to request window guards.
"I've had plenty of people ask for window guards even though they don't have kids," says Josh Koppel, president of HSC Management, a property management firm based in the Bronx.
A lot of communities have their manager send out a yearly notice telling residents about the need for window guards. In many cases, a note is sent, along with a flyer that is distributed by the Health Department. The flyer's title asks: "Are your window guards installed safely?"
The flyer goes on to explain specifics of proper window guard installation, including that window guards should be installed permanently, in the lower half of the outside track of a double-hung window, 4½ inches or less above the window sill. The guard should be secured with four one-way crews and two "L" brackets (stops). Stops need to be screwed into each side of the upper window track, again with one-way screws.
"When the lower window is stopped from being raised more than 4½ inches above the top bar of the guard, your child cannot fall out," the flyer states. The mailer also includes two illustrations: one of a safe installation and a second of an unsafe installation.
Installing window guards where needed is one thing. Keeping them intact is another. Residents should keep an eye on their window guards and have them checked by the super or have them replaced if they are damaged and don't work properly. They also shouldn't remove the guards for any reason.
"Do you know how many people will put a window guard in and then remove them to put an air conditioner in?" Koppel asks. He added that maintenance on the window guards is also important. "Vibration loosens screws. And also the window stops can become damaged," Koppel says.
In a city characterized by its towering buildings, functional, properly installed and maintained window guards are simply a must. Even if you don't live in a high-rise, for the sake of your building's youngest and most vulnerable residents, keeping your guard up is crucial. For more information on window guard laws, go to: http://www.nyc.gov/html/doh /html/environmental/wincha.shtml.
Jonathan Barnes is freelance writer and frequent contributor to The Cooperator.