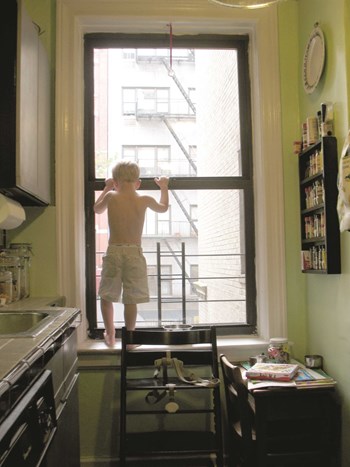 Cristina Torre kept her eyes on the kid, as he dropped right into the old mitts. On June 19, 2013, the daughter of Yankees legend Joe Torre caught a 1-year-old baby boy when he fell from the awning of a Brooklyn storefront. Dillin Miller had climbed onto the fire escape and slipped through a hole down onto the awning; luckily, the child wasn't injured.
One year earlier, on August 9, 2012, a 3-month-old girl fell out of a window of a Bronx housing project. The baby hit a first-floor air conditioner and landed on the ground. Her 9-year-old brother had been holding her by the window, trying to get his mother's attention (she was out on the street), when he dropped the baby. Though according to news reports, all of the apartments in the three-story building appeared to have window guards, somehow the child squeezed through the bars and fell, and was badly injured.
These recent incidents illustrate the absolute necessity of installing window guards in multi-family buildings. A small child left unattended, or even one who is being watched by caregivers, can quickly slip from their grasp through an unsecured window. It has happened many times, but it needn't occur in your building, with a bit of planning, smarts and elbow grease.
Whether your co-op or condo is a towering high-rise or a more spread-out development, ensuring that its windows are safe is a concern for any board member, manager, or resident. Selecting, installing and maintaining code-compliant window guards can prevent potentially deadly accidents, as well as thwart break-ins. Having these devices in place is also the law in New York City, and not fixing window guards that are faulty or failing to install them can result in fines and potential legal action.
Nobody wants such an extra, costly hassle. Nor does any resident, manager, superintendent or board member want to see a child hurt on the premises. Unit owners and administrators can know what their responsibilities are for keeping the windows safe and secure, in both private units and common areas. Each party must be observant, and ensure that they have the devices installed where needed. But depending upon what kind of building you live in, those metal contraptions could be either the resident's responsibility or the association's duty.