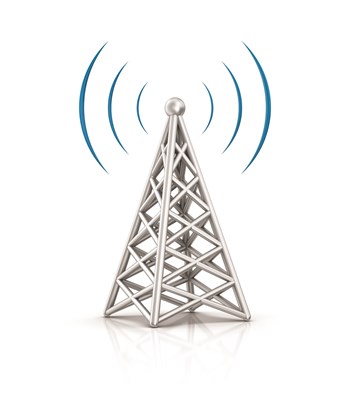 Beyond collecting monthly maintenance payments, co-ops and condos are always searching for creative methods of generating discretionary income. Renting out excess parking areas and installing storage lockers for rental are two ways to boost the reserve fund, but the proliferation of cell phones, broadband, paging, wireless web, and related technologies makes leasing rooftop space for antenna installation another highly profitable option.
It's almost impossible to walk a New York City block without passing someone busily chatting away on a cellular phone. By this time next year, wireless application users are expected to reach one billion, and that number will almost double by 2004, according to Cahners In-Stat Group, a digital communications market research firm based in Newton, Massachusetts. The cell-tech explosion has created a tremendous demand for transmission sites, and some companies are willing to pay your building for the space.
Wireless technology providers require towers and other elevated spaces to install the apparatus needed to serve their subscriber loads. Although independent structures have been built to house the necessary transmission equipment, many high-traffic areas simply do not have sufficient unoccupied land to build on. In addition, zoning laws restrict the number of traditional signal towers that can be built in a given area. New York City has little (if any) land available for tower construction, so installing mini-towers and inconspicuous transmission equipment atop existing buildings is an increasingly popular alternative.
When a board becomes interested in leasing their roof for possible antenna installation, it's not enough to simply contact providers individually. It's not as easy as calling up a cell phone company and saying, "I have a roof for rent…are you interested?"
"Location is key, like any piece of real estate," says Shawn Turner, group engineering manager at US Cellular. "If your structure is in the right location, you can capitalize on that."
Obviously, in order to utilize a rooftop or other area, the prospective wireless service provider must first place equipment in that area. The antenna placement decisions are approached as engineering issues. Turner describes the process as follows: As service increases, the engineering department surveys various areas to determine where a need exists for additional transmission sites and the most advantageous coordinates for equipment placement are researched and determined. Once this information is obtained, the wireless providers approach the board of the site(s) to strike a deal.
According to the physical characteristics of the site and the equipment required to meet the carrier's needs, antennas and other necessary hardware is installed. The typical transmission unit may resemble a small AC unit, or an unassuming array of panels. Equipment installed on a rooftop may be housed in an outdoor cabinet, or mounted on an existing wall. Others are installed in a closet-like space just below the roof. Below-roof units are barely noticeable. As time goes on, Bronston says, "We'll see more camouflaging [of the units]." Carriers go to great lengths to keep the antennas and other hardware concealed. Flagpoles, church steeples, and lighthouses are some of the disguises that are already being used. All expenses involved in the installation, maintenance, and concealment of the site are the responsibility of the wireless carrier.
Contractual Sticking Points
The lease agreement made between the wireless carrier and the board should include several clauses. The carrier should make sure that all zoning issues have been resolved. According to David E. Bronston, an attorney with Wolf, Block, Schorr & Solis-Cohen in Manhattan, "The carrier should be responsible (within the contract) for obtaining all necessary permits." This includes complying with Federal Communications Commission (FCC) and Occupational Safety and Health Administration (OSHA) guidelines. Because the equipment that will be installed requires utility usage, Bronston recommends that the contract specify who pays the bill. In most contracts that he has seen, the carrier has been responsible for an agreed amount of the bill. Anything additional, including a rise in rates or other unexpected increases should be negotiated within the contract.
A detailed roof access agreement is also an important part of the lease agreement. Carriers provide around-the-clock service to their customers and thus require 24-hour access to any rooftop equipment. In the event of a power outage, equipment malfunction or other emergency, they need access to the equipment immediately. It is vital that details of the access arrangement be worked out to take any resident inconvenience into account.
Bronston also suggests property owners have adequate insurance coverage to protect the roof. He recommends the contract address contingencies for situations including roof repair or any remodeling. Maintenance workers should have access to the roof without compromising the carriers' equipment. Other details, like what would happen if the carrier needed to relocate their equipment, must also be ironed out within the contract.
As far as the contract terms, Bronston says the initial lease term is five years with 2 five-year renewal options for a total of 15 years. It is crucial that property owners anticipate inflation, utility increases and other future expenditures when negotiating the contract. Most importantly, the managing agent, property attorney, and board representative should be involved in reviewing and approving the lease agreement.
Don't despair if all of this seems overwhelming–help is available. Wireless management firms like Manhattans's 3G Solutions and Subcarrier Communications of Old Bridge, New Jersey act as antenna site management and leasing agents, helping interested boards market their rooftops to wireless companies. "We are truly the landlord's advocate," says Seth Potter, 3G Solutions' chief financial officer.
3G specializes in leasing under-utilized rooftop space to top-shelf telecommunications carriers, maintaining constant contact so that carriers are aware of where their clients' needs lie. The firm generates profits from the lease agreements they negotiate. According to Potter, a Manhattan rooftop can generate between $300 and $3,000 monthly. As always, value largely depends on location. Properties located near a major thoroughfare or high traffic area will usually generate the most revenue. If a board or property owner is not satisfied with the deal 3G negotiates, they retain the right to decline the offer.
Subcarrier also manages rooftops and towers for cell phone, PC, paging, and data-transmission applications, as well as handling the marketing and advertising of rooftops, site design and development, equipment installation, security, and maintenance-related issues. Subcarrier's policy is simple: "We know what questions to ask, how to ask them, and what the answers mean," says company president John Paleski.
Since the majority of board members are not especially knowledgeable about the wireless industry, they are at a disadvantage when it comes to negotiating rental rates. Companies like 3G and Subcarrier will work with the property owner to get the greatest financial return on their rooftop. They are familiar with FCC, Federal Aviation Administration (FAA), and other standards and will work to ensure that all proper protocol have been followed and that the end result is an aesthetically pleasing structure. In addition to inspecting the installed equipment, wireless management firms collect the revenue each month and give the appropriate amount to the property owner or board. They also handle lease renewal.
"We oversee everything," Potter says, from negotiating the contract, to making sure the equipment is installed and maintained properly, to arranging roof access for the carrier when needed.
As more and more people utilize wireless communication technology, the need for space to house transmission and relay equipment will grow, and so will the opportunity for co-ops and condos to make money on the wireless boom and their own unused roof space. With a little research and negotiation, your board could be next in line to take advantage of the new technology.
Ms. Terrell-Ernest is a freelance writer living in Queens, NY.