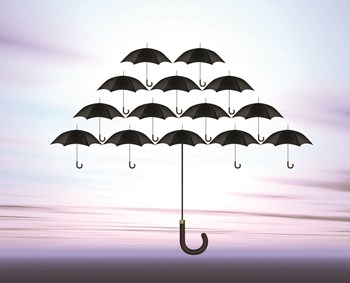 It's every homeowner's worst nightmare: you come home from work to find your apartment flooded, or your building smoldering from a kitchen fire that got out of control. After the initial trauma, there could be worse shocks in store if you're not properly insured.
Homeowner's insurance can provide peace of mind for co-op and condo owners interested in protecting the place they live and the possessions that fill it. With a wide variety of coverage options to choose from, there is a policy to fit any and all budgets, providing financial protection in the tens of thousands to the millions of dollars.
An Umbrella for a Rainy Day
Despite the importance of proper protection, a full 90 percent of co-op and condo owners are inadequately insured or have no insurance at all, according to Mackoul & Associates, an agency in Lynbrook, N.Y. specializing in co-op and condo insurance.
Unlike co-op or condo buildings - which are required to have proper insurance coverage in order to obtain loans and other financial backing - individuals are not required to have insurance when purchasing their shares or units. "You can buy a $2 million co-op, but you don't have to bring proof of insurance when you go to the closing," says Bob Mackoul, president of Mackoul & Associates. Many buildings, however, are trying to rectify this situation. "A lot of boards are pushing hard [to get people insured] without going all the way and making it mandatory," he says.
Lack of coverage also can be the result of simple confusion over whose policy covers what. Many co-op and condo owners assume that their building's insurance will cover most or all of the damage their unit might incur from a fire, flood, or other catastrophic event. This is not usually the case - a misunderstanding that leaves many homeowners at great risk.
In the event disaster strikes, shareholders or unit owners without proper homeowner protection may not be able to restore their home to its previous appearance, may not be able to replace lost or damaged property, or even house their family during repairs. All of these costs together can make for daunting, possibly insurmountable obstacles when it comes to rebuilding a life in disrepair.
Finding the Right Coverage
Homeowners coverage is basically divided into two categories: property insurance - which protects items owned by the insured - and liability insurance, which provides protection from actions brought against the insured.
Personal property coverage provides restitution for the loss of a home's contents due to fire, water damage, theft, or a myriad of other unpleasant scenarios. Coverage includes most types of personal property, but likely will not cover luxury items like jewelry, furs, antiques or fine art collections. Art mavens and diamond-lovers need not fear, however - proper protection for high-ticket luxuries can be obtained through policy riders.
Improvement and alteration coverage provides a financial safety net for home improvements. Most individuals believe that any improvements made to their apartments - new flooring, renovated kitchen, upgraded cabinets - are covered under personal property protection. Again, this is not the case. "When you live in a co-op or condo and you buy a unit with new floors or kitchen upgrades, you're responsible for it," says Barbara Strauss, senior vice president of York International Agency, Inc., based in Yonkers. "If, God forbid, someone's bathtub overflows upstairs and water leaks down, damaging your new $25,000 kitchen, don't look to the building to pay for it."
If the unit owner doesn't have proper improvement and alteration coverage, they may have no alternative but to sue the person who caused the damage. Even that, however, can be a lose-lose situation, according to Strauss. "If the upstairs owner has liability insurance [and you successfully sue]," she says, "you won't be able to collect on replacement cost." Meaning that the liability insurance might pay you an amount closer to the depreciated value of your kitchen rather than the remodeled value, creating a huge gap in the money received versus how much it will cost to actually replace the kitchen. Needless to say, the proper coverage will save everyone involved from serious headaches.
As Strauss explains, replacement cost can be an invaluable addition to any homeowner's policy. Insurance, as a rule, looks at the depreciation of property and possessions. "You want to be covered for what it costs to replace something," Mackoul says. If a homeowner buys a Henredon couch five years ago for $5,000 and it gets destroyed in a fire, the insurance company will look at the depreciated cost when they send their check. In that five years, the couch would have depreciated by nearly 50 percent, meaning the homeowner will have to shell out at least $2,500 of their own money to replace the couch. "Over one item, it's not a big thing," says Mackoul. "But consider it for the entire apartment and you could get murdered on the costs."
So-called "loss of use" coverage is also an important one to add to the list of insurance must-haves. Loss of use protection covers the costs incurred by unit owners and their families if they are forced to live elsewhere during the reconstruction of their home. If a fire has made their apartment unlivable, they could be forced to spend thousands of dollars living in the local Marriott hotel for six months while repairs are done. Without loss of use coverage, those costs come out of the homeowner's own pocket.
In the area of liability insurance, a comprehensive personal liability policy is perhaps the most important coverage to have. Personal liability protects homeowners and household family members against lawsuits resulting from injuries to people or damage to property. "Say you go away on vacation and accidentally leave the toilet running," Mackoul says. "Water overflows and damages your downstairs neighbor's Picasso painting. If his insurance company pays off on the Picasso, they'll knock on your door to try and get their share back. It happens all the time." With personal liability insurance, the homeowner is protected against whatever claims are launched his or her way.
How Much Coverage is Enough?
For many people, buying insurance seems like a waste of money. Why spend for a rainy day that might never come? This kind of thinking, however, can lead to disaster. "Some people just don't want to spend the money," Strauss says. "People say it just can't happen to them. But it can. And when the worst happens, you want to be covered."
Buying basic coverage is a start, but for those who are serious about protecting their possessions - as well as their financial security - it's important to investigate all contingencies. Mackoul believes the bare minimum coverage for a co-op or condo owner should be $25,000 each for personal property, improvements, alterations, and content with $300,000 for liability. He also recommends purchasing as much loss of use coverage as possible. A bare-bones policy like this would cost only a few hundred dollars a year.
Strauss encourages policy buyers to insure for as much as possible. "Don't skimp on the coverage," she says. "To keep your costs down, go for a higher deductible." Getting the right amount of coverage means that homeowners must make a careful examination of their possessions. "I like to give everyone an appraisal booklet which lists every room in the apartment," Strauss says. Residents then tally up their possessions by room, adding estimated values. Creating as complete a list as possible will prove invaluable should the home's contents need replacing. Thorough documentation pays off - many insurance brokers recommend keeping photos and videotapes of your property in off-site safe-deposit boxes in case disaster strikes at home.
Holding on to receipts for big-ticket items also helps. "[Estimates] are very subjective," Mackoul says. "Sometimes people underestimate the value of their possessions. They'll think they have $50,000 worth of stuff when in fact they have $100,000. Keep receipts. The better your record keeping, the better off you'll be in the long run."
Keeping Current
Keeping your policy up-to-date is another important factor in protecting your co-op or condo. That perfect policy you bought in 1998 might not be so perfect four years later. "People need to examine their policies every couple of years," Mackoul says. "Most people don't recognize how much they can accumulate in that time."
Strauss suggests an annual run-through on a homeowner's policy. "Or after you've done major improvements. Especially then."
For homeowners, having the proper insurance means not only buying a little peace of mind, but protecting their family and themselves from a future no one can predict.
Liz Lent is a freelance writer specializing in real estate.