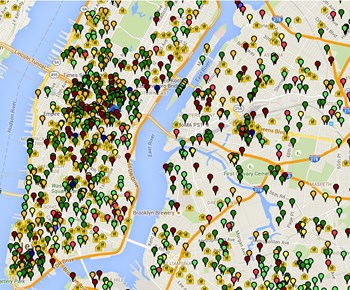 While the invasive board approval process in many co-ops would likely make it very difficult for a prospective buyer with a criminal background to purchase an apartment in a given building, that doesn't mean that residents who've done bad things can't or don't live in co-ops. The less powerful boards in condos may find themselves in the position of either voting to approve a purchase by such a buyer, or having to exercise their right of first refusal and purchase the unit themselves. Or perhaps the individual's misdeeds were committed after they bought into the building. Maybe it's the spouse or child of an owner or buyer who's run afoul of the law at some point. Rarely are such matters as cut-and-dried as they seem at first blush.
Let's take a look at how boards can achieve the delicate balance between resident safety and privacy.
Get the Facts
Board members may decline to bring up the matter of criminal history during an interview with a potential buyer out of propriety. The thinking goes that much like sex, religion, and politics, peoples' rap sheets are not suitable topics in such situations. But this is not strictly true. Not only should boards ask about a prospective buyer's criminal history, but not doing so could expose them to claims of negligence down the line if the worst happens. "The safety needs of owners in a co-op or condo come before any ethical issues with a prospective buyer or tenant who has been convicted of a serious crime," says Attorney Adam Leitman Bailey, founding partner of the law firm of Adam Leitman Bailey, P.C. in Manhattan.
Simply put, it is the fiduciary responsibility of the board to get all the facts about a prospective resident—especially if said prospective resident did hard time for something egregious, like sexual assault. Boards must protect the investment made by the building's existing unit owners. And there is a bottom-line component to this. "Most owners of either a co-op or a condo are concerned about the value of their property going down," Bailey says—which it could if known as a safe harbor for convicted sex offenders. "So in addition to the safety of the people in the building, there is a financial stake involved as well."
Fortunately, finding out about criminal records is not difficult—and is often a compulsory part of due diligence. "Most boards do a criminal background and sex offender registry check on all proposed purchasers and occupants," says Aaron Shmulewitz, a partner at the Manhattan law firm of Belkin Burden Wenig & Goldman, LLP.
Venal vs. Cardinal Sins
If something pops up on one of these checks, then what? Ultimately, it depends on what the crime is—and not all crimes are created equal, at least in the eyes of a board. A charge of felony drug possession from 20 years ago may not be enough reason to turn down an otherwise fantastic buyer. A convicted murderer or sex offender is another story.
There are some convicted felons who would likely have zero problem with any co-op board in the city. The late baseball owner George Steinbrenner was convicted of obstruction of justice related to illegal campaign contributions to Richard Nixon, and was denied the right to vote for ten years until Ronald Reagan pardoned him; he had no trouble buying Manhattan real estate. Conversely, the board of the Dakota is not going to approve a sale of a unit to Mark David Chapman, even if he were paroled, won $500 million in Powerball and offered to pay six times the asking price. Chapman shot and killed Beatle's musician John Lennon outside the apartment building in 1980.
But isn't that discrimination? Yes, but according to Bailey, "It is absolutely legal to reject on the ground that the applicant is a convicted felon."
Shmulewitz agrees. "While discrimination in employment based on a person's criminal record is illegal, refusing an applicant for housing based on a criminal record is not prohibited by federal, state or city law. Put another way, there are 13 grounds of unlawful housing discrimination; decisions based on a person's criminal record is not one of those prohibited grounds."
That said, the intersection of board discretion and a buyer's history with the criminal justice system does raise concerns of social justice. Because the prison population is disproportionately people of color, discriminating against all felons, it could be argued, is inherently racist—and therefore illegal.
"Housing is vital to successful re-entry after incarceration," says Paul N. Samuels, director and president of the Legal Action Center, a New York-based organization that advocates for the rights of those with criminal records. "Yet publicly funded and private housing is often unavailable to people with criminal records and their families. For example, landlords and public housing authorities have a great deal of leeway to keep people with drug convictions out" of co-ops and condos. "They can do this without considering other factors about the individuals who apply, such as character references and evidence of successful treatment."
Now, if a board turns down a potential buyer because of a felony, said potential buyer could sue. But just because he or she sues does not mean he or she will prevail. In this sort of case, Shmulewitz says, "The board would appear to have a good defense."
The bottom line is this: would you, as a board member or non-board resident, feel safe with this prospective buyer as your neighbor? (Or, as Bailey puts it, "Would you want your nine month old baby living on the same floor as a convicted sex offender or murderer?") If the answer—based purely on his or her criminal record, and not any other consideration covered by federal anti-discrimination law—is no, then the only prudent thing to do is turn him or her down.
Different Powers
While co-op boards are empowered to reject potential buyers,condo boards have their proverbial hands tied. But both forms of housing have ways of dealing with this issue.
"Typically, a co-op's proprietary lease says that transfers are subject to board consent," Shmulewitz explains. "The law puts certain limitations on such consent rights; an applicant's criminal record is not within those limitations, so a board's consent rights under its proprietary lease are unfettered with regard to an applicant's criminal record." In other words, a co-op board can look at the application, look at the rap sheet, and flat-out refuse to allow the purchase.
Condos have fewer options and less power. "In a condo, typically, the by-laws give the board only a right of first refusal," Shmulewitz says. "There are generally no limitations stated on that right except, occasionally, that it must be exercised in accordance with law. Since the law does not prohibit housing decisions to be made based on an applicant's criminal record, the board's right of first refusal rights would be unfettered." In this scenario, in order to prevent the felon from purchasing the unit, the condo board itself would have to purchase the unit. An expensive proposition—but one a board might be quite willing to take, depending on the circumstances.
Felons Among Us
But all of this is to lock the chicken coop before the wolf shows up. What if the wolf has been inside the coop—or, to be more accurate, the co-op—all along? What happens with the FBI raids the apartment of the creepy guy in 18C and finds a trove of child pornography on his hard drive? Or if the dashing gentlemen in the penthouse suite turns out to be a high-priced assassin? How to get these suddenly-very-undesirable neighbors out of the building?
According to Shmulewitz, the first step is to let the other residents know what's going on. This may seem like a violation of the guilty party's rights. It is not. "A board can always report on public record facts—if Mr. X is convicted of a felony, or registers as a sex offender, those are public record facts, which the board can report to residents without fear of a successful suit being brought," he says. "If a board fails to notify residents of such facts, and Mr. X commits a crime in the building, the board could face potential liability for not advising residents."
Once the truth has come to light, the board can take appropriate action. Sometimes, the humiliation of exposure is enough to get the guilty party to move out. "A co-op board's best bet would be to report public record facts to residents," Shmulewitz says. "Doing so could, in and of itself, encourage the felon to move. If he does not, the board would normally be within its rights to begin the process of terminating the apartment's proprietary lease for undesirable tenancy"—this is known as a Pullman proceeding, from the case of 40 West 67th Street v Pullman in 2002, in which the board successfully terminated the lease of resident for odious behavior—"and seeking to evict the felon."
Shmulewitz recalls incidents in two buildings, one a co-op and one a condo, in which it became known that a registered sex offender was living on the premises. "In the co-op, the sex offender happened to be the son of a former board president, and moved in with his father after being released from prison. The co-op board decided to notify all residents, and the offender moved out quickly."
In the condo, the situation required a bit more expense. "The board decided to notify all residents, as well as nearby schools, and to seek and obtain the consent of unit owners to offer to buy the apartment, which approval was granted, and purchase occurred, at a net out-of-pocket loss of $100,000 to the condo." Despite the loss of money, "Everyone was pleased at the board's pro-active behavior," he reports.
In the end, the pros agree that being proactive is the way to go, particularly in situations involving known sex offenders and violent criminals; just as a board should protect their community against financial mismanagement or maintenance breakdowns, they have a duty to make sure that residents, their families, and their property are safe as well.
Greg Olear is a freelance writer and a frequent contributor to The Cooperator.