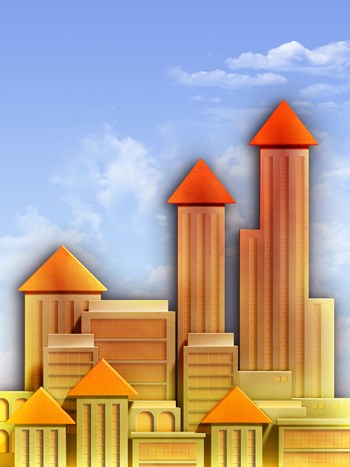 The last few years have been something of a rollercoaster ride for New York's co-op and condo markets. After reaching an historic high in 2016, a number of factors—among them the cap on federal income tax SALT deductions, overbuilding/oversupply in the luxury market, the COVID pandemic, and the fractious 2020 presidential election—converged to put downward pressure on the market. Now that the election is over, but with the pandemic dragging on, where might the markets be headed next?
The Chicken Little Effect
When COVID-19 hit New York City in the spring of 2020, it landed another blow on a co-op/condo market already suffering the effects of the change in tax laws, election jitters, and overbuilding. New York was ground zero—once again—for the first wave of the virus, and at that early stage, useful knowledge about spread and treatment was scant. Many of those with the means to leave—i.e., the wealthiest New Yorkers with second homes outside the city, and young unattached workers with remote-work options—did so, and quickly. Pundits declared the end of the Capital of the World, the self-described Center of the Universe—which, while perhaps understandable given the unprecedented images of a deserted and desolate Times Square flashing around the globe, was premature, and in hindsight, a little overblown.
"There was this over-the-top assumption that New York was dead," says Jonathan Miller, president and CEO of Miller Samuel, Inc., a major real estate appraisal and consulting firm based in Manhattan. "This assumption proved to be untrue." That said, Miller continues, "Normal migration patterns had halted. There wasn't any inbound until early spring 2021, which correlated with vaccine adoption."
Miller says that the rental market has been something of a harbinger of recovery. At present, rental rates have started to rise in New York City, and are approaching pre-pandemic levels. "The rental market has seen a massive surge in activity in the last four months," he says, "which has absorbed much of the slack in the market."
That upswing is worth paying attention to, says Miller, because the sales market for apartments—both condos and co-ops—generally follows the rental market. "The COVID discount is compressing quickly," says Miller. "Inventory is still relatively high, and prices are down about 10 percent from pre-pandemic levels. When companies bring back their workers, we'll see another surge in price improvement. This will help commercial real estate as well, but we are seeing an unexpected delay as a result of the delta variant until later in fall or early winter when people finally come back to the office."
Seasonality & Financing
Miller explains that pricing for condominiums and co-ops is still below pre-COVID levels, but housing markets, whether we're talking about New York, Florida, or other markets, still display heavy volume with a return to normal seasonal patterns. In 2020, seasonality was thrown out the window. "We expect[ed] a bump after Labor Day in all markets," he says, and adds that most of this heavy demand is being framed around low mortgage rates. "The market is overly reliant on low-cost financing. On the other hand, lending standards and underwriting are easily 20 percent tighter than before the housing bubble that caused the Great Recession. We're not looking at a housing bubble crisis. Price trajectory without bank involvement will regulate prices. In all markets, we will see improvement. Lending standards are tight, and there's lots of stimulus money. When the economy recovers, and office workers go back to work, we will have a gradual recovery into 2022. Delta does add an additional layer of uncertainty, but won't derail it. It's just postponed it by a few months."
The Luxury Market
A few years back, most agreed that the top end of the market was severely overbuilt. The sheer number of units planned, approved, financed, and scheduled for construction ran into a headwind with the change in tax laws and the uncertainties of the 2020 election. The arrival of COVID only exacerbated the problem. According to Miller, "The way to think about this is pre-COVID. Consider Manhattan. If you added up all the active and shadow inventory in 2020, it would take almost nine years to sell out the units unsold at that time. There was tremendous excess supply. In a balanced market, we look at three years; in 2021, we're seeing more sales activity, and also a more modest amount of property coming to market, so the projected absorption sell-out rate fell to seven years. Based on what we think and are seeing, it will continue to fall."
According to Benjamin Dixon, a broker with Douglas Elliman, "The luxury market has had the best market on record this year. [The year] 2020 was a disaster. This year, though—2021—units priced at $4 million and above sold at over 20 per week. Twenty per week is considered healthy. We have had over 20 sales per week, and over 30 most weeks since the spring, with multiple weeks over 40 units sold. That's a lot of hometown buyers too—not just foreign buyers, though as travel restrictions ease, we expect to see more foreign buyers." He adds that "the current joke is that foreign buyers are from Westchester and they are making the move to be near children and get value. We will continue to see this."
"Those buying in new developments," Miller continues, "are looking for a value proposition—an opportunity to save money. What we are seeing now is that new development listing inventory is down 4.4 percent from two years ago. Decline in supply is up about 140 percent from last summer. That's still on the low side, but significantly up from last year, and we're seeing median sale prices at parity with pre-COVID levels of two years ago. Since the beginning of the year, we've seen a compression of the COVID discount; we don't think there's a lot of discount left. Luxury market median prices are now nine percent below two years ago, which suggests there is additional future demand for this type of property. Prior to the pandemic, the narrative was that the market was soft at the top and tighter as you lowered prices. That reversed after the lockdown. Economically, conditions were weighted against wage earners, so upper salary types and mid-tier buyers didn't feel the economic downturn of COVID as severely."
The Blurred Line Between Work & Home
It's generally acknowledged at this point that even after COVID is eradicated (or at least brought under better control), Zoom is probably here forever. Sick as we may be of staring at screens, forgetting to switch on our mics, or shooing kids and pets away during work calls, video conferencing has proved to be a vital bridge between work and home.
"We're in a discovery phase," says Miller, "where corporate America is trying to figure out how this works down the road. What it means is that the relationship between work and home has changed. The future isn't going to be as it is now, or how it was before COVID; rather somewhere in between. Wall Street is asking its workers to come back five days a week. In fact, one prominent Wall Street executive said recently, 'If you're not willing to be here, then you're in the wrong industry.' That may have been the initial messaging, but it's not likely going to hold up. Industries will adapt to a new balance between work and home. It's become an employee benefit to have that flexibility. That changes things—like markets in the Hamptons. High earners staying 'Out East.' You have reverse commuters, which wasn't on the table before.
"What didn't happen," Miller continues, "was that for the most part, people didn't just sell their homes in the city and move away. Many bought second homes—co-primary or alternative-primary homes, so to speak—and thanks to remote work, they commute less. One thing I think the experts and pundits have wrong about remote work is that they're focusing on people who work in the city and live in the suburbs—overlooking those who do the opposite: living in the city and working in the suburbs. There are currently more people telecommuting from Manhattan to the suburbs than from the suburbs to city-based or other suburban work locations right now. People who want to live in the city will work remotely for companies based in the suburbs—and vice versa—in the future."
Miller adds that "prior to COVID, five to seven percent of workers worked remotely. Now, the number of permanent remote workers has doubled or tripled to 15 or 20 percent. Going forward, another 50 percent of office workers will work part-time in the office and part-time remotely. That shift is likely to be permanent, and has profound implications for commercial office rents, as well as retail and residential."
The View from the Field
But what about the real-world market? CooperatorNews spoke with several brokers in the New York market to get a closer view of what's happening.
Joanna Mayfield Marks is a broker with Brown Harris Stevens in Brooklyn. "In New York City," she says, "I'm hopeful that we are resilient, because today's market feels like 2016. It's better than it's been in a long time. Apartments priced under one million dollars are active, as people need a place to live. For luxury units, we also see units going well over the asking price, at least a couple hundred thousand dollars more. Prime neighborhoods have seen increases; prices are reported up 13 percent in Park Slope, for example. Bread and butter units are consistent, and in the last few weeks we have seen a pick-up in activity because interest rates are outrageously low—under three percent—but there's murmuring about rates going up, which will push buyers. Also, a lot of refinancing is happening. In the luxury market not tied to interest rates we have seen an uptick as well, and it's because the election and its uncertainty ended. People are more confident."
Marks also points out that typical buyers today, especially millennials, are seeking 'turn-key' units requiring little or no renovation—'move-in condition' is what sells. Her suggestion to sellers is that with interest rates as low as they are, renovate your apartment before listing it to maximize your asking price. (And of course, get rid of the orange shag carpeting and paint the walls a neutral color.)
Ariel Heilman, also with Brown Harris Stevens and specializing in properties in the Bronx and Upper Manhattan, recalls how she and her colleagues pivoted under the pressures and roadblocks thrown up by COVID. "When we couldn't show apartments, we made videos of everything to show virtually," she says. "During the lockdown, we were engaged heavily in hand-holding. People were looking for us to calm them down. The deals that were in motion continued—we were doing board packages etc., with lawyers, appraisers, lenders, everyone working remotely. We were pushing things forward."
Now, she says, "everything is going incredible. People are not running for the exits and throwing their keys at the broker. You had to have liquidity to get in, so many people could weather the slowdown. Now, some people who were planning on retiring and are ready to leave [the city] have moved up their plans," while on the other hand, "others who were planning to buy in the city in two to three years have moved up their plans and are buying now.
"Our markets are active," Heilman continues. "Whether it's a buyer's or seller's market depends; supply is what drives it. We had two sponsor units on the West Side: one was a 'cut up,' and overpriced, and it languished. Eventually we found a buyer and closed last week. The other was a bidding war. We also had an 'Edwardian Five' and had multiple bids out of the gate because of the quality of the product. People who know what they want, have everything ready to go, and are priced right are getting deals."
Dixon projects that "in the near future, we see prices continuing to rise—the question is when. We also see inventory coming down. Inventory was up for a few years, but now it's dropping. We are seeing the rental market coming back with a vengeance, and generally trends in the rental market lead the sales market. The question over the next few weeks is when will demand outpace supply? Will that happen now, or wait till the spring, which is typically our strongest season?"
While certainly it's not yet time to toast the end of the pandemic and all the misery, loss, and profound inconvenience it's caused, one thing seems clear: COVID-19 did not defeat New York City, or the Big Apple's legendary real estate market. "[People] are not abandoning New York City," says Miller. "The so-called 'escape from New York' was a fraud. Its scale was widely exaggerated."
Heilman agrees. "You cannot recreate New York," she says. "People want it, that's what they're buying."
A J Sidransky is a staff writer/reporter for CooperatorNews and a published novelist.