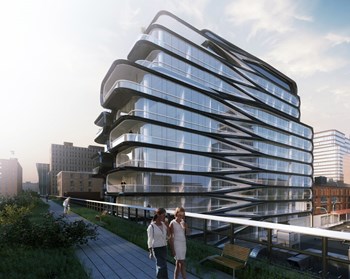 Thankfully, it's been a long time since the Lehman Brothers fiasco and nationwide real estate market crash. The recession has since faded away and Manhattan and many parts of Brooklyn are seeing a flurry of new buildings going up or breaking ground.
The far West Side of Manhattan continues to develop, including Hell's Kitchen and the 42nd Street corridor off Times Square—and the Bowery and Lower East Side are dotted with construction scaffolds. Nearly all neighborhoods saw or will see a number of new residential ventures last year or this year.
New York real estate is booming, and part of the demand is driven by foreign buyers who view property here as a smart investment. With the average price for an apartment at more than $1 million in some areas and some deluxe units selling for $70 million, it might seem like the market for condominiums and co-ops here is topping out. But maybe not—the amount of new units entering the market, and their price range, belies that reasoning; upper-priced units abound.
According to Halstead Property Development Marketing's February 2015 New Development Insight report, 52 percent of all active new development listings were priced at more than $5 million. Of all active listings above $5 million, 60 percent were in Downtown Manhattan, 27 percent were in Midtown, and just 13 percent were on Billionaires Row. As of February 2015, inventory of all new development units included 1,642 units in conversions, and 1,944 units in developments built from the ground up.
City Living
The diverse economy that is New York City is robust—not only its usually strong real estate sector, but also the finance and related industries, whose jobs fuel real estate activity. But of course, the real estate market here underpins it all, and things look good. In the January issue of The Heym Report, Halstead Property chief economist Gregory Heym reports New York City employees added 94,600 jobs last year. New development reflected that growth, with the number of units approved by building permits increasing 12 percent in Manhattan last year, to 5,435. Brooklyn saw a 23 percent jump in permits, to 7,551 units.