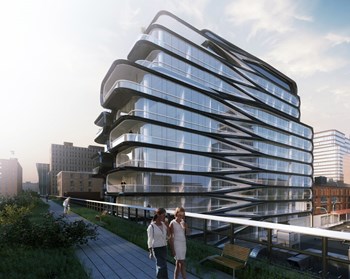 Thankfully, it's been a long time since the Lehman Brothers fiasco and nationwide real estate market crash. The recession has since faded away and Manhattan and many parts of Brooklyn are seeing a flurry of new buildings going up or breaking ground.
The far West Side of Manhattan continues to develop, including Hell's Kitchen and the 42nd Street corridor off Times Square—and the Bowery and Lower East Side are dotted with construction scaffolds. Nearly all neighborhoods saw or will see a number of new residential ventures last year or this year.
New York real estate is booming, and part of the demand is driven by foreign buyers who view property here as a smart investment. With the average price for an apartment at more than $1 million in some areas and some deluxe units selling for $70 million, it might seem like the market for condominiums and co-ops here is topping out. But maybe not—the amount of new units entering the market, and their price range, belies that reasoning; upper-priced units abound.
According to Halstead Property Development Marketing's February 2015 New Development Insight report, 52 percent of all active new development listings were priced at more than $5 million. Of all active listings above $5 million, 60 percent were in Downtown Manhattan, 27 percent were in Midtown, and just 13 percent were on Billionaires Row. As of February 2015, inventory of all new development units included 1,642 units in conversions, and 1,944 units in developments built from the ground up.
City Living
The diverse economy that is New York City is robust—not only its usually strong real estate sector, but also the finance and related industries, whose jobs fuel real estate activity. But of course, the real estate market here underpins it all, and things look good. In the January issue of The Heym Report, Halstead Property chief economist Gregory Heym reports New York City employees added 94,600 jobs last year. New development reflected that growth, with the number of units approved by building permits increasing 12 percent in Manhattan last year, to 5,435. Brooklyn saw a 23 percent jump in permits, to 7,551 units.
The booming market appears to have enough momentum to carry it for a while, thanks to increases in inventory. This year is expected to have nearly double the product delivered to market as last year. According to Corcoran Sunshine, there are 6,287 condos set to launch in 2015, compared with 3,112 in 2014.
Far and away, the new construction development is condos. It's not surprising, given the market influence wielded by buyers who view apartments as investments, rather than primarily as a home. Industry insiders say New York City real estate is considered to be such a solid investment that it has become the unofficial Swiss bank account of foreign buyers.
"A condo is more attractive to a purchaser, because co-ops have more stringent restrictions on selling. Condos are much more attractive, particularly to foreign buyers," says Steve Kliegerman, president of Halstead Property Development Marketing.
The current development market is dominated by pre-construction sales, according to industry reps. "In the ultra-luxury market, Baccarat Hotel & Residences across from MoMA is now offering immediate occupancy," says Gordon H. Hoppe, executive vice president of Corcoran Sunshine Marketing Group. In Midtown East, 325 Lexington has reached 50 percent sold in less than six months, which Hoppe says is "tremendous."
Other noteworthy projects that were completed or will be opening for occupancy in 2014 and 2015 include the Woolworth building, the MoMA tower, Zaha Hadid's High Line condos on Manhattan's West Side, Ben Shaoul's Verizon building conversion, The Chatsworth condo conversion, Riverside Center, and Greenwich Lane (otherwise known as the St. Vincent Hospital conversion).
Hot Hoods
Several neighborhoods are seeing heavy new condo and/or co-op development, including Downtown, Chelsea, Tribeca, the Financial District, Midtown, the Upper West Side, Upper East Side and Brooklyn. The groundbreaking of the Hudson Yards project has had a measurable impact on residential development on Midtown's West Side.
"Hudson Yards will be a brand new 21st century neighborhood," says Mitchell Hall, a licensed real estate associate broker for the Corcoran Group. "Hudson Yards is the epicenter of Manhattan's New West Side. Bordered by the Hudson River, Chelsea, Hell's Kitchen and Midtown, this neighborhood is booming with both private and public investments in mass transit, new parks and new cultural and recreational facilities directly adjacent to Hudson Yards, which will bring new residential developments."
Kliegerman agrees. "There's been a lot more activity since Hudson Yards has been announced. Prices have increased 25 percent in the last two years," Kliegerman says. "The 2nd Avenue corridor also has seen a lot of development, and more is planned. Prices there have increased about 15 to 20 percent in the past couple of years."
The construction of the Second Avenue subway is spurring development. Many new construction towers and small boutique brownstone conversions are under way on the East Side that will benefit from the Second Avenue subway completion from the east 60's to Yorkville and Carnegie Hill, according to Hall.
"The new World Trade Center buildings were a catalyst for a rebirth of Lower Manhattan as a vibrant, urban neighborhood where people live, shop and eat as well as work. Lower Manhattan is full of new housing, restaurants, hotels, bars, parks, schools, open spaces and new businesses big and small. Trinity Church announced it's planning to develop residential towers on its property and another new condo project slated at 125 Greenwich Street is expected to top 1,356 feet, making it the second tallest building downtown," Hall says.
High (Line) Times
Brokers and developers are banking on the High Line. While some have been building luxury developments for several years around the High Line, they are continuing to capitalize on the new 21st century elevated park location and views of it. The newest anticipated development is celebrated architect Zaha Hadid's High Line condo project.
What's considered prime Chelsea has shifted westward to meet the High Line, according to Hoppe. "Developers saw the lure of the High Line, and planned buildings with spacious layouts for buyers looking for larger residences. We're seeing buyers flock to Chelsea from all over the city, including the Upper East and Upper West Side. We wouldn't have dreamed of seeing Uptown buyers in far West Chelsea a decade ago," he says.
"The High Line has become an instant international landmark," Hoppe continues. "Some of the world's most noted architects are designing adjacent properties that reflect the imagination and creativity of the park itself. Thomas Juul-Hansen's 505 West 19th Street has two towers connected by a lobby built underneath the High Line. Above, its skylights let you see the underside of the structure. Residential architecture that is this interactive with the High Line is a first. And Pritzker Prize winner Zaha Hadid is creating her first New York residential commission at 520 West 28th Street, adding yet another dynamic landmark to the neighborhood."
"It's all tied in with the Hudson Yards project," Kliegermnan says. "Interest in the properties is very high, and they sell out very quickly. Ten years ago people wouldn't have desired to live there, now it's one of the most desirable areas of the city. It's all high-end."
Some of the new development is conversions, including The Chatsworth. The historic Beaux-Arts building, on 72nd Street and Riverside Drive, is a renovated cooperative building in the Upper West Side. Originally built in 1904, The Chatsworth combines modern comforts with old school architecture, and other features.
"With newly envisioned interiors and graciously-proportioned layouts by noted interior design firm Pembrooke & Ives, The Chatsworth features elegant details inspired by the prewar era," Hoppe says. "Its location at the base of Riverside Park offers select residences uninterrupted park and Hudson River views, while other homes are filled with light from multiple exposures."
Way Downtown
Retail, commercial and residential real estate are leading the rejuvenation of Downtown, Hoppe says. Silverstein Properties, which is developing 30 Park Place-Four Seasons Private Residences, is a driving force in the market.
"By bringing Four Seasons downtown to Tribeca, 30 Park Place is creating a level of luxury living never before seen in the neighborhood," Hoppe says. "Having recently topped out, the building is now the tallest residential structure downtown at 926 feet, truly a New York landmark. The market has responded well to 30 Park Place, and the development is now over 60 percent sold."
The impact that Toll Brothers City Living is having on the market is tremendous, with several projects in the works. In late February the firm closed on two adjacent parcels in Tribeca, and plans to bring 98 condos to the site. The 19-story building at 351-355 Broadway will have 193,000 square feet of space, The Real Deal recently reported. Also in late February. Toll Brothers signed a 99-year ground lease in the West Village at 100 Barrow Street. The developer is planning a 12-story rental building with 35 units, 20 percent of which will be affordable.
In a city in which about 70 percent of residents are renters and one-bedroom, 1,000-square-foot units can average $1.4 million in some spots, the overall health of the real estate market is an indicator of the local economy's vitality. Clearly, both sides of the real estate market—rental and condo/co-op—are still hot.
Toll Brothers has a couple other residential projects currently being developed. The Pierhouse is a 108-unit townhome-style development at Brooklyn Bridge Park's Pier 1. Prices for units there range from $1.5 million to $11 million. The project should be completed this year. It complements 400 Park Avenue South, another Toll Brothers project. That 40-story building's penthouse is priced at $16.9 million and was designed by architect Christian de Portzamparc, who designed the majestic One57 condominium. Located at the corner of 28th Street, the building will have 99 condos and 269 high-end rental units.
Also in development by Toll Brothers is 55 West 17th Street, 91,700-square-foot, 55-unit development. The 19-story mixed-use building will include units averaging 1,600 square feet, and a penthouse occupying the top two floors.
Jonathan Barnes is a freelance writer and frequent contributor to The Cooperator.