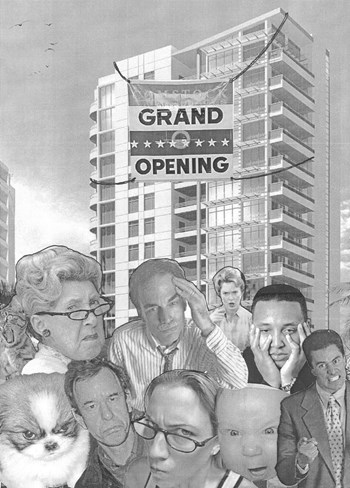 There's a certain allure to being the very first owner of a condo in a brand new building. To be able to wake up every day in a space that's totally your own, free from the dents, dings, and spackel of previous owners' experiences in the place that you now call home. And with New York City offering tax abatements for new developments across the boroughs, that shiny brand new unit is an enticing option.
But what happens when that new building comes with problems? Leaks in apartment units, mechanical problems, insufficient noiseproofing, and other issues that might not be easily identifiable during a walk-through of a brand new unit? Issues that won't pop up until residents have moved in and started living in the space? If you're buying new, it pays to take what steps you can to insure that the unit you're purchasing is as close to perfect as it can be. Caveat emptor isn't just an adage to remind buyers to be careful. When the thing you're buying is also where you'll be living and likely represents your single biggest investment, naturally you want to protect that investment by every possible means. Ensuring your new home is in top shape before you move in is a good place to start.
Identifying Problem Areas
Ask any real estate broker, attorney, contractor or developer about construction problems on new residential buildings, and you'll likely get a different answer from each professional. But in the view of Manhattan-based attorney Adam Leitman Bailey, problems with construction often start at the builder/developer stage.
"They hire the cheapest contractors, and use the most inexpensive materials," Bailey says, adding that the top physical problems with new residential construction are insufficient coating on the roof, and incorrectly-sized boilers that area too weak for the building's needs. Having too few elevators installed in a building also can be a problem in some new structures. Sometimes the new building lacks adequate sound-proofing, or the sound-proofing was improperly installed. Leaks, and lack of soundproofing between floors and walls, are two of the most common problems in new construction, says attorney Stewart Wurtzel, a partner with the Manhattan-based law firm of Tane, Waterman & Wurtzel, P.C. Non-compliance with building codes, such as insufficient fire-stopping material, also can be problematic.
According to the pros however, air and water leaks from roofs, terraces, bricks or windows are the single biggest complaint in newly constructed residential buildings. "A lot of buildings are...not built that well. There just seem to be a lot more problems," Wurtzel says. Sometimes in newly constructed residential buildings these days, architectural details of the building are not as they were sold to be. The developer or contractor didn't do the job right, omitting some items or substituting one element for another of lesser quality or lower design standard.