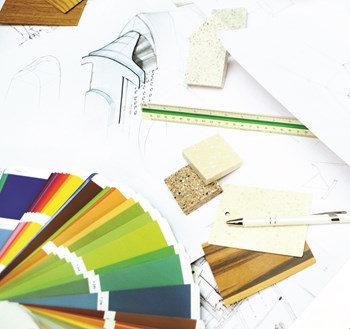 When someone says the words "tree-lined street," what comes to mind? Whatever you're envisioning, chances are it's easy on the eyes and the spirit. The phrase connotes a certain placid, upscale sensibility, which can translate neatly into rising property values. (There's a reason realtors are so fond of the expression.) But if you're amongst the ranks of the treeless, maybe this is the year to do something about that. Planting trees is a dramatic and inexpensive way to give your building a major makeover. The following tips and wisdom may help you begin to turn your block into a leafy wonderland.
Laying the Groundwork
Before you start digging and mulching, you might consider a few basic tips: First of all, design by committee rarely leads to anything pretty. A good bit of advice is to limit the number of people involved in the tree decision-making process to no more than three. Next, decide on a budget - for both installation and maintenance - beforehand. Although most plantings are quite reasonably priced, it is possible to put in finicky exotics and such, which can cost quite a bit. Better to know what you can afford before you fall deeply, madly in love with that flowering Hawaiian showstopper.
Finally, think about your timeline. According to Neil Mendeloff, president of Plantworks, Inc., an exterior/interior landscaping company with nearly 30 years of experience in New York, city permits are issued between March 15th and June 15th for spring plantings and between October 15th and December 15th for fall plantings. "Ideally," says Mendeloff, "you should allow about two months lead time if the job requires cutting the sidewalk - though we can make due with less if there's already a pit."
It Isn't Easy Being Green
So you know what you can spend, and you know your time frames. Now you're ready for the tough part - getting your permits. As far as the city is concerned, plantings can be broken down into three categories, each with its own set of rules. The first category consists of planters (large, above-ground pots that rest on top of the pavement) placed right next to your building. Mendeloff explains it like this: "The area from the outer wall of your building to three feet out into the sidewalk is considered the building's personal space, and no permits are required to put planters there. Anything beyond that three-foot area is encroaching on the city's right-of-way, and you need to get permits for that."
Once your project moves into the city's right-of-way, plantings can be broken down again into sidewalk planters, and in-ground plantings - in which the tree is planted in a hole in the pavement called a "box" or "pit."
Fiona Watt of the City of New York Parks & Recreation Department's One Stop Tree Shop offered this advice: "If you're planting a tree in a pre-existing pit, simply call the Central Forestry and Horticulture Office, and they will send someone out to give you a free consultation and permit. If you're going to have to cut the sidewalk to make a pit, you will also need to get a permit from the Department of Transportation (DOT). Call Forestry first, and once you have their permit, you can call the DOT."
Be aware that the DOT may request that you consult with Con Edison or other utilities that might run underneath the sidewalk. City agencies may also take issue with your plans if they feel your trees could obstruct traffic, signage, light from lampposts, fire hydrants, driveways, or bus stops.
Just plunking a planter down on the city's sidewalk is no simpler; in fact it can often be more complicated. "You're essentially renting the sidewalk space from the city," Watt explains. For that, you need to get a permit from the DOT's rather ominously-named Division of Revocable Consents. According to Mendeloff, "You'll need to hire an architect to draw up a blueprint of the street in order to secure that permit, and you may also need to buy insurance."
Bear in mind that obtaining these permits is just the beginning. Mendeloff warns that the city also has regulations governing just about every aspect of the planting process, from the species of trees permissible to the size, shape, color and building materials of planters. Both the Parks Department and the DOT will provide you with written guidelines when they issue your permits, and you'd be well-advised to check them - and check them again - before you move forward with anything.
Watt adds another note on ownership and responsibility: Most tree suppliers will guarantee your tree for the first year, but push for two years - this is the real danger period for saplings. After the guarantee period is up on an in-ground tree, the tree is all - surprise! - the city's. "You're basically donating a tree to the community," says Watt. This means that after the guarantee expires, you can't remove a tree unless it's at least two-thirds dead, and - odder still - if you do remove it, you can be held responsible for replacing what's now considered city property. There is a silver lining, though: since the trees aren't yours, you have no liability for them between the expiration of the guarantee and the death of the tree.
But This One Was Just Right
Once you've gotten your permits and guarantees nailed down, you can get to the fun stuff - picking out your tree. Just choose wisely. If you have houseplants, you probably already know that every species has it's own unique needs and optimum conditions. A species that will thrive in a chronically dry, sunny spot will sicken and die in a cool shady nook. Your landscaper or contractor should be able to tell you which species are best suited to your location, but it's a good idea to do your own research anyway, just in case.
According to Ken Almstead, CEO of Almstead Tree Company, the best way to avoid choosing the wrong tree is to consult with a certified arborist. "Landscapers tend to be more design-oriented," he says. "But they don't always know what's best for the trees. I suggest hiring an arborist who's been certified by the International Society of Arboriculture. Ask him or her to help you choose the tree, and draw up a good maintenance plan, including watering schedules, pruning plans, and so forth. It's a worthwhile investment to do things right from the start."
If you do decide to go it alone, remember that New York City is a harsh urban environment, and only the sturdiest trees can take it. Luckily, the city has drawn up a short list of common approved species and their basic requirements. Ask the Parks Department for a copy of the list, and then whittle it down from there. Consider the light and water requirements. Think about drainage issues, mature size (will your cute little sapling be having its way with your awning 10 years from now?), and sensitivities to environmental hazards like pollution and, naturally, canine transactions. Finally, think about the aesthetics of your building, and whether you'd prefer a soaring ginkgo or a demure dogwood. Just remember, if the tree doesn't like your environment, it won't look healthy, so don't force it just because you like a certain look.
An Apple A Day
Of course, keeping your tree healthy starts with planting it properly. "Make sure the soil is ready for planting," advises Almstead. "See that the tree is planted at the proper depth; the root flare - where the tree's roots begin to fan out from the trunk - shouldn't be completely buried or overexposed."
Watt recommends a cast-iron tree guard for the perimeter to protect against foot traffic of the two-and four-legged varieties. But don't overdo the armor. "Skip floor grates - they impede root growth," Almstead warns. "Planting ivy or flowers in the pit can also rot your roots, as can over-mulching. A simple 1.5-inch layer of mulch is really all you need," he says. As for the day-to-day maintenance, "You'll get some basic care tips with your permit," says Watt. "Just make sure your tree is watered during the summer. Keep the pit free of garbage, salt, and dogs, if possible," she says. Almstead suggests a 10-minute watering per week during rainless weeks, and recommends using an organic alternative to salt melt in the winter called Magic Ice.
What's the Damage?
So what will it all this cost in the end? Well, you can actually get a free tree from your community board if you already have a pit. There's a catch, however. "Since 9/11, funding for the program was slashed such that the wait list is now several years," Mendeloff warns. But if you're not in a hurry, ask your community board for a Street Tree Request Form, and send it to the Parks Department.
If you'd rather not wait for the city to pick up the tab, figure that common varieties of trees should cost between $1,200 and $2,400 apiece to buy and install in pre-existing pits, according to Almstead. If you're cutting the sidewalk, expect to spend up to $3,000 per tree, says Mendeloff. Also, if you're doing above-ground planters, remember you'll have to pay an architect a couple thousand dollars to draw up your blueprint, and you'll have to pay the DOT permit fee of $400. And don't forget maintenance. "You'll probably pay about $150 per visit for a typical handful of trees outside an individual building," says Almstead. "For the first two years after planting, your trees will need lots of attention. If there's no one on the building staff - like a doorman or superintendent - who can water, you may need a pro to come in as often as every two weeks during this fragile period," he explains. Once trees are established, bi-annual visits for corrective pruning and deep fertilization should do it.
Make a Tree Grow in Brooklyn
No one can deny that it takes some work to plant a tree, but it's well worth the effort. In the end, you'll have gorgeous greenery, shade in the summer, foliage in the fall, and an all-around prettier façade. On top of that, you'll be providing a habitat for birds and butterflies; you'll be helping to improve air and water quality, reduce air pollution, and generally making the city a better place to live.
Alexandra Wolf is a freelance writer living in Brooklyn.