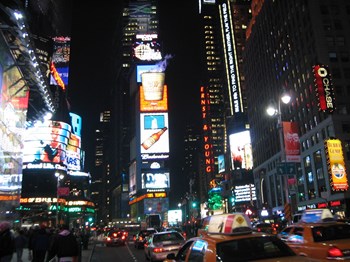 The heart of New York City is Times Square. Named for the good times you have when you are…in it," says Michael Scott in the NBC comedy, The Office. He then heads into Sbarro for a 'real' New York slice.
Although Times Square is actually named for the former offices of The New York Times, the Times Building located at One Times Square where the legendary Waterford crystal ball drops every New Year's Eve, The Office does tongue-in-cheeky touch on many New Yorkers' perceptions of the neighborhood. That it is commercialized, a hodge podge of misplaced chain restaurants and stores, and somehow "inauthentic" to New York. For many, Times Square represents a "Disneyified" version of New York City, packed with tourists, gawkers and dawdlers, too entranced with the neon advertising to realize that they are blocking the sprint-step walking pace of a New Yorker en route to work or a promising street hot dog. To others, the memories of decades of crime and seediness preceding the 1990s still linger; casting a shadow over the area nicknamed "The Crossroads of the World."
Despite these negative perceptions, however, Times Square is a dynamic and rapidly developing area, inhabited by more than the Naked Cowboy and the "I Love New York" tank-topped tourists that come, fanny packs stuffed with cameras, to see him. In recent years, the neighborhood has seen unprecedented development and revitalization, with much more on the horizon for the neighborhood and its surrounding areas.
Going Residential
In recent years, "there has been a big increase in the amount of residential development," says Ellen Goldstein, vice president of policy planning & design for the Times Square Alliance, which according to the Alliance's website, seeks to "improve and promote Times Square." Goldstein continues, "There's been a few new buildings within our district, particularly with some things being developed on Eighth Avenue. And there has been a lot of development west of our district in the Clinton area."
Times Square is centered on the intersection of Broadway and Seventh Avenue, and the area stretches between West 53rd Street and West 40th Street, and east to west from Sixth to Eighth Avenue. But as the area expands, the traditional dividing lines of the Times Square neighborhood have done little to contain its growth.