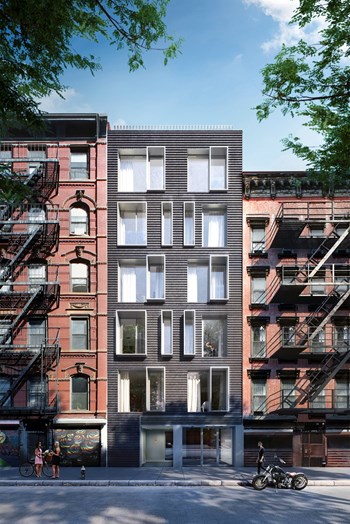 If you didn't know anything about its history, the building at 193 Henry Street on Manhattan's Lower East Side may seem like your average new luxury condo on the block. However, there is something quite unique about how it was built that just might spark a trend in the city.
As first reported by Curbed earlier this month, the six-story building named Idylls recently topped out, becoming the first luxury condo in Manhattan to be built using modular construction. It's a method in which a home is initially assembled as separate segments (or modules) in an off-site factory, employing the same standards and materials as if the home was built on-site. The pre-assembled parts are then transported to the actual building site and stacked on top of each other, forming one piece -- not unlike building something with Legos. (You can watch a time-lapse video of the building being constructed on-site here).
Jeffrey Jacobs, the sponsor of the condo project, which was designed by Think! Architecture and spearheaded by 193 Henry Street LLC, tells The Cooperator that he and others had looked at using modular construction for a while. "It made sense on many levels," Jacobs says. "First, financially, it shortened the construction period, lessening interest to the bank. Secondly, when building in a factory, you can control the quality of the workmanship much more easily without nature being involved."
Of the project's timetable, Jacobs says building the components off-site required eight weeks; erecting the structure on site took only a couple of days. It will take three months to complete the on-site portion of the build-out. When it is finally finished, he says, the building will consist of six floors: five full-floor homes and a retail space on the ground floor. Each apartment, says Jacobs, will have two bedrooms and two bathrooms containing Russian white oak plank floors, Italian white lacquer kitchens with Viking appliances, and calacatta gold porcelain master baths with white glass counter tops on oak vanities. Though sales have not been launched, Jacobs says that price of the units will start around $2.1 million. (He adds that the modular construction of Idylls was not really a factor in the pricing of units).
"The response we've gotten on the development side is that people actually seem excited," he says. "One interesting thing that has happened is that the erection of the building actually created community in the neighborhood. People are genuinely enthused, and saying hello every morning now."
Modular construction has been around for a while now, but its application in higher-profile multifamily and hotel projects is more recent, according to Tom Hardiman, Executive Director of the Modular Building Institute, a nonprofit trade association. "Many places around the world have embraced modular to address housing needs, including the U.K., Singapore, Australia, Sweden, and Japan," he tells The Cooperator.
Hardiman explains that such factors such as scarcity and high cost of labor, particularly in urban areas, along with low affordable housing inventory and high construction and development costs are driving residential developers to consider modular construction. "We have a need for more housing, and a low amount of labor available to build it," he says. "The construction industry, generally speaking, has been one of the last industries to fully embrace technology as a means of improving productivity. As a result, the construction industry has not seen gains in productivity in nearly 50 years. The recent economic recession heightened the problem, as many smaller contractors went out of business and many workers took jobs in other fields and didn't come back to construction."
According to the Modular Building Institute's website, the advantages associated with going modular include greater flexibility in terms of reuse; less material waste and air pollution; reduction of construction accidents, and the elimination of weather days (because the work often takes place inside a factory); and the use of quality materials that adhere to building codes. To Hardiman, the biggest advantage about modular construction is the time savings (a sentiment that Jacobs also shared about Idylls). "This is due to the concurrent site/foundation work," says Hardiman, "while at the same time the house or building is being fabricated at an off-site manufacturing facility. When the site is ready, the home is practically complete. Modules are transported and installed, then some finish work, and the home is done -- typically several months earlier than site-built projects."
Promising as it is, there have been issues documented with modular construction, including financing, reselling, and quality control concerns. Hardiman, however, argues: "The financing is a matter of lenders understanding the process. The decreasing value is a myth. Modular homes and buildings are built to the exact same local building code as a site-built home. These are not HUD-code manufactured houses, but local-code built modular homes."
In the case of New York City, the interest in modular, especially for the creation of affordable housing, has been gaining traction. It's part of Mayor Bill de Blasio's Housing New York 2.0 plan, which references modular construction by name: "Modular construction can significantly reduce development time and cost, increasing the efficiency of the City's affordable housing investments and bringing new affordable homes to the market faster." (Brooklyn already has a modular apartment rental building: a 32-story structure located at 461 Dean Street).
Hardiman predicts that modular construction will become more mainstream in the next 2 to 3 years. "The U.S. has the highest infrastructure needs (housing, schools, etc.) low labor availability, and fewer young people entering the construction industry," he says. "We must embrace this way of building -- we have no choice. Construction is one of the lone hold-outs in terms of industries that have not evolved much in the last 30 years. Every other major industry has evolved and improved, and construction will, too."
Meanwhile, following Idylls, Jacobs has already gone the modular building route with some ongoing development projects. "It is how we will be building now," he says, "Our development team is also working on 201 East Broadway and 330 Grand Street."
David Chiu is an associate editor at The Cooperator.