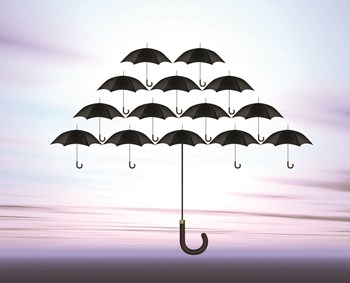 As construction insurance has evolved into a highly specialized and complex field over the past few decades, effective management of risk and insurance is critical when undertaking a construction project. Unfortunately, there is still no single-solution policy for owners to adopt for their construction projects. Instead, owners must carefully choose from a basket of policies that are then fine-tuned to cover the particularities and needs of the owners' insurable risks.
Whether an individual owner is chosing to renovate their co-op or condo unit or a co-op board is undertaking a lobby or façade restoration, owners of all stripes need to understand the basics of construction insurance in order to formulate a strategy to deal with the multitude of risks facing residential construction projects today.
The contractor's commercial general liability policy, or CGL insurance, is the most common type of insurance and protects the contractor from claims by other parties for damages resulting from bodily injury or property damage. It may also cover personal injury where possible.
Claims may include invasion of privacy, copyright infringement, and false arrest. The CGL policy also provides limited no-fault bodily injury coverage, which pays medical expenses incurred by a person injured on the insured's property. CGL insurance covers the cost of defending claims even if they are false or without legal merit. The legal expense to defend is normally paid in addition to the policy limit, and the insurer's duty to defend ends only when the policy limits are exhausted by settlements.
In addition to policy limits, owners should be concerned with several other aspects of the CGL policy. First, the CGL policy excludes coverage for the contractor's negligent or defective work. Since such damage amounts to a breach of agreement with the owner, the owner will be left to make a claim directly against the contractor for such negligent or defective work. That being the case, the owner should ensure that other means of redress are available through his owner-contractor agreement to address defective work, cost overruns, and delays due to the contractor's negligent work. However, the CGL policy typically covers damage to the contractor's work caused by another contractor (e.g., the owner's) or one of his subcontractors.
The Umbrella or Excess Liability policy allows higher coverage limits above the CGL policy, as well as business automobile limits to protect the owner and contractor against catastrophic loss. Umbrella policies often have as many exclusions as standard CGL policies but have higher limits; most individual unit owners should require umbrella limits ranging from $2 million to $10 million. Although there is no simple formula, it is typically determined by a combination of construction cost, project location, environmental exposure, and project complexity.
Design Professional Liability Policies
Co-op and condo owners and their counsel often assume that design professionals provide insurance that automatically covers any professional negligence that may occur on their construction projects. In fact, blind acceptance of this assumption can lead to unintended consequences if a project goes awry.
A design professional's professional liability policy, generally referred to as errors and omissions (E&O) or malpractice insurance, affords coverage for claims made arising out of negligent acts, errors, or omissions in the performance of professional services.
Most states, including New York, do not require design professionals to maintain professional liability insurance. As a consequence, it is the responsibility of each owner to ensure that his design professionals have current insurance in place to balance the risk of potential professional liability problems.
When retaining design professionals on a construction project, owners and their counsel must ask to review professional liability policies as to (1) the aggregate limits of liability afforded by the insurer, (2) the available limits of liability for the annual policy in the event a pending claim on another project has reduced the original limits of liability, and (3) the amount of the deductible maintained by the insured.
Owner reliance on professional liability insurance for design professionals may, in many instances, be illusory. Policy wording often contains numerous exclusions which preclude coverage for many types of claims that will ordinarily be asserted by an owner against a design professional. For example, these might include claims involving the design professional's warranties, cost estimates for the project budget, representations as to design features, and claims for the recovery of fees. Additionally, there is usually no coverage for failure of the design professional to meet a particular contractual requirement unless the claim arises from a negligent act, error, or omission. A common example would be if the design professional misses an established design submission deadline. Unless it can be shown that the missed deadline directly contributed to increased construction costs or other damages, the E&O policy will not cover the claim.
Increasingly, owners and their counsel have begun to recognize the need and the value of securing specialized expertise to review project risks and tailor an insurance program to meet the owner's goals. The role of owner's counsel is critical and enormously important in this area of the law as the placement of a successful insurance program can give the owner more control over the quality of coverage, limits of insurance, and management of claims.
It is common in owner-contractor agreements for the owner's attorney to include risk transfer provisions-indemnity or hold-harmless clauses-along with insurance requirements in order to adequately protect its clients from exposure to financial loss due to bodily injury or property damage. At the outset of each project-even relatively small residential build-outs-the owner, with the assistance of counsel, should define his legal and business goals for project success. A complete investigation behooves the owner to review its business and legal objectives attendant to all construction related matters. By identifying all risks and other issues relating to the project, the owner will be properly and fully protected should design errors and omissions or other losses arise on the project.
The table on page 31 lists common construction risks on the left and on the right the type of insurace that typically covers this risk and the degree of exposure of each of these parties.
Owners should recognize that building technology, as well as the law surrounding ways in which construction projects are designed and built today, have become ever more complicated, substantially increasing the need of owners to manage the risks in committing costs to their projects. Even seemingly modest losses on small projects can result in substantial damages caused by project delays and budget overruns. Condo and co-op owners should give careful consideration to implementing a specially considered and tailored insurance program for their project which reflects the exigencies of an increasingly complex construction world.
David J. Pfeffer, Esq. is an attorney and C. Bradley Cronk, RA is a design consultant with the design and construction law firm of LePatner & Associates LLP.