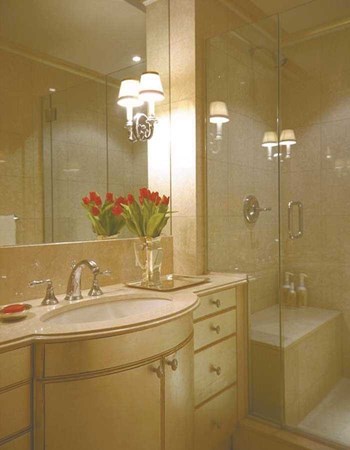 The bathroom is one of the most used rooms in the home—albeit in short intervals. We all have our own vision of the ultimate bathroom, from natural light and optimal storage space, to telephones, Jacuzzi baths and flat screen TVs. But until you've been through the process, it's hard to get a handle on just what goes into a successful bathroom remodeling project.
New York City residents have more to consider when it comes to improving a bathroom than most renovators do. The list of product and designer options is much longer—but so is the approval process. You'll need to consider the New York City Department of Buildings' construction requirements and approvals, as well as the regulations and paperwork required by your co-op or condo. Gaining a solid understanding of the process before you begin your project can mean the difference between a trouble-free remodel and a major hassle.
Building Regulations
Rome wasn't built in a day—and neither are bathrooms in multi-family buildings. In fact, there are plenty of apartment owners who will swear that between their co-op board and the city, the approval processes took centuries.
Before you get too attached to any one particular design or amenity, you need to find out what—if any—city or building guidelines, restrictions and necessary documents will govern your proposed renovation. The first step should be to get in contact with your managing agent to get a copy of your building's alteration agreement.
"Every building is different, and sometimes there are very specific limitations or restrictions for buildings," says Ethelind Coblin, a designer who opened her architecture firm in New York in 1989 and deals exclusively with residential projects.
"When people want to renovate in co-ops and older buildings, most of the problems come from water," says Philip Mitropoulos of Mitropoulos Architects, a New York commercial and residential architect since 1985. "Water in New York apartment buildings is distributed to each apartment from a main vertical riser, and then there is the horizontal piping that leads to the fixtures. While the vertical pipes have a tendency not to wear out, the horizontal pipes need to be replaced periodically. As soon as you go to [work in] an older building, you have to inspect the piping—all the piping out back to the riser might need to be replaced."
If a project is not conducted properly, bathroom renovations in one apartment can wreak havoc in a downstairs or adjacent neighbor's apartment—or even on an entire line of a plumbing system. Since the building's physical and financial fortunes could be affected by one shareholder's project, managing agents and boards tend to be adamant that renovators take appropriate precautions. One of their biggest concerns is whether all of the parties involved have the proper insurance, certification and licensing for their project.
"The funny thing about the bathroom is that it everyone has to touch it: demolition, windows, painters, carpenters, plumbers, there can be 15 different guys," says Mitropoulos. Most alteration agreements require that each party involved in your renovation have the appropriate proof of insurance, whether it's liability, workman's comp, or homeowners.
Buildings often have strict requirements governing clean-up of affected common spaces: Most expect it to happen at the end of each work day, including the removal of protective covering, vacuuming carpets and cleaning floors. Any debris should be removed in small containers. If is asbestos found in the course of construction, it must be handled per the New York State labor laws as a hazardous material.
There are expenses you may not have planned for that the building could require that you cover. "In one building I had to document the apartment below, just to make sure I didn't cause any problems," recalls Mitropoulos. "It's all about protection." He adds that if all those requirements sound overly strict, be glad—you'll want them if and when your upstairs neighbors decide to do their own renovations.
City Regulations
Alteration agreements can be frustrating, but the city regulations governing building and renovations are downright confounding to the layperson. Waste and vent piping have to be properly pitched and sized; shower drains must be two inches in diameter, but tubs should be 1.5 inches; windowless bathrooms must have exhaust systems that can handle specific output rates.
Luckily, your chosen architectural firm will handle all of the paperwork— and most firms use a consultant or expeditor to handle the legal details. However, it's important to know enough about the process to know whether your project is being handled correctly.
The scope of your remodeling will determine the steps that need to be taken. If part of bathroom design plan involves changes to the exterior of a landmark building or a building within a Landmark District—like the replacement of a window—the New York City Landmarks Preservation Commission may need to evaluate your proposal as well. Both the Landmarks Preservation Commission and the New York City Department of Buildings websites have more information on requirements, as well as forms that can be downloaded and printed.
So Many Choices
Once the procedural part of the remodeling equation are well in hand, it's time to start on the aesthetics—and that can be a tough process as well, simply because there are so many options. "There are really an endless amount of considerations when renovating a bathroom,' says Mitropoulos.
The experts advise starting by creating a list of what you like and dislike about your current bathroom, then thinking about your needs and desires. Do you have adequate lighting and storage space? Is there ample ventilation, plenty of outlets, and counter space? Is it the only bathroom in the apartment? Do you just want the basic full bathroom features—tub, sink, and toilet—or would you rather have a little something extra, like a steam shower or a souped-up toilet with air dry and automatic lid functions?
"We encourage our clients to save magazine photos," says Coblin. "If they don't have the time or resources, we have our own collection. This helps them better visualize and clearly communicates their vision to us."
While some remodelers seek to integrate oversized soaking tubs, multi-head misting showers, or audio/video technology into their bathroom design, the pros say that most New Yorkers still have the same basic agenda when it comes to overhauling their bathrooms: more storage, better lighting and space—or at least the illusion of it. To that end, they're paying a premium for rimless glass doors; sunken tubs and showers that don't require doors or curtains; mirrored doors and walls; and materials that enhance the flow of light, especially if there is a source of natural light.
"Glass tiles have been a wonderful new material that's a great addition," says Coblin. "Over the past five years, more contractors have learned how to install them, and they have become price competitive."
Light and Heat
Good, adequate lighting is particularly important in the bathroom, because it's where men shave and women put on makeup. Proper lighting—both from the ceiling and from the wall to the face—doesn't have to be expensive, but it's definitely something you don't want to scrimp on. "It's an important investment if you want your bathroom to be completely functional," says Manhattan-based interior designer and architect Rebecca Alston.
Bringing warmth into the bathroom—whether visually, with such options as mahogany finishes and mesquite tiles—or literally, with built-in thermal wall and floor technologies, has gained in popularity. The growing public awareness of conservation and sustainability issues has gained traction in bathroom design options. Luxury still trumps water conservation, but Alston says she has noticed a significant increase in clients who choose to pay more for natural, sustainable and locally-produced construction materials.
Working with the Architect
Once you have gathered together your ideas, it is time to bring them to a professional. "The bathroom is a place with very specific needs," says Coblin. "We spend a lot of time making sure it's laid out functionally. Then, based on our understanding, we create several design studies exploring options and review these with our clients."
After you have discussed your plans with your architect and digital documentation of plans, elevations and photos have all been collected, your architect will take a look at your board-approved alteration agreement and discuss details with the managing agent and super. It's important to be up-front with your building manager and board about your plans, and show that you understand and are attempting to minimize the impact of your project on your neighbors and the long term health of the building.
Once finalized layout has been produced, the architect will begin to study the design and massing and explore material options. They will then meet with the clients to review the design options and finishes.
After this is settled, the architect typically produces a cost estimate. Contractors will price out the design so that the clients are updated and have a chance to finalize the scope. They also prepare drawings for management's review and if required prepare to file with the Department of Buildings.
At this point, they begin the construction documents, including final drawings and specifications. "There are always design issues to review with our clients during this period," says Coblin.
Now the bidding process will begin. For her clients, Coblin says she produces several drawings for bids to at least four qualified contractors. Once they are returned, they will prepare a bid breakout sheet comparing each of the sub-trades to assist the clients in the selection of a contractor.
Pricing and Timing
Even a relatively modest bathroom overhaul can cost upwards of $20,000, but the final total is determined primarily by the finishes you and your designer select and whether you need to replace piping. According to Coblin, finishes and special or custom-made features can drive the price of a bathroom remodel to dizzying heights.
That's why it's vital to make your wishes clear to the professionals overseeing the project, and have realistic expectations both of what's needed to bring your vision to fruition, and what's physically and economically possible, given your budget. Otherwise, you could wind up taking a real shower. "You think you're just going to spruce up the bathroom and next thing you know you're gutting the whole thing," says Mitropoulos.
According to Alston, a smooth bathroom remodel can take as little as three months—though a more complicated project, or one that runs into construction or paperwork problems can take as many as six. So, she says, although you've hired professionals to oversee the process, always stay on top of what's happening with your the project. Personal involvement and follow-through are important—after all, it's one of the most necessary, most-used rooms in your home, and you want to make sure it's as close to perfect as it can be.
Ross Whitsett is a freelance writer living in New York City.