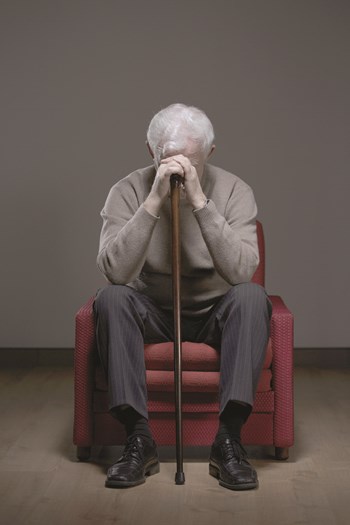 Co-ops and condos are called communities for a reason—families and individuals live side by side with one another, sometimes for years or even decades. Although residents may not exchange much more than a "hello" or "nice day" with their neighbors, there is still a human connection. So when a neighbor displays unusual or changed behavior, those who live next door or across the hall from them are often among the first to notice that something is amiss.
It can be an awkward situation, given the premium that so many of us place on privacy. It is difficult to know when to lend a hand, try to help or report the issues to others, whether it be family members (if any are known) or government agencies. And when it comes to older adults who may be coping with the difficulties associated with aging, the equation is further muddled by a desire to preserve respect and show deference to our elders.
What's Expected?
The issues can start innocuously enough. Perhaps an older resident goes to the wrong door, or arrives at their mailbox at an odd time, wearing inadequate or inappropriate clothing. Maybe newspapers begin piling up outside a door, or a neighbor catches a glimpse into an apartment and notices that it's filled with trash. It could start with a confrontation in the hallway, or with shouting behind closed doors. Problems with individual residents can manifest themselves in countless ways, all spurring questions of what can or should be done.
The truth of the matter is that for fellow residents, board members and managers, these instances can be very difficult to handle. Neighbors and building administrators are under no legal obligation to step in and rectify a situation; these are individual unit owners or shareholders. They are not living in assisted care residences. As much as the building itself may be a community, that community is still comprised of individuals, all of whom have a right to privacy.
"A property manager is hired to manage and maintain real estate assets," says Donna Scholes, spokesperson for the Greater New York Chapter of the Institute of Real Estate Management (IREM). "While individually we may empathize with an individual's personal difficulties, our fiduciary responsibility mandates that we treat all residents equitably, including expecting every resident to comply with the development's rules and regulations."
This is also true when and if an individual is having financial difficulties or trouble meeting their obligations as a community member because of personal problems they may be facing. "When it comes to a resident's personal issues, most property managers will attempt to be supportive within the constraints of the management contract, and the development's rules and regulations," says Scholes, "but at the end of the day, the property manager is not given the flexibility to waive any violations or non-compliance."
Attorney David J. Byrne, a partner at the Princeton, New Jersey law offices of Ansell Grimm & Aaron PC, says, "The building or management has no obligation to do anything. These are private people."
This is not to say that neighbors, board members or managers may not want to help, simply out of the kindness of their hearts, just that there are no liability or legal issues that would compel them to do so. If they do want to help, "They can call government services, or try to locate family members," Byrne says.
Don't Just Stand There…
The scenario shifts slightly in certain cases like hoarding issues, for example. The difference is that that particular issue may be causing damage to the property itself. In that case, "The ability of board members and managers to do something is a little bit different," says Byrne. "They have to establish that someone is maintaining an unsafe environment. In that case, they can evict or go through the actions laid out in their building's governing documents."
Ultimately, when personal problems, including mental health issues, become disruptive to neighbors or pose a risk for the individual undergoing them, board members, managers and neighbors most often have to rely on others to ease or resolve the situation.
"It is to be hoped that caring family members or outside agencies such as Adult Protective Services will be available to help the resident overcome his or her personal difficulties," says Scholes.
Elderly Residents
As the nation as a whole becomes older and the Baby Boomer generation begins to hit their 70s, the challenges associated with aging are becoming more widespread. According to the New York City Department for the Aging, close to 40 percent of New York State's elderly population—defined here as age 60 and older—reside in New York City. The 2010 census showed that 17.2 percent of the city's population was age 60 or older and of that group, one in three are 75 and older and one in ten are 85 and older.
Those statistics hold true in the city's co-op and condo communities as well. In the 1950s and 1960s, developers began erecting apartment buildings. People moved in and began growing their families, says Susan Birenbaum, an aging life care manager and owner of the firm Humanittude LLC. In the 1980s, many of those buildings converted to co-ops and condos. Many of those original tenants "were still there and still functioning well," says Birenbaum. "Now today, these people are very elderly." With this natural change in demographics, more of the difficulties surrounding advanced age are becoming apparent in the halls and units of co-op and condo buildings.
Birenbaum specializes in helping older adults, especially those who may be without close family members or friends nearby. The signs of trouble can vary, but things to watch for include difficulties with mobility, falling, confusion and other changes in behavior, she says.
Problems also can arise when a husband or wife is healthy but their spouse is ill. "What happens when a husband or wife who is healthy can no longer care for the spouse who is infirm?" Birenbaum says. The burden can be crippling, and cause a downward spiral.
Among aging adults, there is also "a...propensity for hoarding and alcoholism," Birenbaum says. As a court evaluator, she has seen plenty of these cases, including one in which an older adult had saved all of her Meals on Wheels containers and other empty food boxes, and was filling the storage space under her stove's gas burner with paper towels—a clear fire hazard not just for her, but for her neighbors. "She was a 90 year old woman with no close relatives," Birenbaum says.
Alcoholism can be an issue for older adults because "They're alone, and alcohol is easy to get," says Birenbaum. She cites one building that put a restriction on certain liquor store deliveries because of this problem.
Sadly, having troubled older adults in buildings is not an isolated or rare issue, especially in a large city, and especially in today's society, when families are often disjointed due to geography and cultural trends. "Before World War II, people went back to their communities and they took in elderly parents and relatives," says Birenbaum. "Today, people don't have their children there to help them. The kids will call their parents regularly, but they have their lives. They can't come in regularly from California."
Phone calls, though, are not always a good indicator of an older person's well being. "People can hold it together for a ten-minute phone call," Birenbaum continues, "but how are you going to know your mother got lost that morning on the way to they grocery store she's gone to for 35 years?"
Sometimes the adult children will feel their parents are being looked after in a building with a doorman or other staff, but according to Birenbaum, a doorman can get in trouble for leaving his or her post to help one particular resident. As for the board, "They have a responsibility for caring for fiduciary needs, not neighbors."
She adds that people may want to help but it can be a tricky situation. "Yes it's your neighbor but it's a fine line—you don't know if you should get involved, and it can become a huge thing that you can get pulled into."
Ways to Help
It can be helpful for a board or management team to have emergency contact information for their residents, especially any older residents who may live alone. That way, should board members or managers want to help or feel that there is a significant need, they can get in touch with people who have the ability to really make a difference for that person. For people who live far away from their parents, or whose jobs prevent them from being able to spend additional time with them, social service workers can make an enormous difference.
An aging life care manager can make use of local and state agencies as well as nonprofit services to build a system of support around vulnerable older adults. They also can provide support for caregivers who may need a break, or who are putting their own health at risk from overwork. In addition, Birenbaum recommends looking into outreach programs held by churches, synagogues or neighborhood community centers.
Birenbaum also encourages basic acts of kindness to help neighbors who may be coping with difficulties. Socialization is important, so doing something small like having a cup of tea with someone can make a big difference. "There's real loneliness," she says. "No one tells you what it's like to get old."
In a big city, where people are often alone, living in a co-op or condo may be the closest thing individuals have to a community. While there are no legal or contractual obligations for board members, managers or residents to look after their neighbors, often the urge to help is simply a matter of kindness. We see someone in need and we want to help. By knowing who to call and when to call when things get bad, people can make a difference.
Elizabeth Lent is a freelance writer and a frequent contributor to The Cooperator.