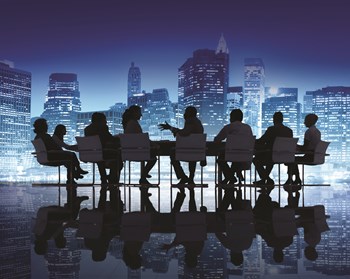 Property managers have a lot to keep track of - board and shareholder meetings, maintenance issues, and a host of other concerns that go along with managing a building - or in some cases several buildings - in a metropolitan area like New York City. Depending on the size of the management company and the number of properties in their management portfolio, a single agent often has multiple properties to take care of. That can have as many advantages as it does disadvantages.
While the need to wear different hats provides much valuable experience, the manager must be careful not to spread him- or herself too thin.
Fortunately the managing agent's parent company provides support in a variety of ways, in addition to offering seminars and training programs that help make the manager's job that much easier.
Booking a Caseload
The board has shared responsibilities as well, says Mindy Eisenberg Stark, an accountant specializing in co-op and condo finance and founder of the Council of Westchester Co-ops and Condominiums. "While the management company has a responsibility to help set realistic goals and timetables, a board must have realistic expectations. The board should know the basics about the site agent's obligations, like how many properties he or she is managing, and how often he or she will visit the building and do a complete walk-through of the property. The board should also know how many meetings a month the manager will attend, and who at the management company will be fielding shareholder complaints."
Deborah Gordon, director of operations for Kaled Management in Westbury, says the average caseload of a NYC property manager is about seven buildings each.
"But I think it depends on the company that you work for," adds Peter Lehr, Kaled's director of management. When it comes to his firm's philosophy regarding managers' caseloads, he says, "We get better performance out of our people if they're able to enjoy their life outside of their work."
Albert Mayas, executive managing director of Charles H. Greenthal Management - a Manhattan-based firm - seconds that, adding, "The average property manager's caseload varies depending on the size of their portfolio, and how many units there are in each building, but it usually ranges from five to eight properties."
Mayas says that although the caseload hasn't changed much over the past couple of decades, "Everyone is under the impression that with the advent of new communication technology like computers, faxes, and PDAs that resolve issues in real-time, a manager is able to handle more properties." He says that while such technology has certainly helped, over the last couple of decades the industry has also encountered more regulation, and the greater flow of information has meant that managers have to wear more hats.
Smaller Company, More Hats
Gordon says that if a management company is not overly large, it can offer more personal service to individual clients. Also, while some companies' managers handle their buildings' entire back office needs on their own - including payrolls, accounts payable, and accounts receivable - other management companies have a complete back office that does all of that, for them. "Their managers are basically out in the field 75 percent of the time, if not 80," says Gordon.
"I think the property manager's role is to be the point person with each account," says Lehr, "to relay information back from the board of directors to us, monitor our legal department and our accounting department, and just keep abreast of what they're involved with so when that manager goes to a meeting, he can speak to any issue."
Mayas says he feels that smaller firms can handle more properties than larger ones because in most cases they become boutique operations.
"They take on one or two accounts over a period of time and they keep adding on until they reach a certain critical mass - and then they'll hire a new person to come in and assist."
In a small firm, Mayas continues, "You have one or two senior people who oversee all the properties, and that can be up to 20 or 25 properties with perhaps three secretaries and one property management assistant. It all depends on how large they get over time. But in the initial stages when they reach a certain critical mass they tend to handle more properties and get more involved in the day-to-day operations of a building than in a larger firm where they have layers of management and different departments handle certain aspects of a problem or an issue, whether it's financial or engineering."
He says a smaller boutique operation would have to get involved directly and work perhaps more closely with the property's engineer, accountant or lawyers.
How Much is Too Much?
Even with backup and a head for multitasking, Gordon says, there's a limit to what even the best, most experienced manager can be expected to handle. "When they have major projects underway, a lot of co-op boards treat their manager as an engineer, and they're just not. We can't spend eighteen hours at a property trying to be an engineer."
For that reason, she continues, her firm retains an engineer or construction manager to guide major renovation projects along, and has legal experts on hand to decode complicated legal language. Despite all this, however, Gordon says there are still boards and shareholders who think that their manager should be able to weigh in with authority or give expert advice on very technical, very specific aspects of a complicated construction project or legal issue.
"If a managing agent tells you that they can do that," warns Gordon, "get away from that company."
Eisenberg Stark agrees, and adds, "If the board of directors is not doing its share, they're only hurting themselves. Managing agents should not and cannot be expected to handle everything alone."
For his part, Lehr sees the manager's role as that of a monitor, coordinating between consultants, contractors, and construction managers on improvement projects, working with legal and financial professionals to help inform boards about their building's administrative needs, and making sure their client buildings are getting what they pay for. He says the only way to ensure that is if the manager is actually on-site, looking at projects and monitoring the paperwork that goes back and forth between the contractor, consultant, and various government agencies - and that gets tougher as the manager's building portfolio gets bigger.
Taking on too many buildings can be a detriment, however, Mayas cautions, because if a manager takes on too much responsibility, he can be stretched too thin and tend to make mistakes.
"What happens in many cases is that there are revolving assignments that we on occasion do with our agents, so that if they outgrow their usefulness in one particular property, it's time for a reassignment to something they find more challenging. Or if a new account comes into the management portfolio then we'll assign someone and maybe take a building away from them in return."
That, he says, stimulates more interest and excitement, and people "tend to want to do that so they can learn more, meet new people and network."
Gordon also cautions against managers taking on too many buildings at once. "It absolutely spreads managers too thin," she says, echoing Mayas and others. "If they're managing more than seven buildings or so, it's really going to deter them and spread them too thin and they're not going to be able to do all they can for each building."
Training Papers
To juggle all the tasks put before them, property managers are required to have at least a New York State sales license, which requires them to take continuing education courses every two years. Further education and training from there depends on its benefit to the company and the client.
"If a property manager wanted to take a course, and it's beneficial to the company to have that person trained in a particular discipline, or if it's a benefit to our client, I don't think we would say no," Lehr says. "But if they came to us and wanted to take real estate investment seminars, I don't know if that's a benefit to us or the client."
Mayas says his company encourages its employees to take courses that will enhance their abilities and their knowledge, whether through New York University's Real Estate Institute or continuing ed toward a real estate degree, a RAM course or any of the courses offered throughout the city by private and public institutions.
"We encourage people to take that and reimburse them for their expenses," Mayas says. "At the same time we as a company run seminars on things that may be germane to the building at the time." For example, he says, when lead paint came out as an issue his company held a seminar, in addition to one on carbon monoxide detectors. "We held seminars on a number of different issues that come up throughout the year. Not only do we require all our agents to attend, but we open it to any board member as well. We also require all our building resident managers and superintendents to attend as well so that everyone is informed."
"Our managers take courses that will enhance their position, and their company's position when interviewing with new boards and new buildings," says Gordon of her company. "What's happening now is the lead abatement program and lead paint in general that's surfacing throughout the New York area. Buildings are getting older now, so the city is requiring adherence to local laws 10 and 11. And that's something that each manager should know, because Local Law 11 now consists of all four walls of a building - not just the front façades."
Although the city's co-op population might be large, a small individual caseload will pay bigger dividends in terms of better management, more available services and a much less taxed property manager.
"Board members and managers should look upon themselves as a team," says Eisenberg Stark, "working for the betterment of the building. If everyone has a clear understanding of their responsibilities and a positive strategy for dealing with each other, all members of the team can be assured they're doing the best possible job for residents and themselves. The relationship between the board and managing agent really hinges on the active participation of both parties. The board needs to take responsibility for their part in the team and not put the entire burden on management."
Michael McDonough is a freelance writer living on Long Island.