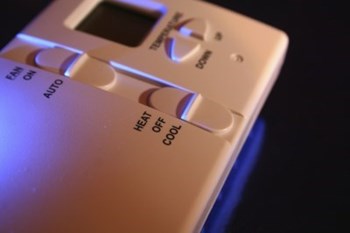 With winter kicking it up a notch, co-op and condo residents inevitably begin thinking about their heating systems. How can we save money in a time of soaring energy costs? What technology upgrades are available for city co-ops and condos that might help decrease these costs and promote energy efficiency?
One way for co-ops and condos to save money is to take advantage of the many new technologies available in the field of indoor environment temperature control.
Controlling Temperature
The latest climate control technology for city apartments lies in the temperature controls—not necessarily in upgrades to the "prehistoric" heating systems still operating in many prewar buildings.
Better monitoring through the use of state-of-the art computers, sophisticated software and online capabilities for reporting allows buildings to be as efficient as possible with archaic boiler systems that simply would be too expensive to replace.
In new construction, high-level heating controls are used that give each apartment dweller a thermostat that controls heat in their individual apartment.
But in the antiquated systems of most city multi-units, this is not the case.
"These heating systems were not designed for individual unit control and the only way to come close to achieving that is with thermostatic radiator valves," explains Dan Margulies, chief operating officer of U.S. Energy Group in Fresh Meadows. "And even then, they're limited by the building system and how much heat it's throwing up and when. The most they can do is turn off a radiator in an apartment, but they don't save energy because they don't stop the boiler—it's still throwing up heat."
Anything built before the 1980s is likely to have a system that is not suitable for individual apartment control, says Margulies.
Companies like U.S. Energy help retrofit these older systems with better, more advanced controls to help achieve an overall average temperature that is comfortable for everyone in the building.
These controls limit the maximum amount of heat that can be delivered to the apartments in larger commercial or apartment buildings that utilize steam or hydronic systems. The controls help regulate the amount of heat based on outdoor air and will allow more heat into the building as it gets cold outside and drop the amount of heat as the outside temperature rises.
Other types of technology, like the 'Heat Computer' offered by Optimum Applied Systems (OAS), a provider of boiler and building controls in Hawthorne, New York, monitors internal temperatures with wireless sensors in a select number of representative apartments, according to their website.
"This basic control philosophy has worked well for many years," says Vincent Clerico, vice president of sales and marketing for Heat-Timer Corporation, a leading HVAC controls manufacturer with over 60 years in the business. "But as energy prices have steadily risen, the need to fine tune the amount of heat being used and to prevent wasting heat has become more critical."
Fine Tuning the Controls
Thermostatic controls aren't new to the climate control world—they've been around in single family homes for years. In fact, control systems like U.S. Energy's have been around for decades, as well.
What is new is how well these controls work.
In the early 1980s, Heat-Timer introduced its first remote communication package, which allowed the owner or managing agent to access the controls through a telephone modem. Today, customers can access their heating controls via the Internet and will receive reports or alarms via e-mail.
Margulies adds another example of how the technological controls have advanced to allow ease of use and greater efficiency in heating.
"We monitor stack temperature, which is essentially the temperature of the smoke in the chimney," he explains.
When the temperature goes too high, residents and managers can assume that heat is being lost up the chimney instead of being converted into hot water and steam for the building. A common reason is dirt in the boiler tubes.
If these tubes are dirty, you get a poor heat transfer and heat will escape through the chimney instead of transferring into the water in the boiler.
"The solution is to clean the tubes," Margulies laughs. "In the past, you'd put a thermometer in the stack and periodically the super would go look at it and might or might not understand the significance. Now, we have an automatic sensor on the tubes and monitor it electronically."
If the tubes are excessively dirty, their system will automatically send the managing agent an e-mail that says something along the lines of 'your stack temperature is too high—you might want to get your boiler tubes cleaned.'
"The technology is basically about information—the controls really haven't changed a great deal," he says. "The technological advances lie in getting the information to the decision-makers so that they can take good care of their equipment and operate it efficiently."
Spend Money to Save Money
It's never too soon for a building to form its own energy management system (EMS), which is a general term used in the heating industry to describe a system for controlling the heating plant.
A typical six-story, 50- to 80-unit building can purchase an energy management system for around $10,000 to $12,000, says Margulies. This depends on the various options you choose and the layout of your building.
Clerico says costs vary depending on the amount of additional inputs you want to monitor. It also depends on whether it's only a control that needs to be installed or if motorized valves are required by zoning laws.
"For a budget number, usually a system that only requires an Internet control and some wireless sensors can be purchased and installed for $10 [thousand] to $12,000 dollars," he advises.
The key to this number is that it will save the building money in the long run. The new control system can be installed in days.
According to Blake Lintelman, chief operating officer of OAS, some installations only require several hours to upgrade a building's system controls, no matter if a building's boiler is powered with gas, oil or steam.
"The installation of the products, because you're still working with the same core, is not inconvenient to the building manager or tenants at all," he says. "With the wireless device, we often need to access individual apartments for only minutes."
"In most cases, with today's fuel prices, the return on investment is one heating system," Margulies states. "I'd like to claim credit for this, but it's because of [high] energy prices."
"Because you get more accurate information with Internet control, you should realize an additional 5 to 10 percent savings over the older technology," points out Clerico. "With energy costs constantly rising, this is a perfect time to consider installing a more energy-efficient control system."
Although most managing agents are savvy about the benefits of systems like this, many have remained silent when it comes to urging their buildings to move forward on a new climate control system.
"They haven't pushed for these improvements over the years because they don't want to be the messenger that comes to the board and says, 'You should spend $10,000 to $15,000 on capital improvements and it will pay for itself in a couple of years,'" Margulies discloses. "They'd rather not be the person suggesting spending money on future savings."
Although some managing agents are reluctant to push for new control systems, many realize already that possible short-term maintenance increases are well worth the savings generated by conserving heat.
Lintelman says that his company believes that specialized climate controls help managers more effectively manage buildings.
Also, specialized control systems like these are able to catch potentially money-draining steam leaks that building managers and staff may not be aware of. Catching a problem early can save dramatically on the repair, the fuel costs and the ability of the system to provide adequate heat. Lintelman says that devices like his company's Heat Computer essentially monitors internal temperatures with wireless sensors in a select number of representative apartments.
"With these [new] products, you save in energy and also save a ton of money," says Lintelman. "More importantly, you're providing for your tenants' comfort and you don't have tenants opening windows and wasting heat."
Managing Energy is the Green Way
Upgrading your climate control system is also a great way to 'go green.'
"Installing a system like this in a 50-unit building is the equivalent of taking 10 or 11 cars off the road in terms of carbon imprint," Margulies argues. "It's a significant impact."
However, even though many people are beginning to realize the potential catastrophic effects on our environment of wasted energy, some still stick to personal cost and benefit.
"It always seems to come down to a financial decision," Margulies says. "While people get interested in the first place because they think about saving energy, they pull out a pencil and work it out. The decision just always seems to come down to a return on investment."
He adds that more people are upgrading their climate controls than ever before, since the return is more clearly there because of rising energy costs.
When considering upgrades to your heating system controls, keep in mind that it's not just about reducing heat. It's also very much about saving money, saving energy and increasing the comfort of shareholders and owners.
"Today we usually find that owners and co-op/condo boards can easily see the benefits of getting a handle over their fuel bills," Clerico indicates. "There are really no drawbacks to saving money on your energy bill and having more control over your heating system."
Domini Hedderman is a freelance writer and an aspiring novelist living in Erie, Pennsylvania.