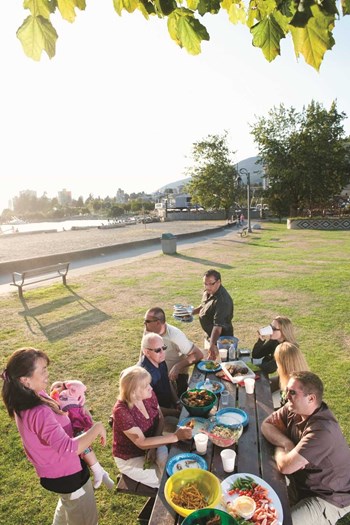 When you were a child, you probably tuned into the PBS show Mister Rogers Neighborhood, where a homespun sweater-clad Fred Rogers often sang "Won't you be my neighbor?"
Mr. Rogers might be singing a different tune today if he were a property manager of a big multifamily building or development, where it's often a challenge getting residents to mix and mingle. That said, buyers or shareholders frequently choose communities not only because they like their units or the neighborhood, but because co-ops and condos offer a level of socialization and community that other neighborhoods with single family homes might not have.
It Takes a Village
Co-ops and condos operate as little communities or villages unto themselves—they have their board, their manager, their residents and their maintenance and door staff, and that seems to be all they need. They key question, though, is with everyone so busy and insulated, and with leisure activities often devoted to indoor activities in front of a TV screen or a computer, how do residents actually get out and meet and greet their next-door neighbors?
For many boards and associations, the answer is simple: social events.
"It's up to the board to create a culture that basically brings families together," says Bob Friedrich, a board president of Glen Oaks Village, a Queens co-op community with 3,000 families. "We've made sure to do that very carefully over the years. We know other communities that don't want people playing on the grass, but we encourage people to sit outside and we put chairs and tables outside for them to do so and our families stay outside and barbecue together."
Once a year, the Glen Oaks Village puts on a big family event at their park, located right in the community. "We have movie nights for the kids, rides, events and food and it's free," says Friedrich. "We had over 1,000 people attend last year, and it's a great chance to meet the neighbors."
Their active Green Thumb program encourages residents to become involved in the community by trading in their $20 voucher for plants and flowers. "In spring, you'll see residents outside planting and socializing," says Friedrich. "The community also has the Glen Oaks Village Enchanted Forest Dog Run, which offers an outdoor seating area for residents to watch the dogs or just sit and read, but it's more a focal point for residents to get together."
Friedrich says that the community doesn't offer monthly events, but it has several committees where residents can become involved with the business end of the community and meet other residents at the same time.
Newcomers Welcome
At Hudson View Gardens, a historical co-op in Hudson Heights, a new resident is welcomed by the annual newcomers' party. The newcomers are escorted by their neighbors who introduce themselves before the party and answer any questions the newbies have.
"The Gardens was built to create a level of community," says board member Adam Weinstein. "Our newcomers' party includes drinks and snacks and it's strictly voluntary but we have a good turnout."
The co-op also has a list of social committees that residents can join, including a performing arts committee that puts on between 10 and 12 performances per year. According to a flyer about the committees, "The group plans and implements the annual Arts Group Exhibition that provides an opportunity to showcase the work done by HVG artists and artists in the greater uptown community."
"They bring in artists—including classical and Broadway performers—to sing," says Weinstein. "The concert is held in our ballroom that holds about 65 chairs and there is a cover charge for some of the events."
Other groups include the Got Soup? program, which includes approximately 20 volunteer chefs who prepare and deliver soup each Saturday to nearly two dozen Hudson View Gardens residents from October through April. The Make Your Own Arts and Crafts group enjoy making original art in the company of other like-minded neighbors. The Neighborhood Affairs group represents the HVG and aims to improve the quality of life in the neighborhood, and the Parents Group is tasked with providing fun activities for the resident children. They have organized Halloween, holiday and pony parties and the Halloween parade. The parents' group has also organized and sponsored the Texas Swing, a sing-along that includes a Messiah and two children's recitals a year. The spoken arts group also plans a series of performances that feature writers, poets, dramatists and memoir writers.
Party On!
Hudson View Gardens also offers residents specialized programs such as the Alexander Technique Program, which teaches students how to move with greater balance, and the Hatha/Vinyasa Program, a one-hour program for students of all yoga levels. These activities allow residents of similar interests to meet each other. HVG also throws Kentucky Derby parties, an Independence Day BBQ with pony rides, a parade and party for Halloween and they just started a tradition of an Academy Awards party. "The Fourth of July party is huge and between 100 and 150 families participate," says Weinstein.
The annual Oscar Night party was put together by volunteers within the co-op by residents who happened to professional florists, lighting designers and publicity professionals that included a red carpet and giant screen projection.
"If a resident wants to start their own committee, say a comic book committee, or a group or event, they can suggest it," says Weinstein. "They write a letter to the board and formalize it with a proposal. They ask for the board room or lounge to meet. If it's approved, they meet for a year and then, after a year, if they decide they don't want to do it anymore they dissolve it. It's very laid-back and welcoming."
Robert and Maura Geils, who run The Geils Group, are associate brokers at Corcoran Realty and live at 350 Bleecker Street in the West Village. The couple has hosted social parties on the rooftop of their 121-unit co-op. "Typically people don't know their neighbors, except on the floor they live on," says Robert Geils. "They come and go, so we create events to facilitate them meeting each other." The co-op was built in 1924 and has a long history of providing community outreach, he says. "The amenities it once came with were meant to attract residents to the area and have them socialize," he says. "The co-op even had its own radio station at one point."
One of the reasons the Geils chose to live in the building was the roof garden amenity and a 6,000-square-foot courtyard. Bleecker offers two common outdoor spaces: including a landscaped roof garden with 360-degree views of Manhattan and a variety of fruits, berries, and herbs available; and a courtyard, with tomatoes, fig trees, and BBQ. "It's a quiet setting," he says. "We're also recapturing the common areas as gathering spaces."
Rooftops are a popular common area to host events for residents. At The Manhattan House at 200 East 66th Street, the building has a 10,000-square-foot rooftop, perfect for events, which features a body spa, yoga studio and treatment room, library and lounge to host mix and mingles.
Geils says that the residents are becoming more actively involved in organizing, planning, and setting dates and rain dates of events. "Our community is made up of all types of people including singles, couples, and those who are married with children," he says. "It's a diverse group of people including black, white, Asian, gay and straight. I came here because of that community. There's no judgment of who you are or what you do. There are multimillionaires and those who are living on social security and everything in between."
Offering monthly events, annual events or even occasional newcomer welcome parties is important to keep residents happy and create a sense of community within the building. Residents want to feel that the building they live in is a special place where they can comfortably meet and socialize with their neighbors. Mr. Rogers would've loved that. Won't you be my neighbor?
Lisa Iannucci is a freelance writer and a frequent contributor to The Cooperator.