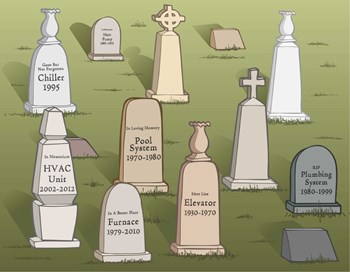 Nothing lasts forever, and though you can't predict the moment a piece of building equipment will break down, you can prepare for it. Even the toughest boiler, HVAC unit, or elevator will eventually tucker out and need major repairs, or just give up the ghost and have to be replaced. And with New York City's penchant for hot summers and cold winters, parts of a building sometimes must be replaced more frequently than might usually be expected elsewhere in the nation.
That's why working estimates of usable life spans of various building systems can be very helpful to management when planning short- and long-term budgets and capital improvement projects. For some communities, these estimates are a part of a regular evaluation of the facilities. Whether or not this evaluation is a part of your community's management process, knowing about the life spans and maintenance needs of your building's systems should be a part of your understanding of your community. Having such knowledge can help you prepare for the worst and in doing so, also help you save some money.
Finite Lives
The longevity of any building system depends upon many factors including the type of system, be it the roof or the windows or the elevators or the plumbing, how often it is used, how old it is, how well it's been cared for, and even the effects of inclement weather. It's axiomatic that the best-run buildings will have every pump on every system labeled, and a record kept of each servicing and replacement of every part on each piece of equipment or building system.
With New York City experiencing wind-driven rain and higher winds due partly to its stock of tall buildings, as well as the normally brutal Northeast freeze-thaw cycle, many structures here take a harder beating than others in cities across the nation. Because of all these factors, various parts of the building can quickly show signs of wear and tear.
Generally speaking, hot water heaters in multi-family buildings will last for a decade or so, while elevators will last for 30 to 40 years. Life spans of HVAC components vary depending upon the type of system, but usually will last for 15 to 30 years. Rooftop water tanks could last up to 100 years. Trash compactors have much shorter life spans than boilers, and often last for just 8 to 10 years. Major plumbing components can last 50 to 60 years, but when they get close to the end of their usable life, management should account for the fact that the equipment will need to be replaced soon.
Arguably the most important system in a multifamily building is the boiler, which needs water, electricity and a fuel source to work. Keeping an eye on the boiler's water use is important, because a spike in water use could indicate there's a problem. And like any of a building's systems, a boiler must be properly maintained to get the most life out of it. Leaving a leak or another problem unresolved could result in a much larger problem.
Careful consideration of what repairs have been done to a boiler and how it's running are important, in order to gauge the life left in the machine. Leaks in a boiler system can wear it out more quickly, but they can be caught and fixed by reading the fine print: the log book. Monitoring a boiler system means keeping records of it in a log book. Maintenance people in the building should record the amount of water used by the system on a daily basis. A record also should be kept in the log book of service calls made on the boiler and what work was done on the calls.
Regular readings of the chimney stack temperature will give the building's staff a good look at the efficiency of the boiler. And be aware of the money you're spending on repairing the system. Is the same thing breaking repeatedly because it should actually be replaced? Questions like this aren't needed when staff people review the information in the boiler log book, because the answer is written right in front of them. That review is the bailiwick of the superintendent or whoever is in charge of the building's maintenance.
When you start to experience recurring problems with a boiler system, such as severe service disruptions, the system may have reached its serviceable life. In such a scenario, consult your professionals.
Though water tanks can have a very long life, such longevity is predicated on regular maintenance. Whether they're made of wood or steel, these rooftop contraptions need a yearly cleaning, meaning the interior should be scrubbed with a disinfectant solution. The quality of the water also should be checked after the tank is refilled after cleaning, and samples should be sent to a certified lab for analysis. Small repairs such as fixing pipes, leaks or restoration work should be done at this annual checkup time, too.
The municipality may require that an alarmed door be in place for access to any water tank, so local building codes should be consulted. And in cold weather, the New York City Fire Department requires that the temperature of the water in the tank be taken. However, given the right maintenance, rooftop water tanks can last a long time, says Andy Rosenwach, owner of The Rosenwach Group, a roof tank and building maintenance company located in Long Island City.
"The vessel is very economical to install," Rosenwach says of the wooden tanks, which typically are made of Western cedar. "Three inches of lumber is equivalent to 24 inches of concrete in insulating power. It helps keep the water from not freezing."
When repairs to a trash compactor exceed half the cost to replace the unit, replacement is probably the best option, industry experts say. Unfortunately that rule isn't applicable to other building systems. HVAC systems, for example, have many different components including cooling towers, water chillers, air handlers and heat exchangers.
Elevator service contractors usually check the system monthly, noting the system's condition and recent maintenance in a log in the machine room. The contractor will do a visual inspection of the system, and then oil and grease the system if it is needed. If necessary, an elevator contractor (which maintains and sells these systems), can be hired to evaluate the system and put together specifications for improvements to the system ordered by the board, then help in the hiring process.
The overall electrical system of the building usually doesn't need to be replaced. Often, old wiring is still fine (up to 50 years old or so) and only breaker boxes and other parts of the system need to be replaced, and those only on a case-by-case basis. Some building boards of directors include a line item for electrical system repairs in their capital reserve budget.
Proper maintenance is the most important of all factors that can extend the life span of any building system. Other factors such as foot traffic may not be able to be controlled, nor of course, can the weather. So make sure your building staff takes care of what it can.
Scheduling Upgrades
A building's administrators should collaborate with their service pros to determine whether it's better to repair a failing system or replace it. Saving money for residents is part of the job of a board, and that's where capital reserve studies or capital needs assessments come in. As part of such studies, major systems in the building are evaluated to determine how much usable life they have left. This is done through a visual inspection of the building—by professionals referring to manufacturer's specifications on the system—and through evaluating information on problems and repairs done to the systems.
"If they're spending a lot of money repairing it, it could make sense to replace it," says Andrew Amorosi, PE, RS, senior managing principal at Falcon Engineering, LLC, a Bridgewater, New Jersey firm with offices in New York that does capital reserve studies for residential buildings. "In terms of heating and cooling, a lot of times it makes sense to replace the system with a more efficient system early."
Building personnel should also be consulted on the various systems and asked how the machinery has been operating, too. "Superintendents usually have a wealth of knowledge on how the system's running," Amorosi says.
The frequency with which you conduct capital reserve studies varies from community to community and is partly dependent upon the size and the type of community. These studies are usually done by an engineering firm or another firm which specializes in the work. Experts recommend doing a capital reserve study or capital needs assessment of a co-op community every 5 to 10 years and at least every 5 years for a condo community.
Plumbing components typically aren't part of the building's capital reserve budget, Amorosi says. "But with older buildings, you'll often have a line item for plumbing capital improvements," he says. With many older buildings in the city, such a line item is only prudent. Water lines have a 50-70 year lifespan and sewer lines here usually last 40-50 years.
Building boards should try to regularly set funds aside for future work on the building's plumbing system, which has a 50-plus year life span. Many buildings have a plumbing repair fund, which residents contribute to as a funding source for when repairs are needed. Electrical systems also can benefit from planning. Managers of some buildings set aside money for replacement of transformers and switch gear systems, machinery which lasts about 25 years.
The management of some buildings will prepare for regular work on elevators, such as refurbishing the interior of the cabs. Elevator system upkeep can be costly, though, and so property managers and board members should properly vet those they are considering hiring to maintain and upgrade the systems.
Elevator maintenance is separated into two line items in the capital reserve budget: interior cab renovations, done every 12 to 15 years; and modernizing the system, which is done every 25 to 30 years. Updating the entire system is very expensive, because all of the control
Because of advances in technology, elevator control systems have life spans of only 20 to 25 years. The motor and cabs of an elevator system can be antiquated, but all of the controls are computerized these days and thus, must be regularly updated.
Thanks to Moore's Law and the speed of change in the computer era, some electrical systems, such as security systems and entry systems, may need to be replaced more frequently than other building systems. And some residents want greater security or more convenience, so changes to the system are made to make things easier, such as by upgrading to a keyless entry. And due to technology constantly morphing, a building's computer network might have a life span of only 15 or 20 years.
Jonathan Barnes is a freelance writer and regular contributor to The Cooperator.