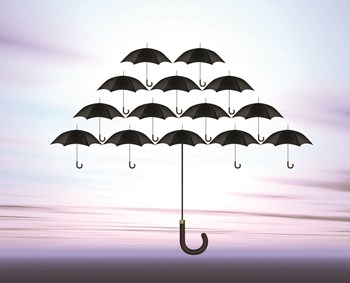 It's important for cooperative corporations to have enough insurance to cover any unexpected problems that may arise, and one of the most crucial policies in any corporation's insurance portfolio is directors and officers insurance, more commonly known as "D&O." While a general insurance policy protects damage to property, D&O insurance is designed to protect individual board members from having to pay out-of-pocket for damages awarded in lawsuits against the board.
"D&O insurance is there to provide protection for members of the board, appointed committee members and those acting on behalf of the board for their actions—or inaction, as the case may be," says Patrick Clair of SKCG Group Inc., an insurance agency in White Plains.
"It's a policy designed to cover the legal defense and indemnification of claims made against a building corporation, the board of directors and the individuals who serve on the board for monetary damages," says Arthur Schwartz, vice president at Masters Coverage Corp., a Manhattan insurance broker.
James A. Fenniman, EVP of Manhattan-based Bollinger Insurance, puts it succinctly: "D&O protects the officers and directors from lawsuits. That's an issue that comes up quite often in some of the co-op and condo buildings in New York."
According to Douglas Heller, an attorney with the Manhattan-based law firm of Friedman Krauss & Zlotolow, exactly what is covered by a board's D&O policy depends a great deal upon the policy—most policies cover what's known as "wrongful acts," but even that can be a subjective term. Regardless, he says being informed—and knowing your coverage—is key.
"The average person isn't going to have their policy memorized," says Heller, "or even understand it. And their lawyer probably has never looked at it, and even if he has looked, there's no guarantee that he'll understand it either. [Insurers] write in an entirely different language."
Duty to Defend
While board members are the ones most affected by the D&O insurance, it's important to make sure that the insurance policy covers more than just the people presently serving on the board of the co-op. "Past, present and future employees' coverage is very important," Schwartz says. "There could be some actionable incident that happened in 2002 that your board just doesn't know about yet, but the policy should say the act could have occurred prior to the inception of policy, as long as no claim is made and it wasn't known about at that time."
"If the policy is written right, it will cover volunteers," he continues. "You can have a situation like in New York where we have had blackouts, and people volunteer to man the door or stay up at night and provide security, or when there's a strike of the building maintenance people and the volunteers have to perform those duties. The D&O policy basically provides legal defense for any allegation against any of them."
"There's all kinds of things that your D&O policy covers," adds Heller. "Basically, it's anything or any decision you as a director feel is right but that turns out badly, and that someone sues your board for. What really helps—and what I recommend to every board—is a regular policy review with the underwriters themselves, to see what insurance they have, what it covers, and what else they can get. It really helps if the board understands what their particular coverage is."
Paying the Price
That coverage isn't free, of course. D&O insurance policies are typically sold in $1 million increments, and how much coverage each property has depends on what the board or management feels most comfortable with. "Most association documents say that the association will defend and indemnify board members in event of a suit," says Clair.
There are different levels of coverage, but the economical way to increase your limit of coverage is to purchase an umbrella policy, which is sold in increments of a million dollars, and which piggyback over and above the directors and officers' liability limits, in addition to your general liability limits.
"Usually the cost of a co-op or condo board is pretty much stabilized," says Schwartz. "If you have a board of four people you will pay less than a board of 12 people, but in New York City, there isn't that much of a differential. The cost of defense is what you are insuring."
Schwartz warns that board members in New York should make sure there is an adequate amount of total coverage. "I would not serve on a board with less than $10 million dollars, of [D&O coverage,]" he says.
Discrimination and Bad Faith
Some of the more noteworthy D&O cases of recent years have hinged on a board's rejection of a prospective buyer, and that buyer's subsequent lawsuit —usually claiming that the board rejected them on illegal grounds, such as reasons of race or ethnicity. But illegal discrimination isn't the only basis for filing claims.
"There have been discrimination claims filed in buildings that have turned down same-sex couples, so that would be an issue," Schwartz says, adding that another area to watch out for is age discrimination and the suits that sometimes arise out of this.
"We just had one where a super was fired and brought an action with the human rights commission. He was 78 years old and superintendent for 30 something years, but he just couldn't do the work anymore," he says. "He filed an age discrimination suit. That's the kind of suit that will be covered."
Most D&O agents say that what you get more of today is a suit coming from someone being declined based on financial worthiness.
"As a board, you have to be careful," warns Schwartz, "and the reason to decline an application must be in accordance with the bylaws of the building corporation. The building corporation must say that they have to have a certain amount of income and the last four sales did have that much—that's the kind of thing you need to do."
See No Evil, Speak No Evil
"Criminally-intentioned acts are not protected under a typical directors and officers policy," says Clair. "In most situations, most boards are operating under the auspices of doing the right thing for their particular association or corporation. Illegal activities are not something that are protected."
"For example," says Fenniman, "say a shareholder wants to sell his apartment. He finds a prospective buyer and brings that person to the board—and the board rejects him. Say that buyer was going to buy the apartment for $1 million, but now all the seller can find is someone who will pay $900,000. The board rejected the million-dollar buyer, but accepts the $900,000 person. The seller would certainly object to losing that $100,000 and might sue the board for the difference, claiming that they were discriminatory in their rejection of the first buyer."
Whether the board discriminated illegally or not is what makes the difference, Fenniman continues. "Was it their lifestyle? Were they a celebrity or a performer who would've attracted a lot of paparazzi? Did the board reject them because of socioeconomic, cultural, or religious reasons? It could be any of these—some of them are legal, and some are not. If the board gets sued, the carrier will defend the board—unless the board acted negligently or criminally."
To protect a building and a board from discriminatory lawsuits, many cooperatives and associations take it upon themselves to educate board members about how to structure their business dealings and policies so the question of discrimination or prejudice doesn't even enter the picture. Any discussion of D&O coverage tends to be tricky, however, because taken in the wrong context, telling board members how to avoid discrimination lawsuits can come off sounding like instructions for discriminating without getting caught.
"I personally attend board meetings—and there's usually an attorney on every board that is generally aware of what goes on—and the subject is brought up," Schwartz says. "I think that the day of racial discrimination in housing is pretty much over—but we talk about what they can be sued for."
Trial Time
If someone does bring a lawsuit that the D&O insurance covers, the insurance company starts by doing an investigation into the matter, then gives the board their choice of attorneys.
"The first thing you do if you get sued," says Heller, "is to refer back to your carrier. Second, your attorney will most likely try to get an extension from the other side so that the carrier can get involved. And that's the procedure with any kind of insurance—but with D&O, different policies cover different things, and to different degrees. It used to be clear that the indemnification of the co-op covered certain things, and 'wrongful acts' were covered, but you can't make any clean statements like that anymore."
According to Clair, "The insurance company appoints either in-house attorneys or attorneys with whom they have relationships, and who have experience with D&O liability claims. These things are usually one person's word against the others so having someone familiar with the D&O cases is important."
What it comes down to is that while there is no defense for acting illegally or in bad faith, board members are human, and as such prone to make mistakes occasionally. D&O coverage insures that volunteer board members can do their job to the best of their ability—which includes making mistakes—without the fear that an error or misjudgment will spell financial ruin. Operating a fair, open, and judicious board is the first line of defense against lawsuits—a good D&O policy can help fill in the gaps.
Keith Loria is a freelance writer and a frequent contributor to The Cooperator.