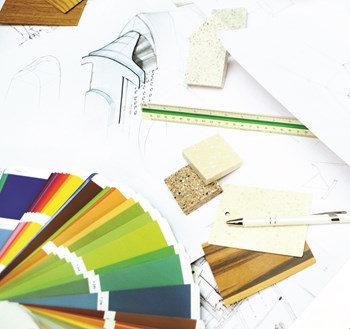 Lighting is much more than a device that enables us to see. Proper lighting defines space and creates atmosphere, essentially setting the mood and tone of an area. When designing a space, where does lighting come into play? According to Rebecca Alston, owner of Rebecca Alston, Inc., an interior design firm based in Manhattan, "Lighting is extremely important within the design process. You can destroy your finishes with the wrong source." With this in mind, board members must consider many factors when designing common area. Not only must they consider aesthetics, they must examine the cost and efficiency of bulbs and fixtures.
The first step in planning lighting is to analyze the space in terms of style (contemporary, traditional, etc...), determine the desired effect (decide on the mood you are trying to create), investigate the efficiency (what uses the least amount of energy and at what price?); and determine the square footage, (how much needs to be lit?). Each of these questions must receive careful consideration before designing a lighting concept.
Choosing Bulbs and Fixtures
A very popular bulb is the original means of artificial light, the incandescent. However, though it is said to be one of the more attractive bulbs, the incandescent produces a lot of heat and is the least efficient. Incandescents also possess the shortest life span and can become extremely costly over the long haul. Quartz halogens are another attractive choice, but although they last longer than the incandescent, they still produce as much heat. A new form of the halogen bulb called the Xanon, lasts even longer than the original halogen.
However, the fluorescent bulb is, by far, the most efficient light source. Fluorescents have good light distribution and a long operating life (approximately 20,000 hours). Compact fluorescent bulbs can last ten times longer than incandescent bulbs and produce much less heat, providing an energy savings of 60 to 70 percent. In addition, if regular stockroom-style industrial lighting doesn't capture the potential of your subject area, flourescent bulbs now render the spectrum of colors – they come in 35 different shades of white, making them as attractive as they are efficient.
Once you have selected the type of bulb, or the careful combination of many, you can begin thinking about colors. A good designer is always aware of the effect certain lighting has on other design elements. Therefore, the color of your bulb must be consistent with other design elements. Although warm light sources which provide residents with a feeling of comfort and luxury are more common, a variety of cool sources can also be used to build excitement or create an outdoor feeling.
Choosing the right fixture for your bulbs is just as important. Used to direct the light using reflective and shielding materials, fixtures need to be in accordance with the style and architecture of the space. According to David Brooks, president of Superior Light and Fan in Manhattan, some of the common types of fixtures are general illumination fixtures, such as 2' x 4' fluorescent troffers, downlights, indirect lighting (reflected off walls and ceilings), spot or accent lighting, task lighting, and flood lighting for outdoors.
Because dust and dirt can cause reduced light levels and fixture efficiency, many lighting experts install reflectors to enhance light control downward. Many indoor fluorescent fixtures use either a lens or a louver over the lamps. Lenses, made from clear plastic, deliver the most light output. Louvers, however, while more expensive, provide superior glare control.
Now it's time to put lighting terms into specific contexts. When it's time to renovate your building's common spaces, remember that lighting sets the tone. It should be considered along with the other design elements of the space; the floor, the walls, the furniture, etc. Joel Ergas, principal of Forbes-Ergas Design Associates, in Manhattan, says, "When designing a lobby, the lighting should be something you are always aware of. It should not be an afterthought, nor should one plan their interior design goal around lighting. Instead, it should be thought of in conjunction with the furniture, flooring and wall design. Light is what renders everything and none of the time spent on the other design elements can be successful without proper lighting."
Prior to designing a lobby, the space plan needs to be well thought out. It will be necessary to examine the electrical light systems. What is connected to the electricity panel? Is there enough electricity to support the fixtures you've chosen?
A designer must then be aware of his or her goal, keeping in mind the integrity of the building. Alston says the lobby is the one place where you can opt for luxury over saving money. She explains, "I never put fixtures in a lobby based on efficiency. In other common areas it's a consideration, but the lobby is what defines the value of the building, so I always go with aesthetics first." Many designers concur. Though they would put fluorescents in mailrooms and hallways, they do not design their lobbies with cost and efficiency as their first priority.
Many designers also feel that flexibility is important in choosing the lighting for lobbies. "I like to have control over the mood, " Alston says. "Many times we dim the lights at night. One building actually, changed their lights at night."
Alston describes her recent completion of a Fifth Avenue lobby renovation as a very rewarding experience. Prior to the renovation, the lobby was completely run-down. The interior was painted black with four-inch strips of mirror glued to the walls. The renovated lobby now exhibits a new design theme, an updated lighting system, and durable finishes. "Together," she says, "these elements created a multidimensional effect."
When a wall is evenly washed with light, it opens the space. Ergas, who recently completed a modification of a long narrow lobby, with a seating room on the left, explains the transformation. "Before we came, the lighting was very dark. We used a small white wash on the ceiling, which spilled much more light into the exterior." Now when you pass by this newly renovated lobby, you will find the exterior canopy restructured so light now enters through the transom, new art deco wall sconces where none existed before, and reactivated indirect lighting.
"I began first by choosing a careful combination of bulbs," Ergas explains. "Where there were once fluorescent lighting tubes, I installed low wattage incandescent lighting strips, then created a series of art deco wall sconces matching the ones I had put in the entrance vestibule, working carefully with the natural architectural arches and panels."
Whereas aesthetics are more of a priority in lighting a lobby, efficiency is given more consideration where hallways are concerned. Keep in mind these bulbs are on 24 hours a day, 356 days a year, and recruiting a staff to replace bulbs more often than necessary can be costly. Having lights out in your hallway can deteriorate the value of your property. Because there are usually a large number of fixtures, many designers opt for energy-efficient fluorescent bulbs.
One must also consider the space of a hallway, it is usually very narrow, and incandescents conduct a great deal of heat. Using a fluorescent bulb in a wall sconce alleviates this discomfort.
Because mailrooms are lit 14 hours a day, fluorescents are again the most sensible choice. When lighting a mailroom, efficiency and strength of the bulb is a major consideration. "I generally use task lighting in mail rooms," Ergas explains.
In his last mailroom renovation Ergas used a system of linear fluorescent lights right over the mailboxes to create a well-lit space. "Where as you or I may take two minutes to retrieve our mail, mailmen may spend hours in there," Ergas says.
Alston says that while fluorescents serve a mailroom's utilitarian purpose, it's okay to think about designing the area, too. "I have used halogen sconces before. I feel many designers do not pay nearly enough attention to aesthetics, when designing their lighting systems. There is no reason why a mailroom cannot be attractive as well as functional."
Exterior light can be very different from designing the indoor lighting. Many times the goal is to design the lights so they are not visible. Designers can use a variety of accent lights to create a dappled effect, such as Ergas did in one of his new projects. He explains the technique as "moonlighting," using soft colors to wash the treetops. In this particular project, Ergas uses concealed lighting in the garden, in the trees and on the walkways to create a natural and romantic outdoor atmosphere.
However, a good designer knows there needs to be a balance outdoors between concealed and exposed lighting, not merely for safety and security reasons, but to give the building a sense of charm. Very often designers will use decorative lighting near the entrance of the building, such as lanterns or bracket fixtures. "You must always keep in mind the architectural style of the building, though," Ergas adds. "You obviously wouldn't put a traditional lantern outside a contemporary building"
Whether lighting a lobby or a mailroom, the goals for interior designers and lighting specialists are still the same, to define and enhance the architecture, to add visual sparkle and interest to the building or room, and to provide enough light for people to see, work and live comfortably. Lighting sounds simple, but it can be costly, and can have a direct impact on productivity, appearance, comfort and safety. So choose your sources carefully. The proper lighting can enhance the value of your building and promote a more enjoyable environment for residents and employees. In this respect, the designer is a very important tool. Ergas says, "We have a great deal of power. We can make amazing things happen through light."
Ms. Lewis is the Assistant Editor of The Cooperator.