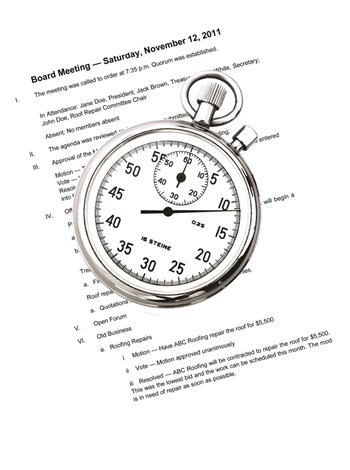 While a lot of the day-to-day business of running a co-op or condo building happens in the management office or on-site at the level of maintenance and staff management, meetings—board-only and resident alike—are the forum where important information is shared, policy formed, individual voices heard, and big decisions made.
For that and other reasons, it's crucial to keep thorough, accurate meeting minutes as a record of what goes on in your building or association's meetings.
Lawfully Recorded
Taking down meeting minutes not only is required by a co-op's governing documents, it also is required by law. New York state law—specifically Business Corporation Law (BCL Section 624(a))—requires that co-op corporations retain records of board of directors' meetings, of shareholders meetings, and of executive committee meetings. Board meetings often are held quarterly, but special meetings of the board that fall outside the quarterly schedule are not exempt from the minute-taking law.
Section 624(b) of the BCL requires corporations to let shareholders review only two categories of corporate documents: "The minutes of the proceedings of its shareholders and record of shareholders..." Take note that the law mandates a review only of minutes of shareholders' meetings—which is generally speaking, the annual meeting for election of directors—and allows for inspection of the building's shareholder list.
According to Andrew B. Freedland, an attorney with the Manhattan-based law firm of Rosen Livingston & Cholst, LLP, condo boards aren't as strictly bound by the BCL, but most follow the same protocols as co-ops when it comes to minute-taking and documentation. "While condominiums are not specifically subject to [the BCL], it's often cited as a model for condominium governance," he says. "Unlike cooperatives, which are corporations specifically governed by the BCL, condos don't technically fall within the purview of the BCL."