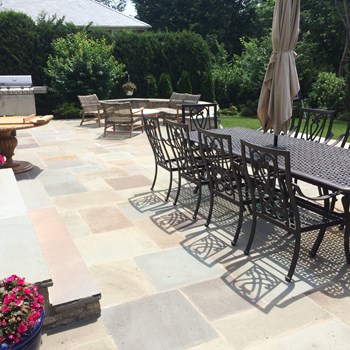 When most people think of landscaping, they think of shrubs, trees, meticulously laid-out and maintained flowerbeds, and artful plantings scattered around a building or development. However, landscaping doesn't need to end with the things that grow.
What's Hardscaping?
"Hardscaping is any part of the landscape that's not living," says Jim Schimmenti, owner/operator of The Grounds Guys in Long Island-based Franklin Square. "So it's the driveway, masonry, fencing, pergolas, patios, boulders and statues."
Other hardscaping elements that can be used on the property may include stone retaining walls, concrete patios, brick and flagstone patios, stone walkways, gravel paths, stone landscape steps, wrought-iron fences, wooden fences and decks. Hardscaping may also help correct potential topographical problems with the property. For example, a fence or stone wall can function as a windbreak. Pavers can be installed where there is grass to create an amazing footpath. Other hardscape features, such as a fountain or a patio may be more for beauty, or to provide residents with a usable common area. An outdoor oasis can also be created around the community pool with walking paths, fountains, statues, rock gardens, terraces and wall elements.
"There are also more housing communities being built where there isn't as much green space, but they need communal areas, and hardscaping is good for that," says Schimmenti
Smart Growth
Hardscaping is more than just plunking down a few rocks here and there, of course. "We keep the client's needs in mind first, and from there we see what they want, come up with a concept that works within their budget and show them," says Schimmenti.
In New York City, there are many sites that offer unique applications for hardscape elements, which can include everything from concrete to wood, flagstone and bluestone, bricks, and even metal. "As a design-build firm, we are always looking at how architectural elements, such as metal, stone, paving, wood, and lighting details can be effectively incorporated to create a new relationship with the audience," says Sean Ealey, LEED AP, sales manager of landscape design at Town and Gardens, Ltd., in Long Island City.
Hardscaping elements are not alive, so they require no water, mowing, pruning or sun. On the other hand, landscaping can also turn brown over time and suffer from the effects of extreme heat or drought. There are other benefits to hardscaping, including the reduction of erosion and the opportunity for saving money from using elements already on the property and saving money on watering and landscape care. Instead of a yard that is purely green (although that is beautiful in its own right), hardscaping also provides depth and dimension to the landscape.
There are a wide variety of hardscaping materials and features to choose from for the property that make the area both functional and aesthetically pleasing. Schimmenti says that the current trend in hardscaping is fountain water features. "Statues are also trending now," he says. "They can be a focal point into a certain area."
Ealey says that hardscaping can be reflected in a variety of applications, such as in the use of modern fabricated planters, tranquil fountains, built-in outdoor kitchens, or a simple paving system that creates a new way of experiencing the space. Materials and features can also be married to each other. For example, water features can be included in with outdoor patios, or a gazebo can be surrounded by the right trees and bushes.
Making it Work
Hardscaping comes with its own set of challenges and engineering considerations. For example, putting in a retaining wall, or laying paving stones over a large area, may have consequences in terms of drainage, erosion, or other long-term effects. "The biggest concern when you're adding hardscaping—like pavers, for example—is permeable soil for storm water runoff," says says Brannon Seaman, owner of Seaman Hardscaping in Oxford, Pennsylvania. "Where is the water going? You need to maintain a certain amount of permeable surface so the land can absorb the water and, depending on the area, you may have to pay a storm water management fee."
Storm water runoff needs to flow away from the property, so that the water doesn't erode topsoil and cause other issues. That means that any landscaping elements—organic or not—likely to impact runoff have to be placed carefully. There are other concerns to take into account as well. For example, a metal bench will heat up in direct sunlight, and therefore should be placed so as not to turn into a branding iron on hot summer days. A painted wood bench won't get hot, but might fade or chip over time if subjected to constant blazing sunlight.
Another concern is utilizing hardscaping on green roofs. "For example," says Ealey, "in New York City co-ops we've seen a huge growth in green roofs and within courtyard environments that are being constructed over existing garage spaces. In this type of application, you generally have a mix of large hardscaped and landscaped areas. Weight loads are a key component that has to be taken into consideration. This can be accomplished by utilizing a mix of paving materials, lower soil depths and positioning major components over key structural locations."
In some cases, large boulders and statues must be brought to, and installed at, the property. "Many times we utilize cranes just to get the material to sites on rooftops," says Ealey. "We recently built a rock garden for a co-op in the city with some very large boulders. Working in the city you are constantly going through fully finished high end spaces and sometimes just the logistics of getting the product to the site can be a large part of the application. It is very different than driving a truck to the front door and just dropping it off. We use products that are generally very bulky, dirty, and heavy in a fragile environment."
Harder Materials, Easier Upkeep
Not only are plant-free landscapes an interesting departure from the more traditional landscaping approach, but rocks and paving stones require far less maintenance. For example, stairs need to be repaired and statues may need to be painted and cleaned.
However, less does not mean none. "Many hardscape components also need maintenance and care and this should be a conversation back at the design build process," says Ealey. "For example, you could build an elaborate arbor out of exotic wood and it will look awesome on day one, but that wood needs to be reconditioned over the years to keep its luster going. This would be a conversation to approach during the design-build phase."
Fountains and ponds need to be cleaned of algae on a regular basis to reduce the risk of buildup. "We have a service masonry cleanup once a year where we will powerwash and remove the sediment from any brick," says Schimmenti. "It just helps the look of brick and keeps it clean. You can also seal the stone and put sealant on certain objects."
Hardscaping is a specialty within the landscaping industry, but it is not one that requires separate licensing. However, a lot of hardscaping projects are done by a certified landscape architect or, if necessary, a combination of an architect and a landscaper. "I consider hardscaping to be a specialty area," says Seaman. "For landscapers to really hone their skills they need to be doing it on an everyday basis."
Individual companies and associations offer certification courses to teach the professional installer how to fit them properly. For example, the Interlocking Concrete Pavement Institute has an ICPI Concrete Paver Installer Certification course for installers. "The home improvement contractor does have to be licensed too."
For the walls, Seaman says that in his area, anything over four feet needs to be engineered. "There needs to be proper support so it doesn't collapse," he says.
Schimmenti says that New York City is a terrific place to do hardscaping projects. "They can vary in scope from large co-op courtyards to elaborate rooftop gardens all within the same building," he says. "I think the real win-win for a client is having the advantage of a firm that can do both and understand how the two affect one another. For clients, working with a design-build firm that has knowledgeable staff that understands the relationship of how the landscape and hardscape are integrated produces a more seamless environment and one that generally reflects the intended project budget and client's expectations."
The best landscape has a combination of soft and hardscapes that take advantage of the topography, location and needs of the property.
Lisa Iannucci is a freelance writer and a frequent contributor to The Cooperator.