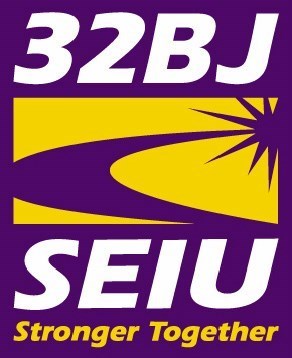 If you feel safe entering your office or apartment building, see clearly outside your apartment window to gaze at the New York City skyline or receive a package of important papers on time, you have some very special service workers to thank. They are the 120,000 doormen, building security guards, superintendents, window cleaners, porters, custodians, and theater and stadium workers in New York, New Jersey, Connecticut, and five other states along the East Coast. This cohort of workers comes from more than 60 countries around the world and its members speak nearly 30 different languages, but they are represented as a single group by Service Employees International Union (SEIU) Local 32BJ, the largest building service workers union in the country.
Historically Speaking
The unionization of building workers began in 1921 with the organization of the Chicago Flat Janitors. That organization eventually evolved into the Building Service Employees International Union (BSEIU) led by William Queese. The union's first decade was rocky, with membership roles in the New York and New Jersey chapters lackluster, but by World War II, after two major strikes in the previous decade, the chapters had gained more supporters and members. By the end of the 1960's, through recruitment and mergers with smaller organizations, the union had grown to over 40,000 members.
By 1977, the Local 32B union had merged with Local 32J, and the resultant 32BJ became the nation's largest union. The group organized another major strike in1996, when some 30,000 office building workers walked off the job to protest for higher pay and expanded benefits. By 2001, the union had enough clout to support local candidates for office throughout the tri-state area. supported local candidates who won major elected offices throughout the tri-state area.
The Makeup of 32BJ Today
The members of SEIU-32BJ are divided into 13 districts, according to geography and job type. Districts in Manhattan include Downtown, Garment/Midtown South, Upper East Side and Upper West Side. Queens, Brooklyn, Long Island, Westchester, Connecticut and New Jersey have separate districts, and there are also distinct divisions for window cleaners and theater and stadium workers. Among the districts are 1,300 shop stewards, who liaise between the executive board and the rest of the organization. The union's joint executive board comprises at-large officers, at-large board members, district officers, and district members. Union auditors and committee members are selected at large, but do not serve on the executive board.
The union is funded by the Building Service 32BJ Benefit Fund, responsible for supporting the Building Service 32BJ Health, Pension, Supplemental Retirement Savings Plans and the Thomas Shortman Training and Legal Services Funds. Currently, about 1,800 employers make contributions according to the terms of their union contracts. Ultimately, individual union members' benefits are determined by the contract under which they work.
Throughout the union's history and evolution, its stated goal has remained consistent. In its own words, the union's mission is "To improve the lives of working people and their families and to lead the way to a more just and humane society."
To that end, 32BJ is involved in field services, contracts, grievances, community affairs, research, and legal aid. Its executives meet with city leaders and endorse political candidates, and the organization also works to improve building service industry standards and support its members by offering them continuing education and training.
"As the county's largest union in the real estate industry, we're proud of the professional service that 32BJ members have been proving building tenants for decades," says union president Mike Fishman. "At the same time, these jobs provide more than 30,000 residential building service workers and their families with the income, health care and benefits that working families need to make ends meet in the New York area."
Of course, the main thrust of SEIU-32BJ's efforts is labor organization. The temptation for building owners to hire non-union workers is great, given the disparity in wages (averaging about $6 per hour instead of $16 per hour) and benefits. SEIU-32BJ seeks to protect the rights of workers in every building–especially non-union ones–and encourage them to join the union. Among the most popular targets for unionization are upscale residential buildings (like condos and co-ops), and commercial and residential buildings in New Jersey, Long Island and Connecticut.
Union members themselves take a hand themselves in their organization's efforts. Member Political Organizers take time out of their daily jobs and lives in order to work on political campaigns, participate in picket lines, advocate for fellow workers, and try to get other community members involved by registering them to vote and making them aware of the issues that 32BJ supports or opposes.
Keeping Current
One of the most important initiatives the union offers through the The Building Service 32BJ Thomas Shortman Training, Scholarship and Safety Fund (or the Shortman Fund), and through other outside organizations like the New York Association of Realty Managers (NYARM), is a curriculum designed to enhance the particular skill sets of the building service workers, whether they are a doorman, porter, super, concierge, or resident manager. The Thomas Shortman Training Fund provides training to eligible members of Local 32BJ in English as a Second Language, industry skills, and computer skills. It also provides college and graduate scholarships to eligible members and their eligible dependents.
Courses are offered, for example, in air conditioning and refrigeration, maintenance, plumbing, appliance repair, alarms, building management, budgets and preventative maintenance, carpentry basics, cooling tower operations, cleaning products and techniques, electricity, computer literacy, CAD, custodial engineering, extermination, fire safety, gardening, groundskeeping, heating systems, human relations, locksmith, security, standpipes and sprinklers, window cleaning, and much more.
In September, 32BJ SEIU also hosted its fifth Annual Building Service Workers of the Year Awards, which recognized doorpersons, security officers, stadium, theater, commercial office and school cleaners, handymen, and other building service workers who have made outstanding contributions in their workplace and community.
Honors this year included the Hero of 9/11 Award, recognizing a worker who helped save lives at the World Trade Center that fateful day; the Helping Hand Award, recognizing those who went above and beyond the call of duty to help those in need, the Longevity Award to honor a lifetime of service, and the always-popular Doorman and Doorwoman of the Year Award. For the third straight year, the Green Award acknowledged a worker who has helped make their building more environmentally-friendly. Winners were selected based on online nominations from co-workers, employers, building residents, family and friends.
Greening New York City
SEIU-32BJ is highly involved in a number of projects and initiatives, including the "greening" of New York City. According to Fishman, "With nearly 80 percent of our city's greenhouse gas emissions generated by buildings, we must all work together to protect the environment. Making the Big Apple green starts with recognizing the vital role of building service workers."
As part of this initiative, in January 2010, 32BJ unveiled its Green Supers program, aimed at training 2,200 supers and resident managers throughout the city in energy efficiency through better operations and maintenance in an effort to cut costs and building-related pollution. The union's Shortman Training Fund was granted nearly $3 million by the U.S. Department of Labor to expand the program as part of the American Recovery and Reinvestment Act. The Green Supers program has been endorsed by Mayor Michael R. Bloomberg, real estate industry leaders, Urban Green, the U.S. Green Building Council NY and the Building Performance Institute.The program itself is a 40-hour class that covers best practices in energy efficient building operations.
The curriculum trains workers to identify and address wasted energy,create a green operating plan and perform cost-benefit analysis for building owners and managers. In addition to long-range projects like Green Supers, the union of course continues its negotiations on behalf of its membership. In 2010, SEIU-32BJ in conjunction with the city's Realty Advisory Board (RAB) averted a strike and drafted a new contract for the 30,000 doormen and other apartment building workers the union represents.
"Apartment building workers and working New Yorkers should be able to live in the city where they work," says Kyle Bragg, 32BJ's vice president for Residential Building Service Workers. "Because working families are an indispensable part of our economy and neighborhoods, we must make sure the city remains affordable to all New Yorkers."
And between its negotiations, educational programs, and progressive environmental initiatives, SEIU-32BJ will likely remain an influential force in how the city's thousands of residential buildings are run. With so many buildings and so many agendas, having one group advocate on behalf of building workers is vital. As Fishman says, "Our members come from nearly every part of the world and speak many languages, yet when we stand together as one union, we have the power to do great things for ourselves, our families and our communities."
Hannah Fons is associate editor of The Cooperator.