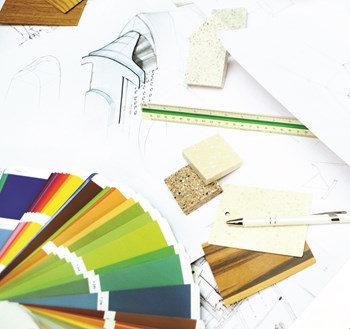 The lobbies and hallways of residential buildings are not high-end private residential projects—yet they're not back stairwells or utilities spaces either. They literally fall somewhere in between, and no matter how new or sophisticated the building itself is, or how lavishly constructed, by the very nature of architecture and construction, nothing is exactly straight or perfectly plumb. It's a given on any project that almost all walls, floors and ceilings will be out of alignment—it is just a matter of how much. As interior designers, we are not hired to re-build the building. We are hired to enhance its appearance, which increases value for residents, as well as attracting prospective buyers.
Cost is the determining factor when commencing a design project. Anything can be done—for a price—but it's the building that ultimately decides the value of all options. Regardless of the final cost, once a rehab design project on any existing building is finished, issues or questions may be raised about the end result—either of the design work itself, or its execution.
While questions and differences of opinion are inevitable whenever aesthetic decisions are being made, it is important for both boards and the residents to understand what is acceptable under the interior design industry's Industry Standards, what is not, and what is above this standard and thus more costly. Our preliminary budget estimates are based on this Industry Standard, so a fundamental grasp of the basics can help boards and management determine if the work being done in their building—and the cost they're paying—is indeed fair and up to professional scratch.
Painting
will be done on top of pre-existing paint finishes. Preparation of the ceilings, walls and doors include only "light sanding" of the old surface, then priming and painting or hanging wall covering.
Dents
in doors and frames are not filled in the base project, but they can be filled with Bondo or similar automotive repair products.
Paint drips
on doors and door hardware is a common occurrence, but unless specified, removal of old paint drips is not typically done. Existing hardware is masked off when new paint is applied, so often paint drips are leftovers from previous paintings. Drips on doors and doorframes also may be visible. These are usually lightly sanded, but not removed.
Detailed cleaning of hardware
is an extra expense—the building may opt to have all existing doorknobs and roses refinished. Door viewers/chimes may also be replaced. Buildings often have their in-house staff or an outside professional cleaning company come in to do this work. Replacement door hardware (except new viewing devices and covers) should be installed in advance of the hallway renovation to alleviate complicated coordination with painters and residents. In the case of paint drips on doors and doorframes, only stripping the door to the raw metal will take this out completely at an additional cost.
Wall coverings
are similar to paint, but entail different standards and practices. Standard removal of old material and preparation usually provides a suitable smooth surface for installation of new Type II, or moderately textured wall covering.
A typical project consists of stripping the existing wall covering and doing a standard wall preparation for the new treatment. The extent of preparation depends on whether the wall will be covered or simply painted. If the contractor can determine prior to the bid that the walls need further preparation or skim-coating (a process by which a new layer of plaster is applied and polished for a smooth, even finish) the board will be advised and will make this decision. A sample area can be done in advance for review.
When we specify a grasscloth type vinyl wall covering, we expect to see a paneling effect just as you would with the real thing. This is to be expected. It is the natural material look that we are hoping to achieve.