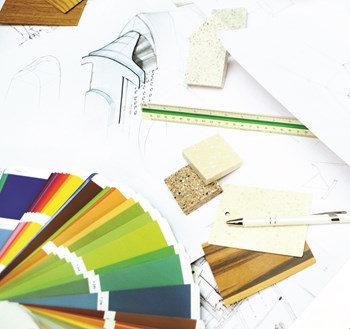 A bare wall to a homeowner or interior designer is like a blank canvas to an artist - the options to create are endless. Gone are the days when you were restricted to either white paint or gaudy wallpaper. Today, you can colorize with peaceful or bold hues, create original designs using texturizing techniques like rag-painting or sponging, or cover your walls in fabrics that range from the simple to the luxurious. All it takes is a plan, some creativity, and an estimated budget.
A New Hue
Obviously, the more you are willing to spend, the more you can do with the walls in your home or common areas, but even the most modest of budgets can usually afford to add some color. If you want to escape from white and add a splash of paint, there are now a myriad of colors to choose from. Want to match the quilt that your grandmother gave you when you were little? Today, home improvement stores and many interior design firms have photo spectrometers; computer devices that read a swatch and actually create the color for you - even antique colors - as closely as possible by mixing already existing colors.
Technology sometimes can't beat the human eye for a match, however. "We've matched the color of a stick of butter, and even the color of people's animals," says Brian Taylor, zone manager of Sherwin-Williams Paint Company in the Bronx, "but we do it by eye, not computer. We believe the eye will get it closer than a computer will."
While planning your project, Taylor suggests that you determine not just what you like, but what you are trying to achieve in the space. "Decide whether you want to add color to lighten up a room, or [to match] your new tile or furniture, or if you want to create an illusion on the walls." If you don't want to cover or color every wall of a room, consider treating just one wall as an accent. In a living room, this might be the wall with the fireplace. In the bedroom, it might be the wall behind your bed.
Different treatments and textures allow you to create optical illusions and add interest or luxury. "For example, there's a very soft, textured look called "˜Sandscape' that's easy to apply and gives you a sueded-look to the wall," says Taylor. "There are also metallic-finish illusions." To add depth, try accenting one wall with color and a wallpaper border or, if you're decorating a bedroom, match the color to the bedspreads and curtains.
If you want to add visual texture to your painted walls, you can use several faux finishes, like sponging, rag painting, combing, or colorwashing. Sponging, ragging, and combing are exactly how they sound. You use sponges, rags and special, comb-like paintbrushes to impart a different texture to your walls. Sponges create a stippled or mottled effect; rag painting a variegated look, like stone or water; and combing a freshly-painted surface creates patterns of lines and spaces. Colorwashing lends a watercolored effect to surfaces, fading from more brilliant, saturated color to paler, more diluted hues. Many paint and decorating stores offer step-by-step brochures on how to create many of these special effects.
A new trend, says Ruth Reiner of TRI-KES Wallcovering Source in Manhattan, is wallpaper that is deemed environmentally-friendly. This material, she says, comes complete with a "green-guard" certification and has qualities related to off-gassing and indoor air quality.
Most buildings favor the durability of wallcovering, says Reiner. I would say that buildings obviously have a tendency to go towards a residential look with a commercial durability factor. They realize over time that paint needs more touch-up and the vinyl has a cleanability factor and durability factor that needs minimal maintenance." Wallcovering is more efficient on a "life-cycle cost" basis, says Reiner. Vinyl wallcovering might cost more to install, maintain and repair, but it will last much longer than paint and keep the space looking newer longer, Reiner says.
A multitude of textures and colors exist today. "There are so many choices, so many textures - we call them embosses - which can hide numerous imperfections behind the wall. You don't have to have the most perfect sub-walls because we have these great embossed wallcoverings that can cover a multitude of sins," adds Reiner. "From prints to solid colors to shimmers, the choices are almost endless. We have things that look like wood. We have vinyls that look like metal, we have vinyls that look like paper."
Room to Room
A child's room presents some distinct wall-treatment challenges. If you plan to change the room frequently as the child grows, accenting the room with painted or wallpapered borders might be better than painting the entire room, or using an entire wallpaper print that will have to be removed later. Choose a pattern or color that a younger child can grow into. This is not to say that you can't be creative with your child's room. Hand-painted murals are quickly gaining in popularity for decorating children's rooms.
Bathrooms and bedrooms are common rooms for sponging or other faux finishes. The paint will not steam off or chip away, something that commonly happens with wallpaper. To complete a faux project on your own, you may need more than a single Saturday afternoon to finish the job - time and patience are as important as project materials. Hanging paper or rag-painting a room isn't impossible for a do-it-yourselfer to tackle, but examine your level of commitment before starting a project. Many decorators report that they regularly get calls from overly ambitious consumers who have started a project, only to have it go wrong and need the decorator to fix the job.
Paper Chase
For an entirely different look in either a home or a common space, consider the wide variety of wallpaper products available - they're not your grandmother's wallpaper. "Wallpapering is easier today because [papers] are easier to hang and remove, and it is no longer the loud, splashy colors," says Roy Shapiro, president of Fabulous Wallcoverings in West Orange, New Jersey. "There is so much diversity in wallcoverings now that you can design great rooms. Instead of painting, you can put up a textured paper if your wall has imperfections; it gives a uniform, finished look to the wall and saves work in wall repair."
Not only do wallpaper products come in a wide variety of patterns, but they also offer a variety of protective coatings. The most popular types of wallpaper are vinyl-coated, paper-backed vinyl, and coated vinyl papers. These papers are protected, scrubbable, and strippable. They are usable in almost any area, but are especially suited to high traffic areas like bathrooms, kitchens and building lobbies, Shapiro explains.
"Vinyl is good for lobbies and corridors," says Michael Freedman, national sales manager of Innovations in Wall Coverings, Inc., in New York. "It may look like silk, but you can actually scrub them. They're a maintenance-free product, they come in an endless number of patterns, and they can last for up to 10 years."
What's Hot?
A number of variables factor in to make one wall treatment option more attractive than another, or more appropriate for your particular project. Foremost among these are degrees of strength or durability, so-called scrubbability or washability, stain resistance, abrasion resistance, and colorfastness.
When it comes to popularity, according to Robert Raymond of Brunschwig & Fils, Inc. an interior design firm based in White Plains, less traditional, more light-hearted patterns are hot. "Customers are moving away from the solids and more into the whimsical patterns, like papers that look like books on a shelf for a library, or paper that looks like stone in a hallway. It's just fun."
The advantage of serving a cooperative market is that the job can be custom-designed, Reiner says. The large quantity of wallpaper typically needed is such that the material itself can influence the actual design of the space. Wallcovering can be a custom-color or it can be coordinated to match the lobby's décor or carpeting, or even match a logo or antique crest from the building's exterior, she says.
"It's a whole world unto itself. If you have long cavernous corridors, we can add certain elements in the wallcovering to widen - make it feel more wide," explains Reiner. "Sometimes a stripe will do that. If you have very short ceiling heights, a vertical stripe will help to create the illusion that the ceiling heights are higher. In some cases, some of these designs can say trick the eye and mask some of the imperfections of the architecture."
Also growing in popularity are earth-friendly, non-woven, materials like jute, sea grass, coir, cork, hemp, sisal, and cotton fibers that have been dyed and laminated to a paper backing. These materials provide a natural and textured character to decoration and are available in an extensive variety of color combinations. They are ideal for low-traffic areas, such as living and dining rooms.
"These products weren't really popular until about four or five years ago," explains Freedman. "However, the prices are coming down, and the line of products is now scrubbable, so [they're] becoming very successful."
According to designers, in keeping with an overall trend away from garish, overpowering prints and toward more soothing, nature-inspired design elements, many of the newest motifs and colors are inspired by the botanical and organic qualities of plants, fruits, vegetables and grains.
The Price of Good Taste
Wallpaper prices vary on the design, material and manufacturer, but you can expect to spend anywhere from 50 cents to $10 per square foot. "Make sure your walls are squared and aligned before you buy wallpaper," warns Raymond. "A professional wallpaper hanger will know how many rolls you need."
To help you decide, on a design, texture, or color, many interior design and decorating firms offer consultations - sometimes for free. Choosing to do the painting or hanging yourself or hiring professionals to do it will depend on your level of expertise and how much time you have to devote to a project. If you or your board opts to hire a painter or decorator, find someone you are interested in hiring, request to see a portfolio, and ask for customer references.
If you're a shareholder or unit owner, it goes without saying that before beginning a project, you must review your building's governing documents; your board or condo association may have a say as to what colors or fabrics you can use on your walls.
Decorators also recommend that you do not buy the first color or pattern that you see. Instead, choose several colors and wallpaper patterns and take home samples and paint chips. Home lighting can drastically change the color you've chosen compared to how it looks at the store. If you have a decorator coming to the home, ask if they can leave samples.
"Come into the store and just spend time and get an idea of the feelings that can be expressed by using wallcoverings," says Shapiro. "Don't be afraid of color and application. We cut wide samples so the customer can take them home, put them up on the walls, and live with them before they choose."
Lisa Iannucci is a freelance writer based in Poughkeepsie, New York.