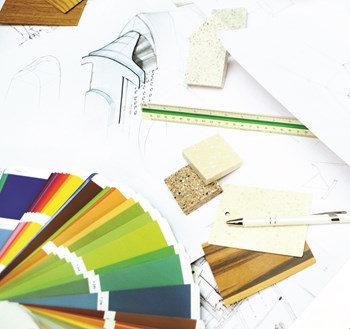 For much of his stand-up comedy career, humorist George Carlin has joked about "stuff." How much stuff we have, how much stuff we accumulate, and the often-insane ways we have of keeping track of - and losing - our stuff. Today's co-op and condo owners can readily identify with Carlin's comments, since one of the biggest needs for the legendary tiny Manhattan apartments is more space for all your stuff.
Moving to a larger home may not be an affordable option right now, and even if it is, larger city dwellings don't necessarily guarantee more than the traditional closets and kitchen cabinet space. Instead, the more affordable alternative is to maximize the space you already have - and you can do that by finding and utilizing wasted space, and creatively decorating for an airier, more open living environment. In some cases, an inexpensive remodeling project can also solve the problem.
However, before you make any drastic changes, you may need to get rid of some of your so-called stuff, says Sheila Delson, productivity consultant of Freedomain Concepts, a personal organization company in Poughkeepsie, New York. "The biggest problem is that we all have too much excess clutter," says Delson. "About 80 percent of clutter is the result of disorganization - not always because of a lack of space. We don't have enough space for our clutter, so we need to reconsider some of the things we own. Even selling off some larger pieces of furniture and replacing them with smaller pieces can enlarge a room, for example."
One Room at a Time
To help de-clutter, Delson suggests attacking one room at a time - and this is the month to do it. October 6th through October 11th is National Get Organized Week, otherwise known as GO week. Visit the National Association of Professional Organizers for tips and suggestions on how to combat clutter at www.napo.net.
Now is a good time to eliminate what you no longer use and allot a space for the items you want to keep and store in properly sized see-through containers. "You don't know what size containers you need until after you sort, so save containerizing for last," says Delson.
Look for Wasted Space
Every home has its own space problems, but the four most common areas of complaint are the kitchen, bathroom, closets and bedrooms. Creating space in these areas doesn't have to be expensive. While it's normal to want your things at eye level, finding extra space may be as simple as looking up or down. Wasted space such as walls, closet and cabinet shelves, corner storage areas and the area above cabinets and ranges really becomes extra space when utilized efficiently.
Are your walls adorned with pictures that might be replaced with hooks, shelving, wire racks or bookcases? Do you have the room to hang items, such as pots and pans, from the kitchen ceiling? Are you using the space above your kitchen cabinets to store larger appliances or seasonal decorations? What about under your bed or under sinks? These are all good space saving options for less-used or seasonal items.
You may not believe it, but even cabinets and closets have wasted space. Air is often the biggest space waster. Small jars of spices or medicines usually take up half of the allotted space because older cabinets have non-adjustable shelves. If you can't remove the shelves to add adjustable ones, you can insert or screw wire baskets onto shelves to hold smaller items.
Now look behind doors. Organizers that hang on the back of the door (or even on the side of the refrigerator) can hold videos, spices, or include small pockets to organize scarves, pantyhose, jewelry and other small items. These same small pocket organizers can be used for small toys, workshop items, or sporting paraphernalia.
Keep an Eye Appeal
While you're making it organized, make it look pretty, too. "I'm big on aesthetics," says Delson. "These are our homes, and you can be practical, but visually it doesn't feel very good, so it doesn't just need to be user friendly - it has to feel friendly too." Putting big, cumbersome plastic storage boxes on top of kitchen cabinets might be practical, but it is not visually appealing and can make your home look like a warehouse. Instead, look for decorative boxes, or consider storing something else on top of the cabinets. It might take several attempts at rearranging before you find the right decorative "˜fit.'
A Little Kitchen Precision
Years ago, kitchen spaces were smaller, but cabinets didn't need to accommodate today's fancy gadgetry, like bread and pasta makers and baker-size mixers. If you have room, consider a scaled-down kitchen island that can hold additional appliances and free up counter space, or hang pots and pans from a metal rack in the ceiling. You can also install a wire grid and basket above your stove to help thin out your spice collection or your plate and coffee cup clutter. On the countertop, think about adding a lazy-susan in the corner. Also consider kitchen tables with foldaway chairs that can be stored underneath, slide out trays, built-in ironing boards, and tilt-down sink fronts that can maximize space.
What's Hiding in Your Closet?
Do you duck for cover when you open your closet? Do you use vacation time when you know you have to find something in there? With just a shelf and a rod, it's a closet, but if that's all that's in there, it's also wasted space. When you add additional shelves, a double-hung rod, drawers, and baskets, it becomes a more efficient money-saver. How much you do to the closets you have will depend on your budget, lifestyle and needs. Sketch out ideas for your closet and decide what's important to you, including extras, such as a tie and belt rack, additional rods and shelves, and jewelry drawers.
If your budget is modest or less so, you can buy shelving from a home improvement store and improvise to create extra shelving and bars very inexpensively. Search for boxes, bins, wire shelving, and over-the-door shoe organizers in retail stores. If you're handy and can afford to spend a bit more, install melamine or lacquered wood shelving. Wood and melamine cost more than wire, but they give you a more customized look. Most importantly, make sure the shelves are adjustable. "Adjustability is the best, because you're never going to have the same storage needs year after year," says Henry Belfor, a designer with
European Closet in Brooklyn. "You have to take into consideration [your needs] five or 10 years from now."
Belfor stresses that adjustability is even more important when designing a child's closet. "When the baby is little, they don't need as much hanging space - then they grow to be toddlers and need more hanging space, but can't reach it," he says. "So we give them triple hanging space, and whatever space is left, we put shelves in because with kids, you need all the surface area you can get. Kids accumulate a lot of stuff." Modular storage kits that are stackable and easy-to-assemble can be easier and less expensive to install than wood or melamine, and can also help customize the unit.
If you don't have the time or the skill to do-it-yourself, then you might consider hiring an organization expert or closet specialist. Before hiring a specialist, though, ask for estimates and client referrals. Most companies provide complimentary consultations in your home, which should include a closet examination. Closet makeovers can cost from a few hundred to several thousand dollars, depending on the amenities you choose.
If you don't even have the luxury of closet space - and it does happen, particularly in older buildings that have been carved up into tiny studio apartments - you can clear an entire wall, or just a section of a wall, to create a faux closet. "We will take space on a wall, create a closet interior, and cover it with beautiful doors and mirrors," says Belfor. "It provides the look of a closet and the mirrored doors make the room look bigger."
A Bathroom Battleground
One bathroom, one sink, one medicine cabinet and an entire family's personal storage - that's the perfect setup for a clutter crisis. However, the bathroom doesn't need to be a battleground of bulging medicine chests. Delson suggests adding additional towel bars, a cabinet over the toilet, and a rolling stand that can fit into the closet to save space in the medicine chest for medicine.
To keep your linen closets and bedroom closets mildew-free, Belfor suggests the dreaded mothballs. "They stink - but they work," he says. "If you line [closets or drawers] with cedar - which is expensive - you'd better love that smell, because it will get everywhere. But it goes away in about three years, and you'll have to sand it down to get [the benefit] back." Belfor says cedar chips are good too, but you don't want an overkill of cedar odor.
In the Bedroom
It should be a relaxing retreat, but if your bedroom is the storage area for everything that you don't want your guests to see, it's time to make a change. Consider a platform bed that has extra shelves on the side and under the bed. For children, platform beds are also great space savers. Make good use of the storage area under the bed and use closed storage boxes, or pullout wire baskets on casters. Make sure all have tops to prevent a dusty nightmare.
For apartments that combine living and sleeping space, there's Inova, an innovative furniture company that offers transformable furniture. One item is called the Inova TableBed, and it transforms from a dining, meeting or general use table to a platform bed in seconds. It's great for ultra-small apartments.
New and Innovative
Manufacturers and designers are always creating new and exciting space saving items made especially for city dwellers. Earlier this year, an innovative combined kitchen preparation and dining unit earned a young graduate a top design award sponsored by the Kitchen Bathroom Bedroom Specialists Association in the United Kingdom. According to a press release, the student's invention incorporated a preparation surface, pull-out dining table and four stools, plus drawers and stainless steel bowls for the storage of prepared food items.
If you're in need of modular storage, check out New York City's grand opening of the 24,000-square-foot Container Store on November 15 at Sixth Avenue between 18th and 19th streets. They have practical, yet funky and decorative modular storage units that can be stacked to fit various ceiling heights and spaces.
You might feel overwhelmed when you start, but by taking one room at a time and creating an organizational flow throughout the home, your habitat will soon have the look and feel that it's larger and clutter-free.
Lisa Iannucci is a freelancer and a frequent contributor to The Cooperator.