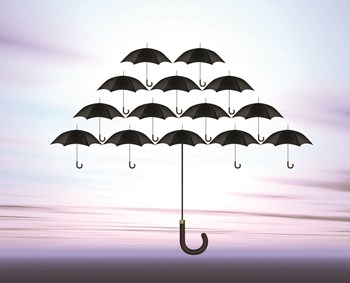 Since they were first built, apartment buildings have been insured for disasters and unforeseen circumstances—the things nobody ever wants to happen, but has to admit are possible. Things like fires, floods, earthquakes and so on. In the past, terrorism was thought of as being something that happened in other countries, but since 9/11, the fear of terrorism—and the desire to make sure one's home is safe from it as much as possible—have taken center stage in the minds of many New Yorkers.
Ironically, when nobody was concerned about it, insurance against acts of terrorism for an apartment building—or any other type of building—was readily available for a reasonable fee. But after the World Trade Center disaster, when everybody was concerned, it suddenly became either unavailable or very costly, and the federal government had to step in.
A Problem in Itself
By its very nature, terrorism insurance is more problematic than, say, flood insurance. By studying the weather, scientists have been able to predict, more or less, which regions are most vulnerable to storms and hurricanes, and thus people living in those areas can purchase the proper amount of coverage for their homes and property. However, acts of terrorism in the U.S. have been few and far between, so there is little data to analyze.
Obviously, large urban areas with important corporate headquarters or government-agency headquarters are possible targets for violent extremists—and nearby residential buildings could get caught in the fallout—but predicting if and when and where a terrorist strike may occur is hardly an exact science.
Even as the beginnings of terrorism within the U.S. began to surface in the 1990s with the first attack on the World Trade Center, the Oklahoma City bombing, the Atlanta Olympics bombing, the subject seemed blissfully remote for the majority of Americans. Insurers provided terrorism coverage as part of their commercial insurance with little or no additional charge because the possibility of a terrorist bombing or incident was considered almost nil.
Prior to 9/11, says Jennifer Zuccarelli, a spokeswoman for the U.S. Treasury Department, "The truth is that almost everyone had [terrorism insurance]. It wasn't a separate policy. Typically, policyholders got 'all risks' insurance that encompassed everything unless otherwise stated, such as earthquakes in California. Despite the early WTC and Oklahoma City episodes, insurance companies didn't exclude acts of terrorism."
Our Troubles Begin
The attacks on the World Trade Center and the Pentagon on September 11, 2001, of course, changed everything. New Yorkers can still remember how after the attacks, residents of Battery Park City weren't allowed to return to their homes for several weeks. Many people expected another terror incident within months, if not weeks. Policyholders—and especially in the case of apartment buildings, mortgage-holders and lenders such as banks—demanded insurance against terrorism, especially in high-profile areas such as Lower and Midtown Manhattan.
That's when the problems began. Just when it was wanted and needed most, insurance companies began to have second thoughts about providing insurance against acts of terror. A comparable event happened when Allstate stopped writing new home insurance policies in New York City, Long Island and Westchester because of the perceived risk of floods and hurricanes in the wake of Hurricane Katrina.
The companies feared that another disaster on the magnitude of 9/11 would do catastrophic harm to the industry. Also, reinsurers, or firms that take on the liability of the insurance companies, became reluctant to insure properties in large urban areas where a high probability of attack was feared.
So according to Zuccarelli, after 9/11, even as interest in purchasing terrorism insurance rose from 27 percent to 54 percent between 2002 and 2004, the insurance companies excluded losses from terrorism: "They would specify, 'everything except for floods and terrorism,' for example," she says.
Indeed, according to the article "Terrorism Insurance" by Howard Kurneuther and Erwann Michel-Kerjan in the spring 2005 issue of Regulation magazine, as early as October 2001, "The Insurance Services Office, on behalf of insurance companies, filed a request in every state for permission to exclude terrorism from all commercial insurance coverage."
The trouble was, however, that some states—including New York State— would not allow the carriers to exclude terrorism insurance, says Sharon Emek, the managing director of Manhattan's CBS Coverage Group (no relation to the broadcasting company). "Many of the carriers wouldn't write in New York," she says, and many of those that would—charged extremely high rates for terrorism coverage.
Time for TRIAge
The pressure grew for the federal government to do something. That something was the Terrorism Risk Insurance Act (TRIA), signed into law by President George W. Bush in November 2002. The act, according to the Insurance Information Institute, allows the insurance industry and the federal government to share losses according to a specific formula.
On December 22, 2005, the president signed the Terrorism Risk Insurance Extension Act of 2005, which extends TRIA through December 31, 2007. The law extends the temporary federal Terrorism Insurance Program that provides for a transparent system of shared public and private compensation for insured losses resulting from acts of terrorism.
"Specifically," says attorney Richard L. Lewis of Anderson Kill & Olick in Manhattan, "for each policyholder, the act requires a property insurance company to offer terrorism insurance coverage. [It also] deems any terrorism exclusion to be void, as defined in the act ... The act also establishes some guidelines for litigation arising from acts of terrorism."
However, although TRIA certainly helped provide more affordable terrorism insurance, there are some limits to the act. For example, it only includes damages caused by acts of terrorism from foreign citizens or foreign interests on U.S. soil, in excess of $5 million. Cases of domestic terrorism, like Timothy McVeigh's bombing of the Oklahoma City federal building, wouldn't be covered.
Furthermore, under the terms of the legislation that renewed the act last year, the "triggering event," or the threshold for the program to go into effect, went from $5 million to $50 million this past March. In 2007, it will rise to $100 million, according to the Insurance Information Institute.
In Foreign Countries
Of course, terrorism isn't only a problem here in the U.S. Think of the Spanish railway bombing, the London underground bombing, the suicide bombings in Israel, and, in an earlier era, bombings by the pre-peace-agreement IRA and the Basque ETA in Spain, as well as the Sarin gas attack on the Tokyo subway just a few short years ago.
Emek, who was recently elected chair of the Independent Insurance Agents and Brokers of New York (IIABNY), says terrorism insurance is also offered in Israel, Australia, the U.K., France, Spain, the Netherlands and Germany, among other countries.
Before and After 9/11
What kind of buildings had terrorism insurance before 9/11—commercial, residential, industrial or all of the above? The answer is that everybody, or almost everybody, had it. As was mentioned before, policyholders bought all-risk coverage, and terrorism was not excluded because few people believed it would happen.
When a New York City building had to renew its insurance in the years between 9/11 and the passage of TRIA, however, its management found that it couldn't get insured for acts of terrorism again—at least without paying exorbitant rates.
In New York State, says Emek, carriers were not allowed to exclude insurance for terrorism, "So lots of carriers were not renewing their insurance in New York. Many of the customers had to get [terrorism insurance] on the wholesale market." Wholesale insurance brokers usually specialize in providing insurance to unusual or harder-to-place accounts.
"Prices for property coverage," says Lewis, "were frequently so high that policyholders had to adjust the amount of coverage they purchased, and from whom they purchased it. Furthermore, most policyholders with large programs were forced to buy from a number of carriers than simply one, as the industry's appetite for risk decreased."
Now, since the passage and extension of TRIA, board members and building managers who wish to obtain terrorism risk insurance can do so with their regular insurance broker, since they're required by law to sell the coverage. Furthermore, it's part of your regular insurance policy—not separate, says Emek, except in special circumstances.
Under TRIA, says Lewis, "Terrorism coverage is offered at a rate, and carriers must jump through certain hoops to show [the rate] was offered and rejected, or the policyholder can accept it." If the policyholder declines to accept terrorism insurance, then the carrier can exclude terrorism insurance in the policy, providing that regulatory approval is received.
Why would separate terrorism coverage be needed if you already have a policy covering destruction of your building by other means, like fire or other disaster? In the past, the fact that terrorism is inevitably linked to fire and similar cataclysms was why it was covered under most all-risk policies prior to 9/11, says Lewis.
"Policyholders with 'named peril' coverage that included fire would have very good arguments that they had coverage for loss from fire stemming from a terrorist act," Lewis says. "It was precisely the advent of terrorism exclusions in policies of policyholders who decline TRIA terrorism coverage that makes loss from fire different from loss from fire caused by a terrorist act."
As for the price of a terrorism risk component of a building's insurance policy, "It depends on the location," says Emek. "If you're in the middle of Manhattan near Grand Central Station, it will be expensive. If, say, you're a co-op building in the Bronx, you could pay $10,000 or $20,000 [per year.]"
But whatever the price is, she says, "It's no longer exorbitant. It's no longer $100,000 or $200,000 that's what it was after 9/11. It's affordable in today's marketplace."
A Short-Term Measure?
The extension of TRIA expires in 2007. In the past, the Bush administration has seen TRIA as a short-term measure, and has felt that in the long term, the private sector should handle the problem of terrorism insurance.
In June 2005, before the original act was extended, John P. Snow, then U.S. Secretary of the Treasury, came out against the extension. He said, among other things, that the overall economy was better than it was directly after 9/11, and that the insurance industry would have a bigger pool of money to deal with terrorism claims. He did, however, acknowledge that there would be a transitional period in which price hikes and other disruptions would occur.
As might be expected, real estate companies and building owners, as well as private insurers themselves, have been among the major forces seeking to keep TRIA, according to an article in the New York Law Journal ("Terrorism Insurance: Sunsetting of TRIA May Spur Legislation," Sept. 21, 2005.) According to the article, "Their main argument is that terrorism coverage will be close to impossible to obtain after the termination of the program, and may lead to building construction delays similar to those seen after 9/11."
According to a report issued in May 2006 by the Insurance Information Institute, "The industry is working to develop a long-term solution to the problem of terrorism insurance availability. All segments of the industry agree that the federal government must be a part of any plan."
Thankfully, the new head of the Federal Reserve Bank, Benjamin S. Bernanke, reportedly believes that "some form of federal involvement is necessary because some losses could be so huge that the private sector could never cover them. Indeed, the reinsurance industry can only supply a faction of what is needed," he says.
Loss from another terrorist incident in New York could be in the hundreds of billions, so your building definitely should be well-protected. Whether that protection comes from a federally-backed TRIA policy or one underwritten by private reinsurers, the bottom line is that the coverage nobody thought about just a few short years ago now ranks with liability and D&O insurance as a policy that each and every building should have—just in case. n
Raanan Geberer is a freelance writer living in New York City.