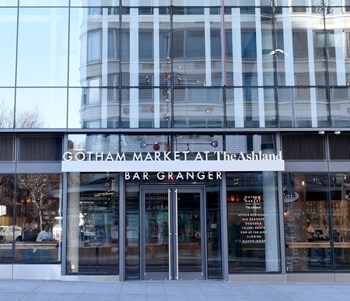 Amenities aren't what they used to be, and new real estate developments in New York City are changing with the times. Having a gym is one thing, and a kid's play room is another. But a food hall? Now that's a buyer's incentive. These days, food is more important than ever.
Restaurants within major developments have become a major component to selling and renting apartments. In some cases, food options are built into the development plans alongside housing because the neighborhoods leave something to be desired (see Gotham West Market), but restaurants and dining options are also a kind of cultural currency, offering a certain cache to those that frequent them. Indeed, big-name chefs like David Chang (Momofuku) and Thomas Keller (The French Laundry, Per Se) have both signed on to various real estate developments to bring restaurants and eateries to them.
A 2016 report by the Urban Land Institute, a research and education organization, found that developers that partnered with food were seeing successes. The report, called "Cultivating Development: Trends and Opportunities at the Intersection of Food and Real Estate," summarized: "Developers are learning that incorporating opportunities to grow, purchase, and consume food within the context of development projects can pay dividends.This focus on local food is spurring innovation in real estate and is providing a rich arena for creativity that can improve outcomes for people, the planet, and profits."
Building Community
When the food hall Gotham West Market opened in 2013 on the ground floor space of a new residential building on 44th Street and 11th Avenue called Gotham West, the area was a no-man's land for eaters. In Pete Wells' two-star review in The New York Times, he called the area "Hell's Freezer."
The food hall was built to combat that very (chilly) idea of the neighborhood.
"Gotham West Market was a success… [the goal was] to help up provide amenities and help with building community," says Chris Jaskiewicz, president of Gotham Properties and Hospitality in an interview this past winter at the opening of another food hall, Gotham Market at The Ashland, in Downtown Brooklyn. "We thought a similar market here would be equally successful."
The food hall at The Ashland was designed to "complement the community," he says.
"There are thousands of new apartments popping up," he adds. "This should be a destination."
The "Foodie" Perk
It's no surprise that food brings people together, especially today, when dining out and Instagramming the food you eat and share is a growing trend. In New York City, developers know this and want to draw people to their investments, residents and non-residents alike.
At Hudson Yards, for example, some of the biggest names in restaurants such as the aforementioned Keller and Chang are opening up brand new eateries, and Jose Andres is even spearheading a food hall. According to the Urban Land Institute report, "chef-driven restaurants," such as those at Hudson Yards, can support a development's financial stability.
Here is a list of where food and real estate are coming together in the Big Apple:
Open now. Vendors include: Ivan Ramen; The Cannibal; Ample Hills
Open now. Vendors include: Boqueria; the Crabby Shack; Mason Jar; Flip Bird
Hudson Yards, 30th - 34th Street, between 10th and 12th Avenue, Manhattan
Food options opening in 2018. Vendors: TAK Room from Thomas Keller; Jose Andres' Spanish food hall; new concept from David Chang; Estiatorio Milos from Costas Spiliadis.
Partially open. Vendors: Fortina Pizza; DeKalb Market food hall (Katz's, the Arepa Lady, more); Trader Joe's; Han Dynasty
Georgia Kral is a staff writer at The Cooperator