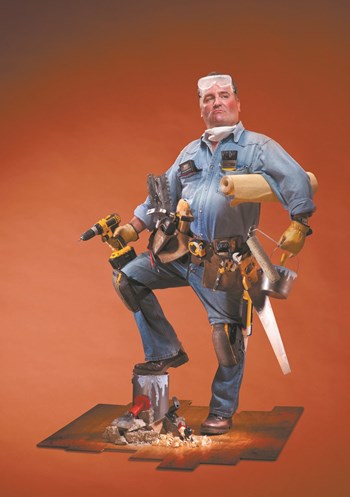 When everyday problems arise in a multifamily building or community association, residents frequently turn to their friendly neighborhood jack-of-all-trades: the superintendent (Depending on where you live, you might call him or her your building engineer, maintenance manager, or building operations manager. But for the purposes of this article, we'll stick with 'super,' for the sake of simplicity). The super is often asked to wear many hats in addressing the needs of the association: they can be a handy person, property historian, tech wizard, security expert – you name it.
Given the breadth and variety of responsibility that comes with the position, it's crucial for a board know what it needs from its super, and how to determine whether a particular applicant for the job can meet those needs. There are some general attributes a super should have, and there are specific skills that may be necessary as well, depending on a given association's demographics and resources.
Skill Set
"The super position requires an individual to have a wide range of skills and abilities that provide value to the association significant enough to offset the cost of having them on the payroll," says Tim Arel, Owner and Principal of North Point Property Management, which has locations in New Hampshire and Massachusetts. "This individual has to have the ability to provide a high level of customer service as a representative of the board; to provide project management and oversight of outside vendors; to have a trained eye to inspect the property proactively for maintenance needs; to have sufficient skill to address a great number of issues and perform a basic level of preventative maintenance; and understand financials well enough to keep projects on-budget and the association operating efficiently."
While it might seem common sense for a board to hire someone with general hands-on repair and maintenance skills, that's not necessarily the case, according to Arel. "From the association's perspective," he says, "it's better to have someone more skilled at identifying preventative maintenance needs, who has the ability to call in the correct people to perform the repairs. While you may spend more for that in the short term, the long-term benefits are a properly-run and maintained property, and extended lifespans of major building components. That will provide long-term budgetary savings."
Of course, at a first meeting it can be difficult to ascertain how adept a super will be at identifying an association's issues; this is something a board can best assess and evaluate over time. From a hiring perspective, Andrew Di Schino, an account executive with FirstService Residential in New York City, suggests that an association first look at a potential super's past tenure and experience, in conjunction with verifying that he or she carries the proper agency qualifications and licensing (These can vary from state to state, but in New York this can mean EPA 608, FDNY Certificate of Fitness, and FDNY Chiller/Refrigeration Machine Operator License, among others).