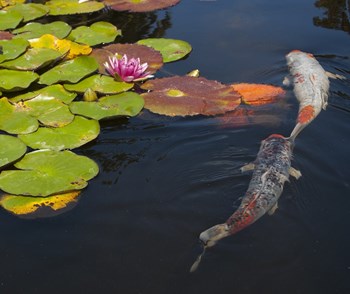 Patches of green, living things are pretty rare in the city. Outside of Central and Prospect Parks, New Yorkers don't generally get a lot of leafy goodness in their lives—not all of us have a key to Gramercy Park, after all. Some co-op and condo buildings—and some whole neighborhoods—are trying to break up the grayness with greenness, however. They're doing it on their rooftops, in their courtyards and alleyways, and turning entire unused lots into community gardens. The city was once known as the concrete jungle—but those days are over. Green is here to stay.
Greening Your Rooftop
Inthe suburbs, houses are built on green spaces, yards of a half-acre or more covered with grass and landscaping. Space of that kind is a luxury that doesn't exist in many parts of New York—especially Manhattan. What all residential buildings do have, however, is a roof—and thus the roof is one of the most popular places to set up a green space. But how do you take a black roof and make it green?
"When you're working on a rooftop, the most important thing is to understand the weight load that the rooftop can take," says Kim Mathews of New York City-based Mathews Nielsen Landscape Architects, which specializes in all types of community spaces. The roof has to be able to withstand the weight of the added soil, grass and other plants, and people up there to enjoy the view.
"If you want to do a rooftop garden, the first thing you have to determine is whether or not the building structure is capable of taking additional loading," explains Jeff Grob, a landscape architect with Stantec, which helped design the Gil Hodges community garden in Brooklyn. "Once you see that the roof has available capacity, then you can start taking a look at, well, do you want to create a green roof that's just plants? Or do you want a roof garden that's plants, and spaces for people to use for recreation, to sit around in?"
A designer ultimately may end up recommending that you put a new kind of roof system that would be amenable to having plantings on top. But most of the time, we'll bring in trays that are pre-planted and have soil in them, and they go right on top of a protection layer on the roof. And then the drainage in the trays works with the pitch of the roof, to use the existing roof drains for runoff."
Companies that install green roofs take great care to ensure that water—enough, but not too much—gets to where it needs to go. Designing green roofs is all about drainage.
"The key factor is water," Mathews says. "Designers and builders must make sure that a plant is getting enough water, particularly on a rooftop, where windy condition can contribute to evapotranspiration, meaning that the water evaporates more quickly from the soil. So water, on a rooftop, is really important."
Once the green roof is installed, it's generally up to the building to maintain it. That, too, poses unique challenges. "For a rooftop garden, the most important thing is for people to understand how to maintain it," Mathews explains. "If someone goes into the creation of a rooftop setting with plants, and they don't understand the necessary maintenance, they're going to be disappointed. The plants will die." The onus here is on the building. "The main problem is the building owners understanding what's needed to keep the space healthy and looking good."
Water Features
Another element outside of the concrete jungle that is Manhattan are landscape-designed pavers and garden ponds. Water features can be inside or outside and include anything from a simple brick-paved garden pond to an extensive man-made filtered pond complete with fish, waterfalls, flowers and plants. According to PondWorks, an aquatic design, construction and maintenance company that offers services in six states nationally from New York to Maryland, garden ponds are perhaps the most common type of water feature one can have.
Both formal and naturalistic, they come in nearly every size, shape and style and are found in both residential and commercial settings. Garden ponds are water features that usually contain plants and fish and can be lush living habitats for many species. These features accentuate and enhance the environment and are often a focal point of any design. Garden ponds are balanced, healthy aquatic ecosystems. Filtration systems for these water features use both biological and mechanical means but are generally smaller, less complex and less costly than that of a comparable size koi pond, according to PondWorks.
Koi ponds, says PondWorks, are water features designed around fish, and they can be either formal or informal. Pond volume and dimensions are key to achieving the best results. Koi ponds and the filtration systems that support them are designed to manage a given fish capacity and keep them healthy and thriving. Through proper design, filtration collects and neutralizes fish waste and controls outside environmental effects on the pond.
Tree Time
While all buildings have roofs, not all roofs can accommodate a green roof garden area. One alternative to a green roof is to plant trees. Former Mayor Michael R. Bloomberg was a big proponent of tree planting. The New York Restoration Project is also active in that endeavor. They are leading the way on MillionTreesNYC—an initiative to plant and care for one million new trees throughout New York City's five boroughs by 2015.
"We work with communities that don't necessarily have green spaces within their range," says Anne Tan, a PR officer with the NYRP. "For example, we work in neighborhoods like central Brooklyn, Northern Manhattan, Spanish Harlem, and the South Bronx," offering the opportunity to plant trees on their property.
"Every spring and fall we have tree giveaways where we give away thousands of free trees," she says. "So if you're a property owner or you have permission to plant a tree on a property, we give you the opportunity to come to our tree giveaway and pick up a few trees. These are not mature trees, so you have to invest time in them. You need to plant them yourself, you need to maintain them and take care of them." This builds a greener New York, and also builds a greater sense of community.
Vacant lots present another opportunity to spruce up—pun intended—the neighborhood. This is a bit trickier, because those lots tend not to be owned by the buildings that abut them. But that doesn't mean they can't be made beautiful, even if the beauty is fleeting.
"The first step is to find out who owns the lot," Grob says. "If it's privately owned, then you'll be making a deal with the owner. They might say, 'Sure, go ahead and use it for ten or twenty years until I decide to redevelop it.' You'd have to organize a community group to be in charge of the project, though. You can't just show up and start planting, because there are liability issues on both sides. If the lot is owned by the city, then you will probably be dealing with the Parks Department, which oversees most community gardens. You can contact them and start working out the details of who will be in charge of design and building, what you're allowed to do with the property, and all of these things."
Not all spaces can be green. Sometimes, you have to work with what's there. There are plenty of options in that arena as well—sculpture spaces and so forth. "In our 'terra firma' projects, we do a lot of hardscape, and we incorporate trellises and structures that are very sculptural in form," says Mathews. "We love working in the public realm, creating green spaces that anybody can walk through. It might be a college campus or another plaza setting. We love spaces that people can move through and appreciate. Our goal is to make those places exciting for them both day and night with planting, lighting and great seating."
"But I think that it's really more about the pedestrian experience: as people move through a city, seeing something that's green, something that changes over the seasons."
Tan cites the effect on another kind of green—money. "Property values go up," she says, when residential buildings boast green spaces. "There are aesthetic and environmental benefits, and increased green space changes people's moods on a positive level."
Why have a green space? "Well, it's nicer to look at!" Grob says. "But it also has a cooling effect… it reduces the heat island effect of having all pavement, which absorbs heat. And the best thing that plants do is supply oxygen out of carbon dioxide. And it's pretty!"
Master Plan Your Space
If your building is sold on the concept, Mathews advises taking a long view. "When it comes to working with co-ops, my recommendation is that the building owners take a step back and look at the project holistically," she says, "if it's big enough to do a master plan for the space, so they can understand how to best phase the improvements over time, and how those improvements can then be maintained and added to as the years go forward. Sometimes we find that clients come to us wanting something immediate, when really the most important step is to understand the things that should be addressed first, like potential soil issues at the site. Because that is really building the best space for the future of that garden or planting project." In other words: don 't lose the forest for the trees.
Greg Olear is a freelance writer and a frequent contributor to The Cooperator.