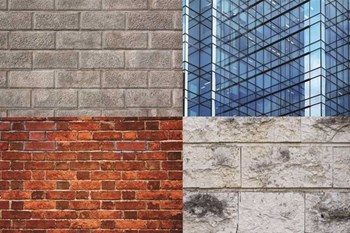 Over the past two decades, New Yorkers have become increasingly used to seeing tall, reflective, glass residential towers rise over the cityscape, even in neighborhoods that have been bastions of the world-class architecture that gives the City its rich design history. Consider the two glass towers that stand like sentinels facing each other on Broadway near 100th street on Manhattan's Upper West Side. They seem at odds with the pre-war, beaux-arts and neo-classical masonry façades that line this historic neighborhood. Yet, they reflect architectural trends that really aren't so different from the ones that favored earlier styles that dominated our cityscape in decades past.

In short, because people like it -- particularly at the high end of the market. The abundant light and feeling of space that floor-to-ceiling windows afford can make a real difference in how residents experience their environment. But compared to masonry -- and contrary to what you might think -- glass curtain wall construction can be expensive to build and maintain. Howard Zimmerman, principal of Howard L. Zimmerman Architects, PC in Manhattan, points out that "Building footprints are smaller today. Therefore, rooms are smaller. In order for them not to feel so small and enclosed, developers go with floor-to-ceiling glass at a greater cost to make the rooms look larger than they are. If they were 'old-school' masonry with punched windows, they would be really claustrophobic."
Zimmerman says that while there's no real trend away from glass facades toward masonry at the moment, he expects that trend may well pick up over the next couple of years as compliance with energy efficiency rules becomes a factor. "What's being built now," he says, "was designed and planned a year or two ago, before the most recent wave of energy laws and regulations were enacted. What's in the planning stages now will consider cost effectiveness more closely. And masonry is generally more economical."

Alan Gaynor, a partner at Boddewyn Gaynor Architects, also located in Manhattan, says he does see a bit of drift away from glass already happening. He says façade design may also depend on other factors, like building size and what segment of the market the property is built for. "Smaller brick-and-mortar buildings with punched windows are often more 'classically' designed. Then there are some large properties like 15 Central Park West that have a classical façade design that blends into the existing front façades of the neighborhood." The decision on façade type may also depend on whether the project is located in a historic district, which may require that the new façade match -- or as least blend -- with existing buildings. That decision, in any event, will require input from the local governmental authorities as well. "High-end projects," Gaynor says, "still prefer the glass look. These curtain wall systems are not inexpensive. Energy efficiency depends on many components -- not just on glass or masonry -- so that factor may not be the decisive one in façade choice."
Joanna Mayfield Marks, a broker with Halstead property in Brooklyn says façade style does make a difference for buyers. "Buyers like anything shiny and bright. They love floor-to-ceiling windows. But, these units can be energy inefficient," costing more to operate than similar units in masonry buildings. Nonetheless, "Glass makes an easier sell," she says. "It brings the outside inside."
Whether the market will see a drop-off in glass tower construction remains to be seen. Many factors will play into whatever trend ultimately emerges. One thing we know for sure is that we are likely to see both options available for the foreseeable future.